RSN's Annual Essay Contest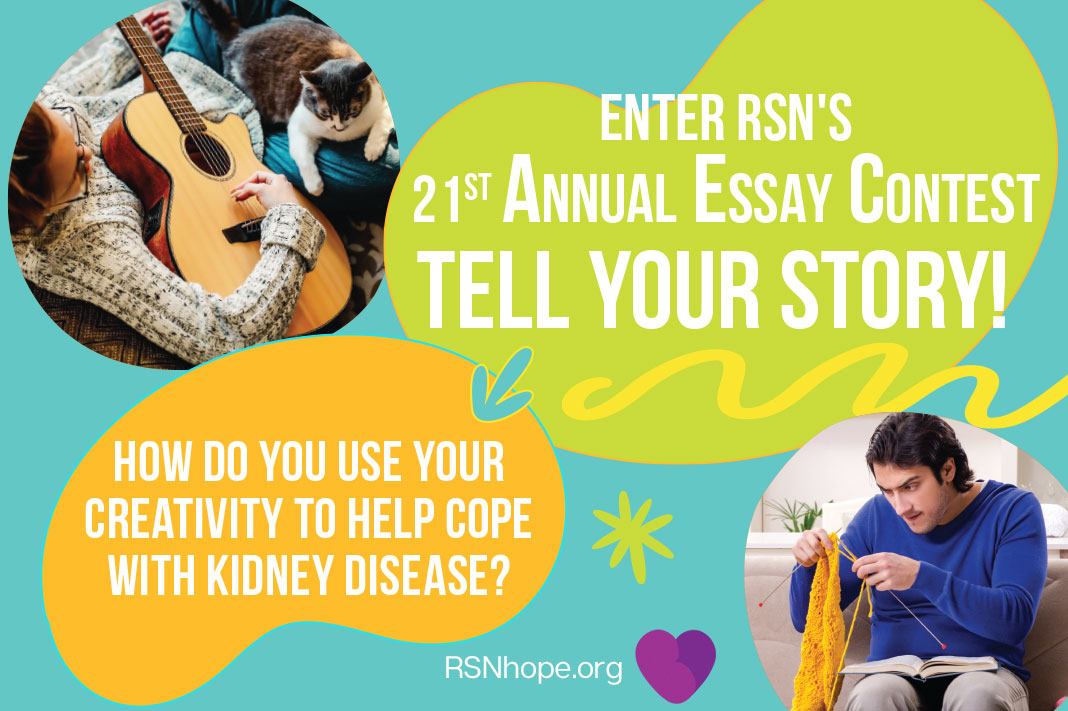 This year the theme is "

How do you use your creativity to help cope with kidney disease?

."
We are pleased to announce the theme of our 21st Annual Essay Contest. This year, it's all about creativity, and writers are asked to address the following question: "How do you use your creativity to help cope with kidney disease?"
The essay contest is open to all people in the United States who have been diagnosed with kidney disease, have had a kidney transplant, or are on dialysis.  For submissions to be accepted, they must be typed and not exceed 750 words.
Lori Hartwell, founder and president of RSN, says, "When our kidneys fail, we must embrace a new life and learn to live with the challenges we face every day. As individuals with a chronic disease, how do we deal with the bumps in the road that seem to continually appear before us? One of the strategies I use to cope with those challenges is to engage in the creative process. When I am involved in doing something creative, or even when I watch someone who is involved, I feel relaxed. It helps me live in the moment. We encourage our fellow kidney peeps to share how they use their own creative skills to cope with CKD. By doing so, they will serve as an example of extraordinary courage and resilience."
Contest winners will receive cash prizes: First Place, $500; Second Place, $300; and Third Place, $100. The submission deadline is August 10, 2023. Winners will be announced on the week of September 25, 2023, and winning essays will be featured in RSN's publication KidneyTalk™ Magazine and on RSNHope.org.
All entries must be postmarked or received by 12:00 PM (PT) on August 10, 2023.
Read and Listen to the Winning Essay of the 20th Annual Essay Contest:
The theme of 20th annual essay contest was "Surviving Tough Times, sharing a strategy that helps cope with kidney disease." — inspired people who have kidney disease to share their experiences and how they learned to cope with the illness. The contest is open to anyone in the United States who has been diagnosed with chronic kidney disease.
We congratulate our 1ST – 4TH place winners, 2 President's Picks, and 12 Honorable Mentions who shared their strategies to survive and thrive with this illness.
"It's hard for me to believe that it's been 20 years since we hosted the first essay contest," says Lori Hartwell, President and Founder of RSN. "Every year I have the privilege of reading my peers' amazing stories. These stories are the fuel that drives hope for people who have kidney disease. Seeing my peers overcome such incredible adversity makes me determined to persevere. Don't miss this opportunity to read their words of wisdom."
Read Past Winning Essays:
Get the Essay Collection Book

RSN's book of essays "Hope, Inspiration & Wisdom: A Treasury of Thoughts on Coping with Kidney Disease" is available for purchase.
Order the Printed Book for $14.95 or the Kindle Book for $6.99
Thanks to Our 2023 Corporate Partners