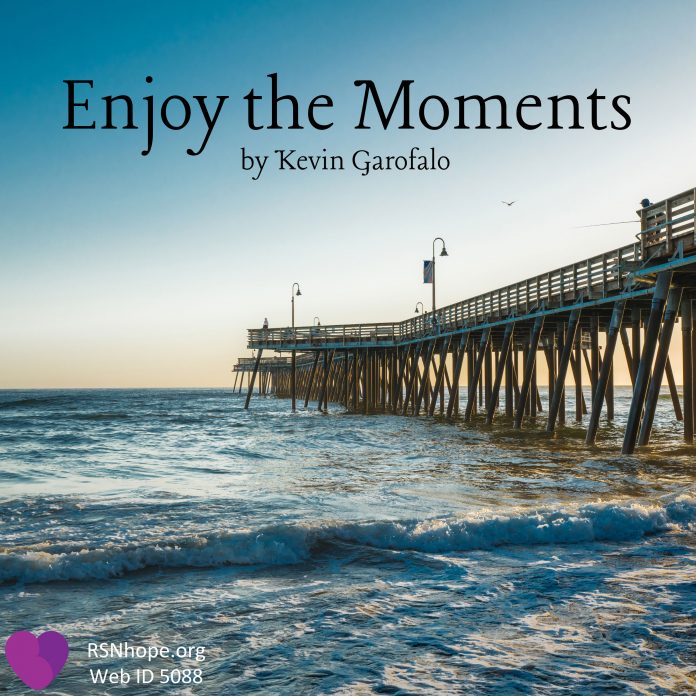 I would have a hard time painting a stick-figure portrait, even by number. I would only successfully be able to put the clay in front of me if I attempted a sculpture. The idea of writing a soliloquy seems so silly to me. Where my creativeness has saved me has been in finding ways to participate in my life and "enjoying the moments" as a person who dialyzes four days a week.
I started dialysis at sixteen years old. Thirty-seven years later; after two transplants, twenty-five years of working, twenty-two years of marriage (so far), I am back to, and still, on dialysis. Knowing that I am no longer a transplant candidate, and that my life will forever include four days of dialysis each week, can be, and has been, overwhelming at times. When I went back on dialysis twelve years ago, I sank into a deep depression that felt like I was stuck in quicksand. It paralyzed me. In the summer of 2013, I made it my goal to be an active participant in life again, whether that allowed me one hour of true enjoyment each week or all three days of being dialysis-free.
Don't think that "moments" need to cost a lot of money. I know many of us live on fixed incomes. My happiness comes from being in, on, or around water. I love going to our local pier and watching the surfers, being in my sister's pool, or on the rare occasion I get to go out on a boat. Water to me is so symbolic of life. Because fluids have been a restrictive part of my life, just looking at vast, scenic ocean views feels freeing. My life as a dialysis patient feels so far away when I am around bodies of water.
Be creative with where you personally find happiness, but don't force yourself to think that "participating in your life" will always be easy. Set small goals, make sure you're getting out of bed the days you are able, and create a schedule that you try to stick to on non-dialysis days.
Kevin Garofalo was born with born with hypoplastic kidneys. He has been on peritoneal dialysis and had two transplants and is currently on hemodialysis. Here are a few things Kevin says are some of his favorite "moments": Taking my 8th grade science fair project (kidney function) to the state level, getting to spend a month surfing in hawaii between 8-9th grade, winning "offensive player of the year" for my high school football team in my sophomore year. Going back to playing baseball after my kidney transplant in my senior year, graduating high school on time with my other classmates even though I dialyzed throughout my junior year and was recovering from transplant beginning of senior year. Getting accepted to and finishing college (Cal State Fullerton), finding the love of my life and someone who loves me in sickness and in health, working in the private sector for 20+ years. Working for a short time as a concert promoter. I got to work with and meet some of my favorite musical artists (Billy Idol, No Doubt, Sublime, Save Ferris, Dramarama). Every moment I get to spend laughing, hugging, spending time with family and friends.
Web ID 5088