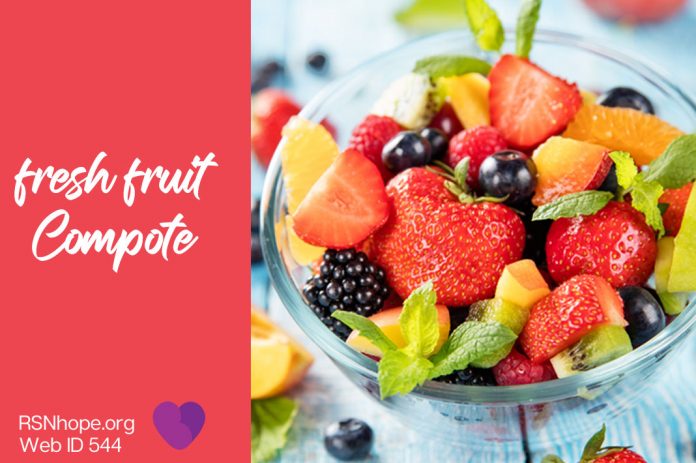 Delicious and refreshing and renal-friendly any time of the year! Goes great with our Spicy Angel Cake and Low Sodium Pound Cake recipes.
Makes 8 portions
Serving Size 1/2 cup
Ingredients
1/2 cup Strawberries, fresh or frozen
1/2 cup Blackberries, fresh or frozen
1/2 cup Blueberries, fresh or frozen
1/2 cup Peaches, pared, cut
1/4 cup Red raspberries, fresh or frozen, sweetened, not thawed
1/2 cup Orange juice, fresh or canned, unsweetened
1 Apple, cut into bite-size pieces
1 Banana, cut into bite size pieces
Directions
Poor orange juice into a large container.
Add all ingredients listed.
Toss gently.
When using frozen fruit, allow 4 hours at room temperature for thawing.
Nutrient Information
Calories 44
Protein .5 g
Fat .2 g
Carbohydrate 11 g
Fiber 1.6 g
Cholesterol 0 mg
Sodium 1 mg
Potassium 140 mg
Phosphorus 13 mg
Recipe Disclaimer
Due to variations in ingredients, the nutritional analyses should be used as a guideline only. A renal dietitian reviews all recipes, but we cannot assure that all values are accurate. Remember to consult a renal care provider with respect to any specific questions or concerns you may have regarding proper renal nutrition or before making any changes in your renal diet.
Uploaded: 12-31-2008
Web ID 544