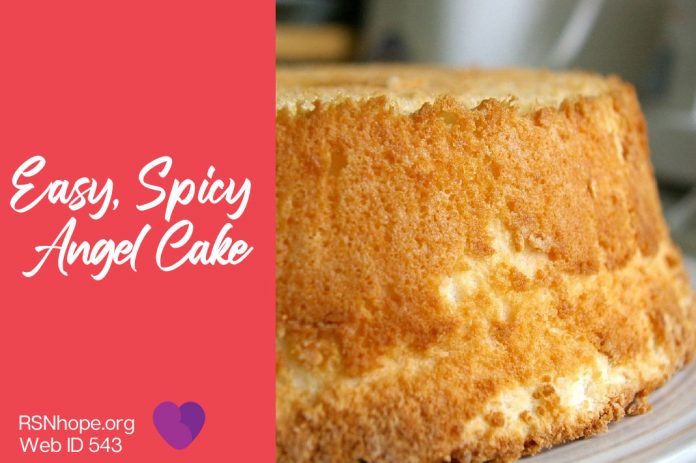 Spicy, soft and spongy cake that everyone will love. Try it with our Fresh Fruit Compote recipe or serve for breakfast with our Orange Flavored coffee.
Serving size: 1 –inch slice
Makes 18 slices

Ingredients
1 pkg. Angel food cake mix
1 tsp. ground cinnamon
1/2 tsp. ground nutmeg
1/4 tsp. ground ginger
1/4 tsp. ground cloves
Directions
Sift together all ingredients.
Prepare and bake as directed on package.
Invert.
Cool thoroughly in pan.
Remove.
Cut into 1-inch slices.
Serve with fresh pineapple or strawberries and whipped topping.
Nutrient Information
Calories 112
Protein 2.5 g
Fat .1 g
Carbohydrate 25 g
Fiber 0 g
Cholesterol 0 mg
Sodium 55 mg
Potassium 34 mg
Phosphorus 36 mg
Recipe Disclaimer
Due to variations in ingredients, the nutritional analyses should be used as a guideline only. A renal dietitian reviews all recipes, but we cannot assure that all values are accurate. Remember to consult a renal care provider with respect to any specific questions or concerns you may have regarding proper renal nutrition or before making any changes in your renal diet.
uploaded: 12-31-2008
Web ID 543