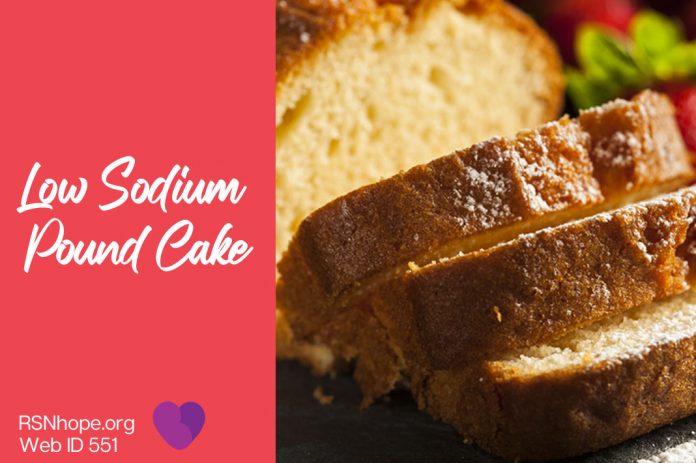 Save room for dessert! This pound cake recipe is tasty on it's own, but it is extra yummy when paired with our Fresh Fruit Compote recipe. Serving Size: 1/9 cake
Ingredients
1/4 lb Butter, unsalted
3/4 cup Sugar
2 large eggs, beaten slightly
1 1/4 cup Bread flour
3 oz. Milk
Directions
Cream butter and gradually add sugar.
Beat until fluffy.
Add eggs, flour and milk.
Mix well.
Line 18×13 in pan with pan paper.
Bake at 375 F for 30 minutes.
Nutritional Value
Calories 243
Protein 3.7 g
Fat 12 g
Carbohydrate 31 g
Fiber .6 g
Cholesterol 75 mg
Sodium 18 mg
Potassium 47 mg
Phosphorus 45 mg
Recipe Disclaimer
Due to variations in ingredients, the nutritional analyses should be used as a guideline only. A renal dietitian reviews all recipes, but we cannot assure that all values are accurate. Remember to consult a renal care provider with respect to any specific questions or concerns you may have regarding proper renal nutrition or before making any changes in your renal diet.
Uploade: 12-31-2008
Web ID 551