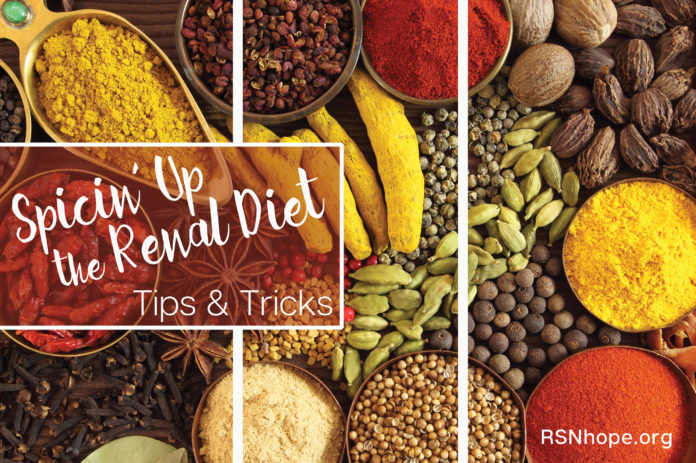 We eat for enjoyment first, then hunger or habit. A kidney diet seems lacking in flavor because of restrictions on salt, soy sauce, and high sodium foods; cheese and other foods high in phosphorus; and tomato sauce and high potassium foods. The best solution is to spice up your renal diet to bring back flavor and enjoyment. Experiment with herbs and spices to replace salt. Add a single spice or combine several herbs and spices to add flavor. You can also purchase salt-free blends to take the guesswork out of combining seasonings. Some of the popular brands include Mrs. Dash® seasoning blends, Lawry's® Salt- Free 17 Seasoning, Chef Paul Prudhomme's Magic Salt-free Seasoning®, and Bragg® Organic Sprinkle 24 Herbs & Spices Seasoning. Always check the ingredients and avoid blends with salt or potassium chloride.
Rubs and Dips
Try rubbing a mixture of spices onto chicken, pork chops, steak, or lamb chops before baking, barbecuing, or frying.
Add salt-free seasoning blends to salads, pasta, cooked grains, and vegetables.
Combine spice blends with cream cheese or soft butter for a flavorful spread or with sour cream for a dip or topping.
Herbs
Chop fresh herbs such as basil, rosemary, cilantro, dill, parsley, tarragon, thyme, or mint and add them at the end of cooking or just before serving. These herbs are available in dried form (ground or whole leaves) for year-round use.
Add chopped mint leaves to fruit salad.
Add chopped parsley or cilantro to lettuce salad.
Top pasta dishes with chopped basil or rosemary.
Mix chopped parsley or dill with steamed rice or cooked vegetables.
Salad Dressing
Substitute infused oils and vinegars in homemade salad dressings and marinades.
Use olive oil infused with lemon, garlic, peppers, or herbs such as basil, oregano, or rosemary. Try balsamic, red wine, cider, or tarragon vinegar instead of white vinegar. Find a specialty or grocery store that offers a wide variety of infused oils and vinegars and buy some.
Put vinaigrette dressing on cooked vegetables, pasta salad, or coleslaw, or use it to marinate raw vegetables.
Add a simple squeeze of lemon or lime juice; pure citrus oil from lemons, limes, or oranges; or zest from fresh citrus fruit to impart zing to almost any dish.
Some like it Hot
Spice up a dish with hot spices or sauces. Even if you don't like spicy foods, try adding only a drop or a sprinkle.
Add hot sauce to eggs, casseroles, or stir-fry dishes.
Add cayenne pepper or ground dried chiles to lowsodium chili, soup, or stew.
Sprinkle dried chili flakes on just about any food at the table.
Remember that Tabasco® Original Red Sauce has a very low sodium content. Also, although the popular Sriracha® hot chile sauce contains 100 mg of sodium per teaspoon, it's acceptable because most people use much less. Always check the label since the sodium content in other brands can be quite high.
Fruits & Vegetables
Use fruits and vegetables as flavoring agents.
Serve fruit sauces like applesauce, raspberry sauce, or cranberry sauce with meat or poultry.
Use marmalade, jam, or jelly to make a glaze for meats and vegetables such as carrots, celery, turnips, or beets.
Prepare mirepoix (meer-pwah), a mixture of chopped vegetables roasted or sautéed in butter or olive oil and add it to meat, poultry, stews, and sauces. The two most popular mixtures contain onions, celery, and bell pepper (the mainstay of Cajun cooking) and celery, onions, and carrots. You can add garlic, shallots, leeks, or parsley for even more flavor.
More about spicing up the Renal Diet:
Spice It Up with Chef Aaron McCargo Jr.

About the Author
Sara Colman Carlson has over 20 years experience working in dialysis in Southern California, and has been a DaVita dietitian since the beginning. Her love for the renal area led her to a full time dialysis career. Sara has a passion for food and cooking, and is co-author of "Cooking for David: A Culinary Dialysis Cookbook". Sara is currently Manager of DaVita.com Nutrition.
05/16/2014
Web ID 938