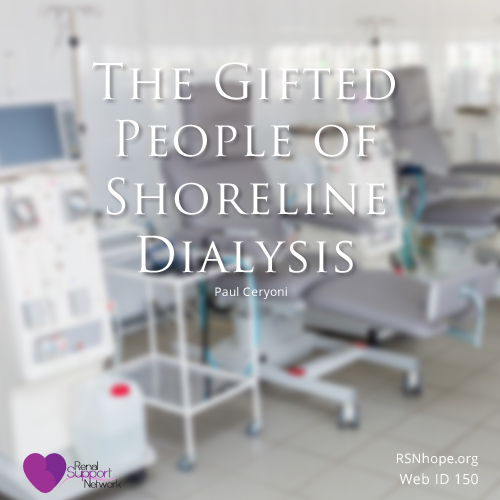 "Paul, honey, wake up! Your treatment's over. Any plans for the weekend? Sightseeing? Country fairs? Auctions? Vermont?" my nurse asks as she checks my arm and records my weight.
"Yeah. We're off for an overnight in Vermont."
I leave the clinic in a chorus of "goodbyes" as one of the nurses yells: "Come back when you can stay longer!"
We all laugh.
As I sit in the reception area waiting for Transit to take me home, I gaze once again at the unit's pet bulletin board, our social worker's project displaying humorous photos of cats, dogs, and horses belonging to patients and staff. As I sit there smiling, I hear laughter coming from the clinic. A nurse comes through the door wheeling a 90-year-old patient, helping him into his coat (it is 95 degrees outdoors) and laughing hysterically.
"Did you hear about Nurse Jody's kitten?" she chuckles. "Yesterday, the vet changed its name from Athena to Plato!"
More laughter all around.
Transit is late again. I close my eyes and start to reflect on my last 22 months at Shoreline Dialysis. What is it that makes me want to come here for daily dialysis? Why, during a recent long hospitalization, did I miss the clinic and its staff so dearly?
When I began at Shoreline, I had just completed a 40-year academic career and found the prospect of being one of 12 patient designees for a dialysis-six-times-per-week-for-one-year study an exciting prospect. It would be like one of the many research programs of my school career, this time working with doctors, physician assistants, nurses, technicians, and researchers in New York and California, all to convince the US government to fund daily dialysis because patients proved healthier in a program that could be more cost effective.
Although the research was a key factor in my thriving in this clinic, I knew it was more than that alone that has brought me to my present optimal health, positive attitude, and zeal for life. It was clear that I was in the care of a very select group of professionals especially chosen for this clinic. They were knowledgeable, devoted, compassionate, loving, and sometimes even eccentric. They could read every furrow in your brow, in addition to the "tell-all" blood tests.
I bump along on the ride home, 90-year-old Joseph in his wheelchair beside me, clutching a precious bag of fresh cherries for his wife. Our clinic secretary had purchased them for him on her lunch hour.
I feel content and think back to one of my first visits to Shoreline. That day, I had tried to refuse treatment. This brought an immediately closed curtain and an attendant gathering of staff. I felt I had earned my misery and simply wanted to disappear. Thirty years of diabetes, a leg amputation, and end-stage renal disease were ample reasons to quit.
After minutes of an implacable attitude, I was shocked as I heard the social worker say: "I'll make arrangements with hospice."
In a moment, the curtain still closed, I found myself alone with Nurse Jody. She stared directly into my eyes.
"Hey, you! Did it ever occur to you that you brighten our lives by just coming here every day? Do you know that people here go home and worry about you? Now, get your butt into that chair so I can put you on the machine!"
We both laughed. I had never felt so loved.
From that day on, I realized I was with a well-orchestrated, gifted staff capable of motivating a room of machine-dependent people into functioning, laughing, fulfilled human beings determined to live full lives.
The bus trip is over. I arrive home feeling a body and spirit healing at the hands of people informed on how to treat patients with state-of-the-art medicine, and with the healing touches of humor and laughter.
When I returned to the clinic Monday morning, the place was already in gales of laughter. One of the patients had complained she could not see the clock, so the nurse took the clock off the wall and placed it in her lap.
I thought of something I had read in the Old Testament: "A cheerful heart is good medicine, but a downcast spirit dries up the bones." (Proverbs 17:22.)
One by one the staff came by and asked: "How was your weekend?"
"Wonderful," I replied. "I drove my car for the first time in two years!"

About the Author
Paul Ceryoni is a dialysis patient from North Haven, CT. He is also the Second Place Winner of iKidney.com's First Annual Essay Contest entitled "How your staff at your dialysis unit or transplant center encourages you to live a fulfilling life in spite of kidney disease." The essay contest was provided by support from Watson Pharma.