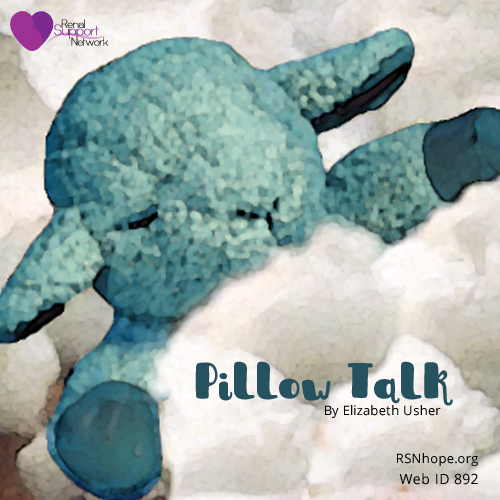 Hello. I don't usually say anything, but I'd like to tell you a little bit about myself. I'm flexible, soft, and blue. I live in a cotton tote bag along with a rather nondescript blanket. My owner is on dialysis, and I was bought 2 years ago for a paltry sum, considering how special I am. My innards consist of movable wires, little beads like those found in Beanie Babies, and a soft exterior skin. And I'm telling you so much about myself because I figure prominently in a small act of kindness done by a…. You get the picture.
My owner bought me because she sits in a Naugahyde recliner during dialysis, and the stiff attached pillow felt really uncomfortable against her neck. My wonderfully adjustable frame meant that she could wrap me around her neck and be comfortable, whether she was trying to watch TV at a strange angle or catch a little nap once in a while.
Then it happened.
I got a hole in my stitching: My little beads started popping out all over her and the floor of the dialysis center. She put me back into the tote and took me home. She wanted to sew up my wound, à la Dr. Oz, but, alas, her retinopathy makes it difficult for her to thread a needle. When her sister came over for a visit, my owner asked whether her sister would sew me up.
The sister, a good-hearted soul actually, was too busy. She merely grabbed a wide strip of sticky mailing tape and covered the tear. I went back to dialysis with my owner, but after a few weeks my little beads started to escape again. And to make it worse, the tape had dried up and started to curl. Not only were my beads leaking out, but the tape was as scratchy as a tag on the neck of a cheap T-shirt!
My owner went back to the store where she got me to see whether she could find a clone, but to no avail. She went online to try to find another me, but I was the last of my kind.
Déjà vu. My owner again took me home, her sister again had no time to sew me up, and I again went back to the dialysis sessions with packing tape stuck over the tear. The beads still oozed out, the tape still curled and irritated my owner's neck, and now the tape started sticking to my owner's hair and pulling it out! She can't afford to lose any more hair.  She was miserable. I was miserable.
Then it happened—that small act of kindness. As the technician was putting me into the tote, she looked very carefully at me and asked, "What's wrong with this pillow?"
"My sister tried to cover the hole," my owner said.
The technician looked at me again. She smiled at both of us and said, "I can fix this. I'll take it home, and it'll be as good as new."
And I was as good as new! The next dialysis day, I was sitting there waiting for my owner as she approached the chair. No more beads and no more sticky tape. I'd been operated on, and we both had a new lease on life.
My owner offered to pay the technician for sewing me up so beautifully, but she just smiled and said, "It wasn't that hard. I was glad to do it for you."
Thus, I was part of a professional's small act of kindness. My owner can now twist me to fit her neck, and there's no more tape to pull her hair out.
This small act of kindness in the form of a few stitches made a huge difference in both our lives.
About the Author
Elizabeth Howard Usher taught English at Lakewood High School as well as Harding Middle School in Lakewood, Ohio for thirty-one years.  She graduated from Linden Hall School in Lititz, Pennsylvania; Pine Manor College, and Western College. During her teaching career, she was named Teacher of the Year in 1984 and Educator of the Year in 1998.  She is named in both Who's Who in American Teachers and Who's Who in American Women.  She has diabetes and has been on dialysis since July of 2010. In her spare time she is part of a MENSA consulting group for advertisers and she loves cartooning, oil painting, playing the violin, and writing short stories and poems. She is presently working on a novel about Ruthin, Wales, a mystery.