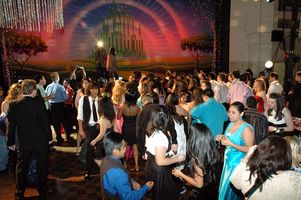 Teens Have a Lot of Heart, Wisdom and Courage to share with Each Other at Prom.
Glendale, CA (January 21, 2009) -The young women sparkled and shone in dazzling prom dresses and sculpted tresses. The young men grinned, handsome in their own prom finery. Some teens brought dates, some took the arm of a favorite cousin, brother or sister, some leaned on a cane or rolled the wheels of a wheelchair, and all of them were ready for a good time, a time to forget for a night the challenges of chronic kidney disease: It was the 10th Annual Renal Teen Prom, "Somewhere Over the Rainbow," created by the Renal Support Network (RSN).
Long time survivor, Lori Hartwell, founder and president of RSN, glowed with happiness watching the teens dance, laugh, and make friends. "That's why I created the Renal Teen Prom," she exclaimed. "I missed my own prom because of chronic kidney disease, which I have had since I was 2. I spent all my teenage years on dialysis. I know that one friend can make a difference, and we give these young people the chance to get to know others who are like them, walking in the same shoes."
The teens can attend every year from the time they are 14 until they are 24, and many have made lifelong friends they look forward to seeing at the prom.
On a break from dancing, Boston teen Michelle Kats chatted with Taylor Reynolds, a friend from California whom she met at last year's prom. "I couldn't wait to be here again," said Michelle, dressed in a black velvet, spaghetti-strapped sheath. One foot in a cast was no obstacle, and the other foot was shod in a spiked black heel! "I love seeing everybody again. It's so important because you can feel isolated, like no one really knows what it's like to have CKD. Being here with hundreds of kids who have gone through something like my own story makes me feel like I'm among friends."
By scheduling the prom on the Sunday of Martin Luther King Holiday, RSN makes going to the prom possible. Dialysis treatments are rarely given on a Sunday, and the following day is a holiday for most, allowing a day of rest between the prom and school or work.
The weather cooperated, and instead of the 32-degree weather of past proms, California's balmy take on winter triumphed. On the impressive campus of Notre Dame High School KIIS-FM set up a tent along the entryway to the registration area, blasting music for their radio personalities — Manny on the Streets, Fat Daniel, and Karli from The Block — who were signing autographs. Sleek limos pulled alongside the curb to take waiting passengers for a spin around the valley.
Inside, the "prommers" were greeted by life-size dolls of Dorothy, Glinda the Good Witch, Scarecrow, Tin Man and Cowardly Lion as they walked along the Yellow Brick Road into a basketball gym completely transformed into the "Emerald City." DJ Phil Roa kept the lively dance mix going until late into the evening. Actor Jeff Hartman emceed, Chicago singer-actress Laurie Marchese belted out a rendition of the theme song that would have pleased Judy Garland; the high school cheerleaders danced energetic routines.
Special guests were introduced: Phillip Palmer, ABC morning anchor who donated his kidney to actor and video editor Dale Davis, both men speaking eloquently about the need to stay on target with medications and dialysis, and of the need for more organ donations so that the many teens in the room could have the transplant they had been waiting for and dreaming of.
This massive community effort needed a lot of volunteers, and people came from many places to be drivers for teens who needed rides, to do hair and make-up, help with registration, and mind the food supply in the parents hospitality area. Five hospitals and Nephrology nurses gave their time and secured rooms so that young women in need of a pretty prom dress could choose one to wear and keep from among 300 donated dresses which RSN caravanned around southern California.
Notre Dame High School collaborates with RSN on the prom year after year because it is a worthwhile community service project for their seniors.
Actor/Director/Producer Stephen Furst who started his career as "Flounder" in the classic film comedy, "Animal House," stated. "I love this program because as a kidney transplant recipient, I know what it means to have CKD, and I am filled with admiration for these beautiful, courageous kids."
That was a sentiment echoed by the media who covered the prom, Fox News, KCAL, CBS, and ABC. A reporter confessed, "I can't go into pediatric hospitals or I start to cry, but this prom, this is so uplifting, to see these kids – they're just like any other prom kids."
At eleven-sharp, the DJ pulled up the tracks and wished everyone a safe drive home. Glittery spiked sandals in hand, ties unknotted, dazed smiles on their faces, the prom attendees left to wait for next year's prom.
Web ID 677