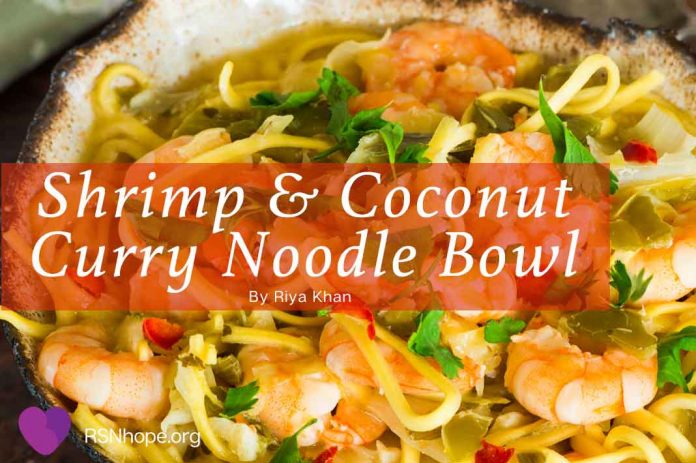 This recipe combines sweet corn and zucchini with coconut milk and rice noodles, but you can experiment with any vegetables you have on hand. Turn up the heat with curry paste and add a squeeze of lime. Toss in some cooked shrimp and you have a complete meal in 30 minutes.
Prep time: 15 minutes
Cook time: 15 minutes
Total time: 30 minutes
Servings: 5
INGREDIENTS

8 ounces rice noodles
2 tablespoons coconut oil
1 sweet onion, diced
2 zucchini or summer squash, diced
2 ears sweet corn kernels, (removed from the cob)
2 cloves garlic, minced or grated
1 tablespoon fresh ginger, grated
2-3 tablespoons Thai red curry paste
1 14-ounce can coconut milk, full fat
1/3-1/2 cup water
1 tablespoon low sodium soy sauce
2 teaspoons honey
Juice and zest from half a lime
Top with 1/4 cup fresh cilantro (or basil, roughly chopped)
Optional: Add 12 large shrimp sautéed with a pinch of salt and pepper in a tablespoon of extra virgin olive oil
Top with sliced jalapeño pepper and/or chopped green onions
INSTRUCTIONS
1. Cook the rice noodles as directed on the package.
2. Heat the coconut oil in a large skillet. Add in the onion and cook over high heat for about 5 minutes. Add the zucchini, corn, garlic, and ginger and cook for about five more minutes until everything starts to get soft.
3. Stir in the curry paste and cook for another minute.
4. Stir in the coconut milk, soy sauce, water, and honey. Optional: Add sautéed shrimp. Bring to a boil, and cook until the mixture begins to thicken (about 5 minutes). You can add more water if the sauce becomes too thick.
5. Remove skillet from the heat. Add either the cilantro or basil, according to taste, and stir in the lime juice and zest.
6. Divide the rice noodles into separate serving bowls and top with the curry mixture. Optional: Top with jalapeño peppers and/or green onions, to taste.
Recipe Nutritional Values
| | |
| --- | --- |
| Calories: 418 | Sodium: 195 mg |
| Protein: 16 g | Potassium: 660 mg |
| Fat: 27 g | Calcium: 90 mg |
| Carbohydrates: 36 g | Phosphorus: 285 g |
| Fiber: 5 g | Cholesterol: 76 g |
Due to variations in ingredients, the nutritional analyses should be used only as a guideline. A renal dietitian reviews all recipes, but we cannot assure that all values are accurate. Remember to consult a renal care provider with respect to any specific questions or concerns you may have regarding proper renal nutrition or before making any changes in your renal diet.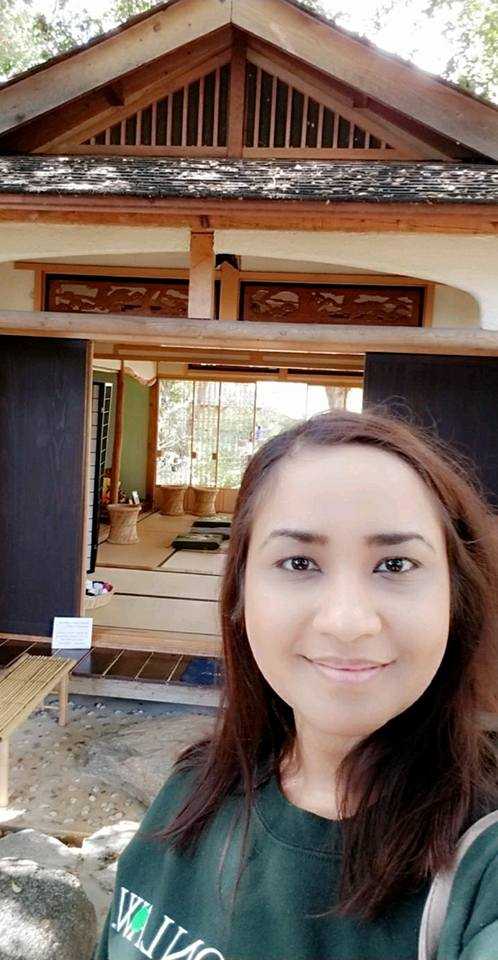 Riya Khan has lived with kidney disease since she was a young child. She received a kidney transplant in March of 2001. Since then she has been very passionate about using her second chance to make the most of her life. In 2016 she received her law degree followed by an LL.M. in International Law. She uses any free time she can to stay involved in the renal community and to advocate for chronic kidney disease. Some of her favorite activities are cooking various cuisines, traveling, and spending time with her two dogs.
Web ID: 4015