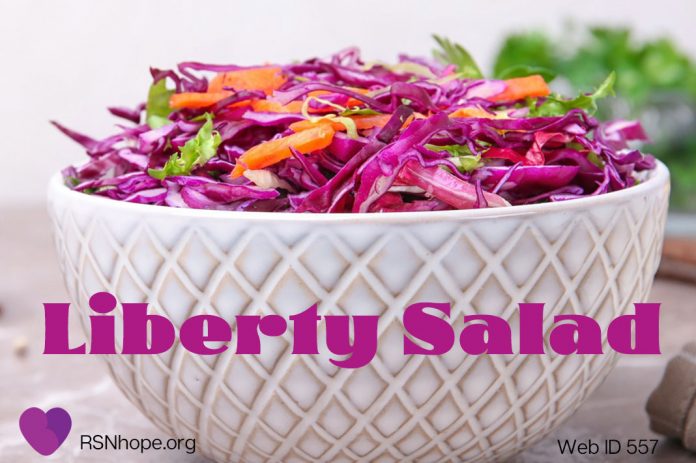 A delicious and colorful alternative to traditional leafy greens and it's kidney-friendly. This Salad is a summer backyard party favorite and a refreshing side dish for any occasion.
Servings: 12
Serving Size: 1/2 cup

Ingredients
3 cups shredded cabbage
1 cup shredded carrots
1 cup chopped red onion
1 medium cucumber, sliced thin
1/4 cup vinegar
2 tablespoons lemon juice
1/2 cup sugar
1/4 cup oil
1/2 teaspoon black pepper

Directions
1. Mix together vinegar, lemon juice, sugar, oil and black pepper. Set aside.
2. In a large bowl, mix together shredded cabbage, shredded carrots, chopped red onion and cucumber slices.
3. Pour dressing over salad.
Approximate analysis per 1/2 cup serving:
Recipe Disclaimer
Due to variations in ingredients, the nutritional analyses should be used as a guideline only.
A renal dietitian reviews all recipes, but we cannot assure that all values are accurate. Remember to consult a renal care provider with respect to any specific questions or concerns you may have regarding proper renal nutrition or before making any changes in your renal diet.
Web ID 557