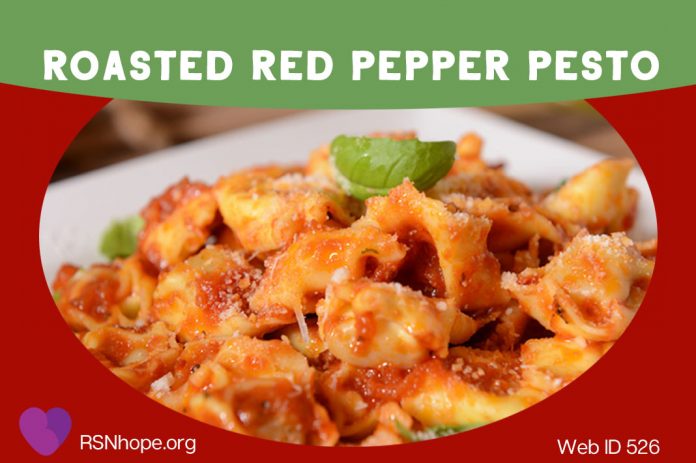 This roasted Red Pepper Pesto tastes great on any pasta. But it really brings out the flavor of lobster ravioli or tortellini.
Serves 2
2 garlic cloves, cut in half
1 jar (about 7 to 8 ounces) roasted red bell peppers, drained
¼ cup olive oil
¼ cup fresh basil, torn
1 tsp. balsamic vinegar
pepper to taste
1 Trader Joe's Lobster Ravioli, or another meat filled ravioli or tortellini.
1.  Combine all of the ingredients except the pasta in a food processor and blend 30 seconds until it has reached your desired consistency. Taste, and adjust flavors to your preference.
2.   Prepare the ravioli or stuffed pasta according to the directions on the package. Do not salt the pasta water; there is plenty of sodium inherent in the sauce and ravioli.
3.  Top the hot ravioli immediately with room temperature pesto and enjoy.
NOTE:This recipe can also be made with freshly roasted bell peppers.
Approximate analysis per serving:

526 kcals

487 mg

17 g

394 mg

37 g

66 mg

31 g

186 mg

Recipe Disclaimer
Due to variations in ingredients, the nutritional analyses should be used as a guideline only.
A renal dietitian reviews all recipes, but we cannot assure that all values are accurate. Remember to consult a renal care provider with respect to any specific questions or concerns you may have regarding proper renal nutrition or before making any changes in your renal diet.
Uploaded: 12-31-2008
Web ID 526