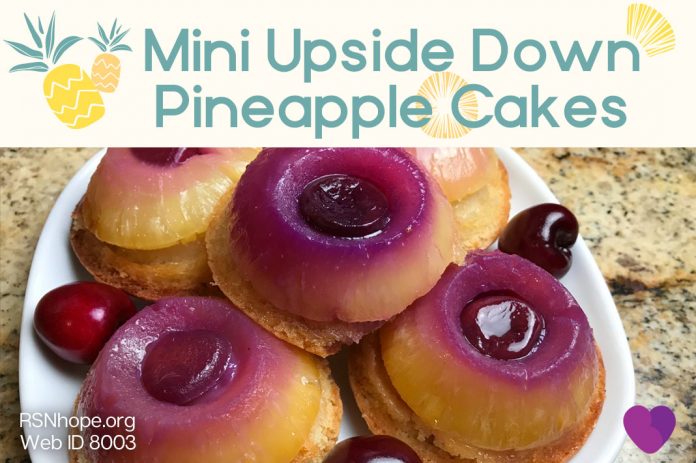 Featuring two very kidney-friendly fruits, these mouthwatering mini pineapple upside down cakes are perfect for dinner parties or a backyard BBQ dessert.
Ingredients
Serves 12
3 tablespoons unsalted butter, melted
1/3 cup packed brown sugar
12 canned unsweetened pineapple slices
6 fresh cherries cut into halves and pitted
2/3 cup sugar
2/3 cup fat-free milk
3 tablespoons canola oil
1 egg
1 teaspoon lemon juice
1/2 teaspoon vanilla extract
1-1/3 cups cake flour
1-1/4 teaspoons baking powder
1/4 teaspoon salt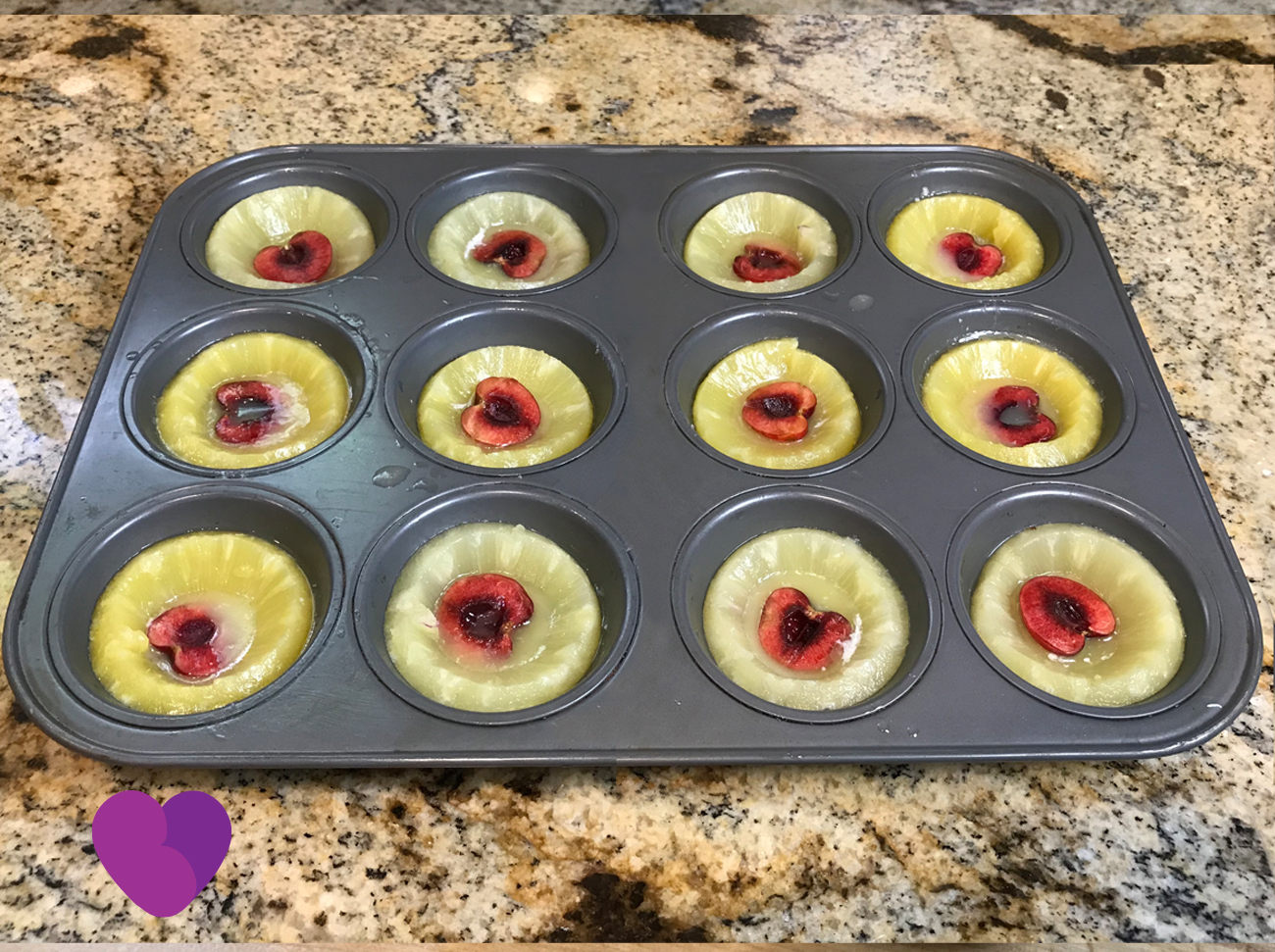 Instructions
Pour butter into a 12 serving muffin pan. square baking pan.
Sprinkle a little brown sugar into each section.
Press one pineapple slice into each section forming a cup shape. Place one cherry half (cut side facing up) in the center of each pineapple slice and set aside.
In a large bowl, beat the sugar, milk, oil, egg and extracts until well blended. Combine the flour, baking powder and salt; gradually beat into sugar mixture until blended. Pour into prepared batter into muffin pan.
Bake at 350° for 35-40 minutes or until a toothpick comes out clean. Immediately invert the muffin pan and drop the cooked cakes onto a serving plate. You can use a butter knife or small spatula along the edges if necessary to gently release them from the pan. Serve warm.
Approximate analysis per serving
Calories  193
Fat 8 g
Protein  3 g
Carbohydrate 32 g
Fiber  1 g
Sodium 131 mg
Potassium  169 mg
Calcium  67 mg
Phosphorus  88 mg
Cholesterol  56 mg
Recipe Disclaimer: Due to variations in ingredients, the nutritional analyses should be used as a guideline only. A renal dietitian reviews all recipes, but we cannot assure that all values are accurate. Remember to consult a renal care provider with respect to any specific questions or concerns you may have regarding proper renal nutrition or before making any changes in your renal diet.
Web ID 8003