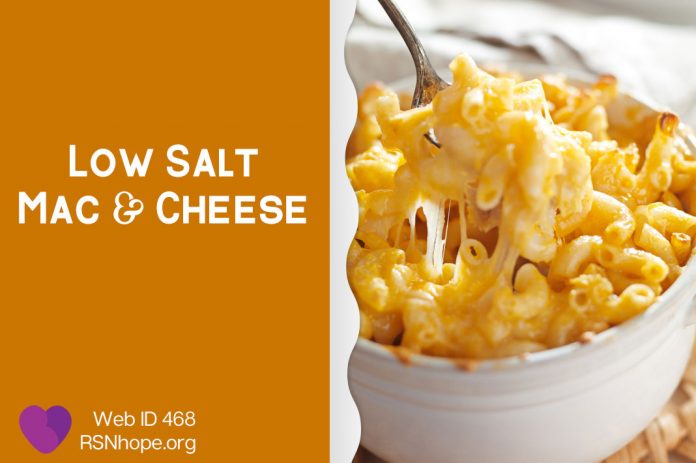 Everyone's favorite comfort food is just as delicious without all the sodium. This low salt macaroni and cheese recipe will satisfy the whole family! Serve it up hot with our Chicken Nuggets with Honey Mustard Sauce.
Servings: 4
Ingredients
2 cups noodles, (any shape you want)
2 to 3 cups boiling water
1/2 cup grated cheddar cheese
1 teaspoon margarine or salt free butter
1/4 teaspoon dried mustard
Directions
1. Boil water, add noodles, cook about 5-7 minutes till tender.
2. Drain.
3. While still very hot, sprinkle with cheese, stir in butter and mustard.
(Optional – Bake at 350 for ten to fifteen minutes or until top is golden brown for an extra yummy crunch.)
Approximate analysis per serving:
Recipe used with permission from:
Northwest Kidney Centers
www.nwkidney.org
(206) 292-2771, ext. 2000
700 Broadway
Seattle, WA 98122
Recipe Disclaimer
Due to variations in ingredients, the nutritional analyses should be used as a guideline only.
A renal dietitian reviews all recipes, but we cannot assure that all values are accurate. Remember to consult a renal care provider with respect to any specific questions or concerns you may have regarding proper renal nutrition or before making any changes in your renal diet.
Web ID 468