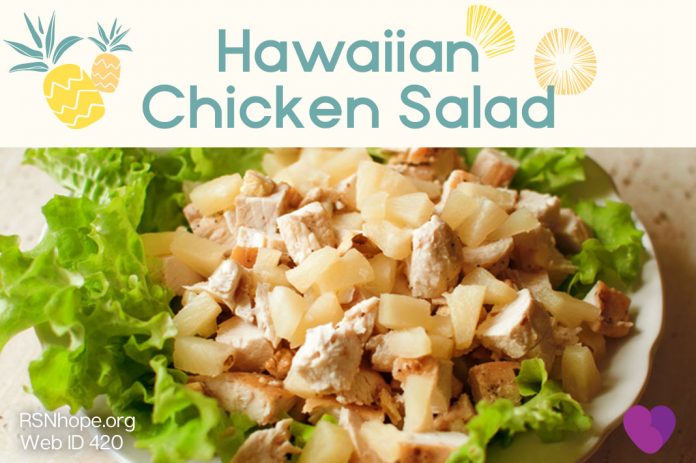 Fill up and chill out with a blend of sweet and tangy in this flavorful salad.
Makes 4 servings
Serving Size: 3/4 cup
Ingredients
1/2 Cup Diced Celery
1-1/4 Cups Shredded Head of Lettuce
1-1/2 Cups Chopped Cooked Chicken
1 Cup Drained Unsweetened Pineapple Chunks
1/2 tsp. Sugar
2 tsp. Lemon Juice
1/2 Cup Mayonnaise
Dash Tabasco Sauce
1/4 tsp. Pepper
Paprika
Directions
1. Place celery, lettuce, chicken, and pineapple in a bowl.
2. Mix sugar, lemon juice, mayonnaise, Tabasco, and pepper together.
3. Add to chicken mixture and toss to mix.
4. Serve on a lettuce leaf and sprinkle with paprika.
Approximate analysis per serving:
Recipe Disclaimer
Due to variations in ingredients, the nutritional analyses should be used as a guideline only.
A renal dietitian reviews all recipes, but we cannot assure that all values are accurate. Remember to consult a renal care provider with respect to any specific questions or concerns you may have regarding proper renal nutrition or before making any changes in your renal diet.
Uploaded: 12-31-2008
Web ID 420