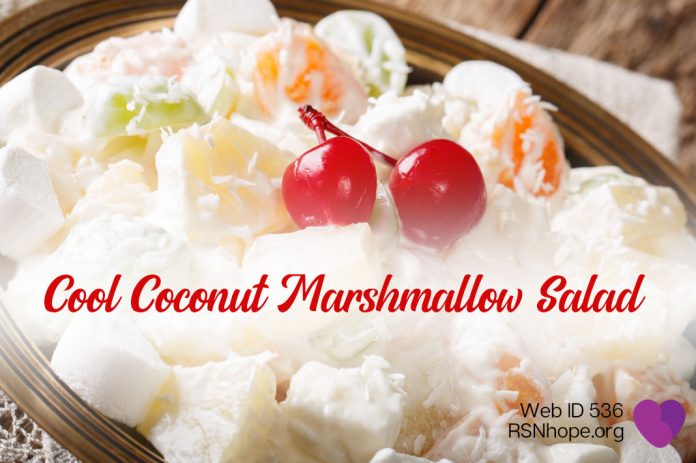 A kidney diet take on ambrosia salad, a light and refreshing dessert. Cool off with this refreshing, kidney-friendly summer treat!
Servings: 8
Serving Size: 3/4 cup
Ingredients
1 package (8.8 ounces) fruit flavored marshmallows
1 cup dried coconut, shredded
1 can (15 ounces) drained fruit cocktail
2 cups sour cream

Directions
1. Mix all ingredients in a bowl.
2. Transfer to a glass bowl to serve.
3. If you like a creamy salad, refrigerate an hour before serving. If you like a
molded salad, refrigerate overnight.
Approximate analysis per serving:
Recipe provided courtesy of The Kidney Foundation of Canada, Northern Alberta & The Territories Branch, at www.kidney.ab.ca
Recipe Disclaimer
Due to variations in ingredients, the nutritional analyses should be used as a guideline only. A renal dietitian reviews all recipes, but we cannot assure that all values are accurate. Remember to consult a renal care provider with respect to any specific questions or concerns you may have regarding proper renal nutrition or before making any changes in your renal diet.
Uploaded: 12-31-2008
Web ID 536