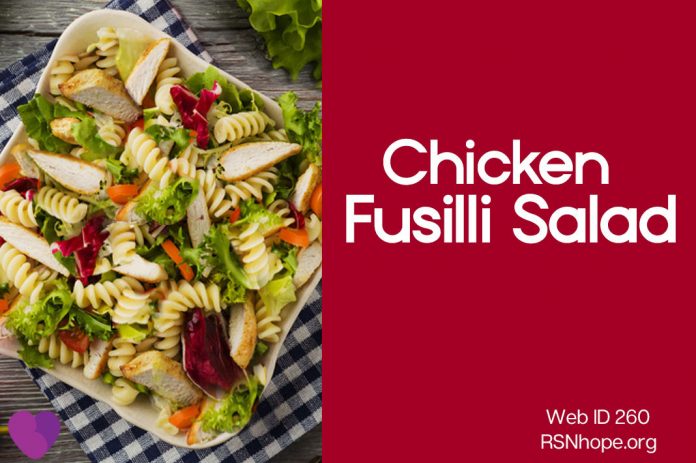 Stay cool as a zucchini and enjoy a tasty pasta and chicken salad. Get through the day energized with this lunchtime favorite.
Servings:  4
Dressing
1/2 cup olive oil
1/4 cup vinegar
1/2 teaspoon white pepper
1/4 teaspoon basil
1 teaspoon sugar

Salad
3 cups cooked fusilli pasta (any pasta shape will work)
8 ounces cold cooked chicken, diced
1/2 cup frozen peas, defrosted
1/2cup chopped red pepper
1 cup sliced zucchini
1 medium carrot, sliced thinly
2 cups shredded lettuce
Directions
1. Put dressing ingredients in jar with lid and shake to blend ingredients. Chill for at least 2 hours. Shake again before mixing with salad.
2. Mix together pasta, chicken, peas, zucchini, red pepper and carrot in large bowl.
3. Add dressing and toss well. Divide lettuce onto 4 plates and top with salad mixture.
Nutrient Information
Approximate analysis per serving:

Diabetic or Weight Reduction Options: Reduce olive oil to 1/4 cup and add 2 tablespoons water to dressing mixture.
Recipe Disclaimer
Due to variations in ingredients, the nutritional analyses should be used as a guideline only.
A renal dietitian reviews all recipes, but we cannot assure that all values are accurate. Remember to consult a renal care provider with respect to any specific questions or concerns you may have regarding proper renal nutrition or before making any changes in your renal diet.
Web ID 260