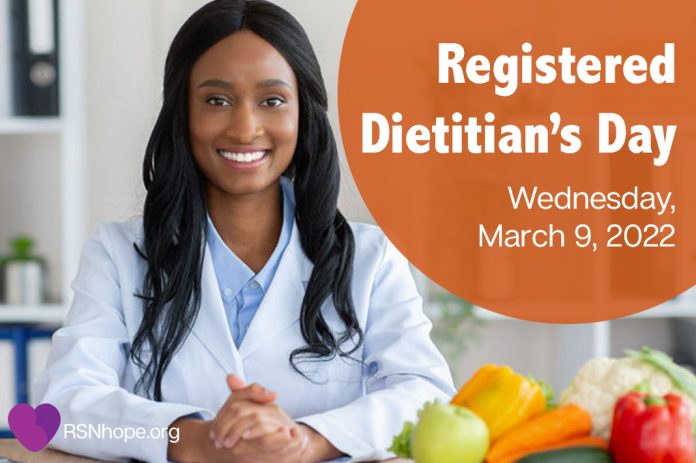 Registered Dietitian Nutritionist Day is celebrated annually on the second Wednesday of March. We're excited to share their special day as Renal Dietitians mean so much to us. Renal Dietitians are Nutritionists who possess advanced educated in the dietary needs of people with chronic kidney disease, who are on dialysis or who have a kidney transplant. The kidney diet (renal diet or dialysis diet) can be one of the most challenging aspects of living with chronic kidney disease. Regular consultations with a Renal Dietitian is essential to maintaining our health, retaining kidney function and helping us control our labs. They help us know what foods are good (and bad) for us, and also help us come up with meals that are satisfying and enjoyable as well.
Here are some great articles, podcasts and Hope Week presentations by and featuring some of our favorite Renal Dietitians. Take a moment to read, listen and watch.
READ KIDNEYTALK ARTICLES:
Meet Renal Nutritionist Lubna Akbany, RDN, CSR
Eat This, Not That, by Lubna Akbany, RDN, CSR
Nutrients to Promote Healthy Skin By Judith Beto, RD
Snacking the Right Way on Dialysis By Jessica Glosson, MS, RDN, LDN
Spicin' Up the Renal Diet Tips & Tricks By Sara Colman Carlson, RD, CDE
LISTEN TO KIDNEYTALK PODCASTS:
Can Diet Changes Slow the Progression of Kidney Disease? With Registered dietitian Beth Shanaman​ and nutrition & fitness manager Katy Wilkens​, MS, RD
Kidney Diet: The Times are Changing with Jennifer Parker, RDN, CSR, LDN
Controlling Phosphorus in Your Diet By Gina R. Brittain, R.D., L.D.
A Personal Kidney Chef's Weekend Meal Plan. with Judith Beto, RD
Vegetarian Strategies for Dialysis Patients with Chhaya Patel, RD
WATCH HOPE WEEK VIDEO PRESENTATIONS:
Choosing Foods to Meet Your Phosphorous Goal By Beth Morlang, RD, LDN, FNKF
Weight Loss and Kidney Transplant By Lubna Abkany, RD
Web ID 8033
Learn about becoming a registered dietitian at RenalNutritian.org