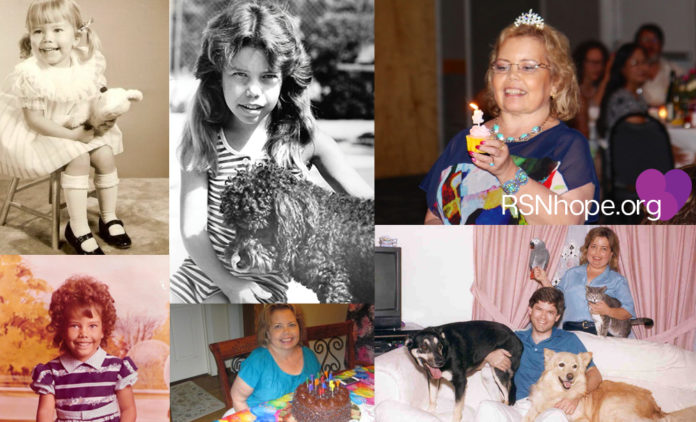 RSN wishes Lori a happy "pee" day. This is Lori's fourth kidney transplant and at times Lori didn't think it would be possible due to her high antibody count. Luckily, treatment advances have made this possible.
People often ask how did Lori get four kidney transplants? Lori was diagnosed in 1968 at age two. She received her first deceased donor kidney in 1979 and it never worked. In today's standards that kidney would have never been transplanted into Lori. In 1983 she received a second kidney transplant. The kidney worked for six weeks until it was discovered that the deceased donor had a virus that was passed on to her and the other recipient. Due to lack of medication, testing and technology the doctors decided it was best to remove the kidney as the immunosuppressant medication was preventing Lori from fighting the infection and making her gravely ill.
She received her third deceased donor kidney in 1990. She was quite surprised as she was told at age 17 the chances of her getting another kidney was very slim due to her high antibody count. The kidney was a 6-antigen match and was flown in from Denver to Los Angeles. It took a few months to get her stable, but that kidney lasted for 20 years.
On Feb 4, 2011, Lori received her fourth kidney transplant from her stepsister Cyndi who gave her an amazing gift. Lori is so grateful.
Lori has had over 50 surgeries and spent 13 years on dialysis. The adversity of her many health challenges during her life drives RSN's patient centered programs and mission. Lori says, "an Illness is too demanding when you don't have hope."
Let's all wish her a great Happy, Happy Day and tell her to pee all she can pee!
Learn more about Lori Hartwell
Learn more about RSN and its patient-centered programs
Please consider a tax-deductible donation to RSN to help support our programs
Web ID 7080