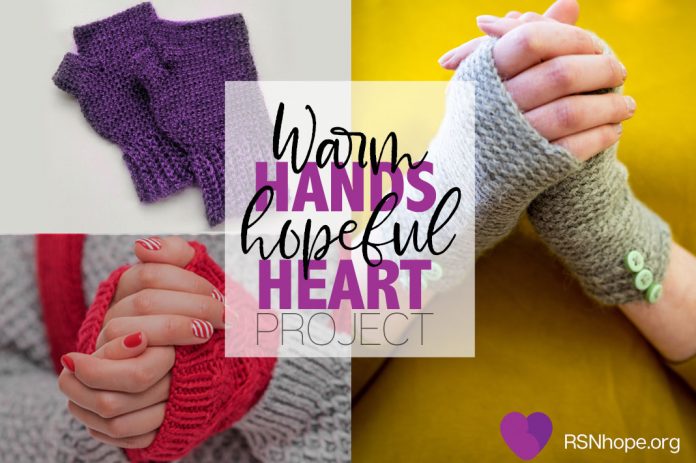 June 9th, 2023, GLENDALE, CA — Renal Support Network (RSN) is excited announce Warm Hands, Hopeful Hearts, a new community building program bringing people together to help those who have kidney disease and are on dialysis.
RSN's Warm Hands, Hopeful Hearts project is all about engaging with the community by making a gift for someone on dialysis. Fingerless gloves, or mittens as they are sometimes called, are a thoughtful, useful gift because people on dialysis get cold during a treatment.
Why do people on dialysis feel cold during treatment? Anemia is one cause and many people who have kidney disease experience a low hemoglobin. In addition, during a 3-4 hour hemodialysis treatment there is about a pint of blood that is circulating in the tubing through the dialysis machine. People on dialysis often report they feel cold. The fingerless gloves will allow them to be on their smart phone or tablet and keep their hands covered and warm.
RSN is calling on all crafters in the kidney community and the general public across the country to get involved. This program is not just for individuals. This is also an ideal project for groups to participate in, whether it be a group of friends or coworkers. RSN also encourages corporate decision makers to make Warm Hands. Hopeful Hearts their company team building, or charitable project.
There are patterns and tutorials available on the website, but anyone can make gloves in any style they like with whatever materials they prefer working with. The gloves can be knitted, crocheted, or sewn. You can use a new pair of socks or repurpose an old sweater for materials. Anything goes!
At the beginning of the year, RSN partnered with Notre Dame High School in Sherman Oaks for a multi-day volunteer event where RSN was able to educate the Notre Dame students on kidney disease, dialysis, and transplantation. The students then had the opportunity to make their own fingerless gloves out of socks that they had donated to our project. We finished this partnership with 542 donated socks to be turned into gloves, and 251 finished packs ready to be sent to a dialysis center! The packs included a pair of gloves and a nice note from the student who made them.
"I needed a new project for my office after-hours crafting group, and this is perfect!" – Laura B.
"I always wanted to do something meaningful for my community, but I wasn't sure how. This program allows me to put my crafting skills to good use helping others." – Bonny B.
"I have so much yarn that I never know what to do with but keep it around just for something like this. I'm excited to get started on my gloves for this program." – Kate C.
"This is a refreshing new team building project for my company. I put my non-crafty team members in charge of collection sweaters, socks and other materials we could use. Then my craftier people got to work making mittens!" – Catherine G.
The finished gloves will be collected and distributed to dialysis centers across the country with a short, inspiring note from the maker. Each center will distribute a pair to a person on dialysis. To learn more about program and find tutorial to make fingerless gloves, visit  https://www.rsnhope.org/rsns-warm-hands-hopeful-heart-project/.
—————————————————————————————–
The Renal Support Network (RSN) is a nonprofit organization founded by Lori Hartwell in 1993. RSN's hopeful and life-enriching programs help people, and their families deal with kidney disease, whether they are in the early stages of the disease, on dialysis, or have had a transplant. Hartwell's mission is to help them cope and give them hope. Hartwell suffered kidney failure at the age of 2. She survived 50-plus surgeries and was on dialysis for 13 years. She is now living with her fourth kidney transplant. Hartwell founded RSN to encourage her peers to develop the skills and knowledge necessary to navigate this illness. To this day, Hartwell continues to serve as president of RSN, the leading organization in engaging people who have kidney disease through its vast reach and prolific library of documented patient experiences. Visit www.RSNhope.org to learn more.