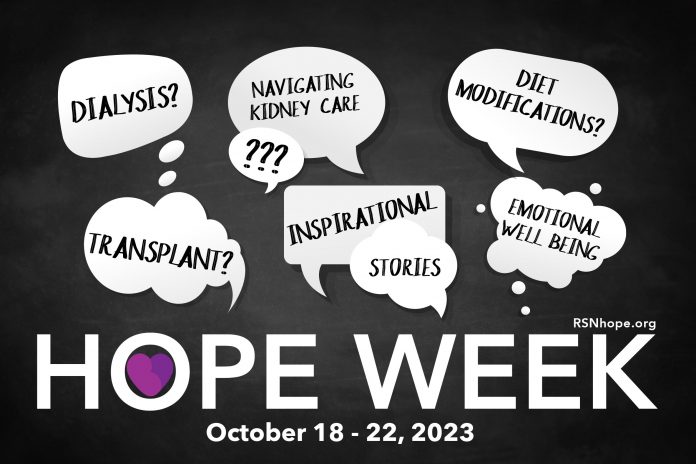 GLENDALE, Calif., Sept. 20, 2023. Renal Support Network (RSN) will host its 30th Annual Kidney Disease Education and Lifestyle Meeting from October 18th-22nd, 2023. After the notable success of the last three virtual meetings, this year's will also be online to expand access to people across the US who have kidney disease and those who care for them.
For three decades, RSN has hosted its Annual Patient Education Meeting for people living with kidney disease and their families, as well as healthcare professionals and people who want to learn more about kidney disease. Each day will focus on a specific stage or aspect of chronic kidney disease (CKD), including diagnosis, dialysis, kidney transplant and daily lifestyle issues. Healthcare professionals and others in the kidney community will share their expertise, advice, and stories. RSN strongly supports equitable access to information regardless of barriers, so the virtual platform allows those who could never attend in-person due to physical, geographic, or other constraints, to be an integral part. Hope Week is a source of education, inspiration, and an opportunity to connect with people who have been there.
"Navigating healthcare is an essential skill. Empowerment plays a vital role in your journey with kidney disease because it fuels your spirit to take charge of your health. By becoming empowered, you transform from a passive patient into an active advocate, seeking knowledge, making informed decisions, and actively participating in your healthcare." Says, Lori Hartwell, RSN Founder and President.
Key Event Highlights:
**Expert Speakers: ** Renowned nephrologists, nephrology nurses, nutritionists, and social workers will provide insights into kidney disease management, dialysis, transplant and overall wellness.
**Personal Experience Speakers:** People who have learned to manage kidney disease and treatment options share their stories.
**Interactive Workshops:** Attendees can participate in interactive workshops covering topics such as Kidney Kin Fitness exercise routines and Kidney Kin Foodies renal diet support group, tailored to all stages of kidney disease.
**Peer Support:** Connect with others living with kidney disease in a dedicated Kidney Disease Support Group to share experiences and offer mutual support.
** Youth and Family Day:** Parents share their tips for coping with challenges of a busy family life and young adults share their stories about transitioning to adulthood, finding independence, a career, dating and school.
**Q&A Sessions:** Engage with experts during live Q&A sessions to get personalized answers to your questions about kidney health.
**Lifestyle Expo:** Explore virtual booths featuring kidney-friendly products, services, and resources.
**Free Gift for Attending:** All attendees receive a complimentary gift from RSN.
To see the full agenda and register go to RSNHope.org/HopeWeek.
RSN would like to thank our 2023 Hope Week sponsors: Akebia Amgen, Ardelyx, AstraZeneca, Fresenius Kidney Care, Eurofins, Horizon and U.S. Renal Care.
The Renal Support Network is a Registered 501(c)(3) Non-profit and serve people throughout the United States.
Lori Hartwell founded Renal Support Network in 1993 to empower people who have kidney disease to become knowledgeable about their illness, proactive in their care, hopeful about their future and make friendships that last a lifetime. Lori suffered kidney failure at the age of two, survived 50+ surgeries and 13 years of dialysis, and is now living with her fourth kidney transplant.
RSN's hopeful and life-enriching, non-medical programs help people who have kidney disease and their families, whether they are in the early stages of the disease, are on dialysis, or have received a transplant. www.RSNhope.org.