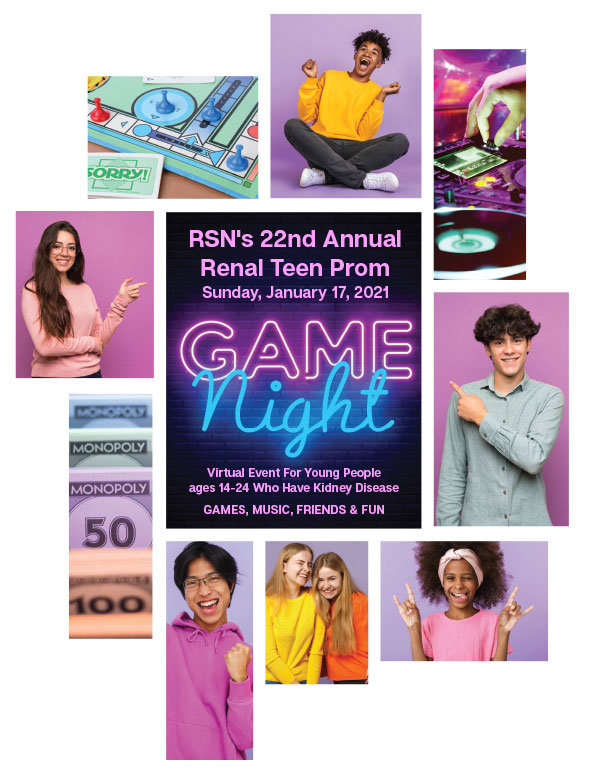 GLENDALE, Calif., Dec. 14, 2020 – Young people from across the United States living with CKD (chronic kidney disease) are invited to attend Renal Support Network's 22nd Annual Renal Teen Prom.
When: January 17, 2021 – 6pm PCT
Where: Via Zoom
Why: Twenty-two years ago, Lori Hartwell, Founder and President of RSN, held the very first Renal Teen Prom for young people with chronic kidney disease. Lori was diagnosed with CKD at age 2 and was on dialysis from age 14 to 24. She missed her prom, and many other school activities, due to health issues. This year, Lori's excited to be hosting the very first countrywide virtual event for young people with CKD. She looks forward to getting together online with younger kidney warriors and invites them to join her in celebration of this special occasion.
Lori has lived with kidney disease for five decades and wants her younger peers to know they can survive and thrive despite their illness. She knows one friend can make a difference!
Who: Teenagers and young adults ages 14 to 24 with CKD from across the United States are invited to attend. The event is offered at no charge for attendees. RSN is accepting registrations now at www.rsnhope.org/prom.
What: This year's "Game Night" online prom promises to continue the long-standing tradition of supporting and celebrating young people with CKD.  This premiere virtual event will give young people the opportunity to socialize with each other online, from the comfort of their own surroundings. They will have the chance to see old friends virtually, and also make new friendships that could last a lifetime.
The "live" Game Night event will feature music, celebrity appearances, a treasure hunt, Bingo, and trivia played on a Zoom platform. Each attendee will receive a complimentary special delivery box packed with gifts and goodies before the event. Each box will include raffle tickets, games, kidney-friendly snacks and drinks, and a few more surprises!
Actor/musician Jack Black will pop in for a visit during the event. Jack is a devoted champion of children's causes and has been a longtime supporter of the Renal Teen prom.
"This is always a fantastic night for these kids," says Hartwell. "Covid has been tough and we wanted to still hold an event to continue this yearly tradition. We have a fun evening planned and each guest will get a box shipped to them to make the event extra special and festive. One friend can make a difference!"
RSN assembled its team of previous prom attendees and a loyal group of volunteers to supply input to create a night of virtual excitement. From that input comes the concept of the free, virtual "Game Night".
Thank you to our sponsors DaVita, Fresenius Medical Care, OneLegacy and U.S. Renal Care.
Renal Support Network (RSN) empowers people who have kidney disease to become knowledgeable about their illness, proactive in their care, hopeful about their future and make friendships that last a lifetime. To learn more about organ donation, causes of kidney disease and dialysis treatment options, visit www.RSNhope.org.