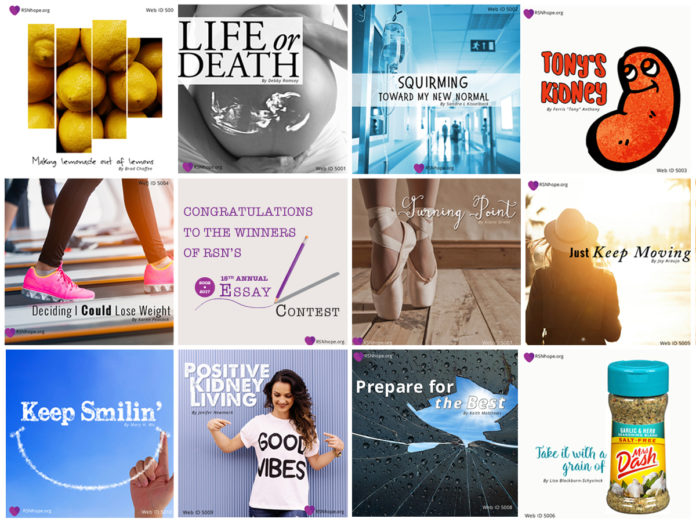 Winners of 15th Annual Essay Contest Announced By Renal Support Network
GLENDALE, CALIF. (PRWEB) SEPTEMBER 20, 2017
Renal Support Network's annual essay contest celebrates its 15th year of providing a voice for people who have kidney disease. The theme "Describe a positive decision that you have made about your healthcare" inspired many writers to share their stories. Entrants needed to meet only one qualification— to have been diagnosed with chronic kidney disease. This year the contest received the highest number of submissions on record, coming from people across the United States.
"These essays are full of hope and inspiration. They prove that resilience is alive and well in the kidney community," said Lori Hartwell, president and founder of Renal Support Network.
This year's first place winner Brad Chaffee said, "When I saw the topic, it moved me to write. This essay was from my heart and the contest gave me an opportunity to tell my story."
Deborah Ramsey, who tied for second place said, "I feel so blessed that I share my story with anyone and everyone! I just want to encourage those who are going through similar experiences that there is hope! My dream is to be an accomplished published writer and/or speaker, dedicating myself to organ donation awareness and helping others who are on their own journey through tough medical issues."
Honorable Mention winner Lisa Schyvinck said, "I entered this contest in hopes of getting my voice out there to people who are having a similar experience. This is scary but doable with help and support!"
Another Honorable Mention Winner Mary Wu said, "Always 'Keep Smilin' is a tribute to positivity and gratitude for the people we meet and this extraordinary journey full of thrilling twists and turns!"
The contest is growing in popularity and the margins are thin among the 30+ judges' scoring. The winners of the 15th annual essay contest are:
    1st Place – "Making Lemonade out of Lemons," by Brad Chaffee of Charlottesville, VA
    2nd Place (Tie) – "Life or Death," by Debby Ramsey of Zion, IL
    2nd Place (Tie) – "Squirming Toward My New Normal" by Sandra Kisselback of East Berne, NY
    3rd Place – "Tony's Kidney" by Ferris "Tony" Anthony of Brunswick, OH
RSN is proud to announce the following honorable mentions:
    " Just Keep Moving," by Joy Araujo of Fullerton, CA
    " Take It With a Grain of Mrs. Dash!" by Lisa Blackburn-Schyvinck of Janesville, WI
    " Turning Point," by Kiana Grant of South Orange, NJ
    " Prepare for the Best," by Keith Matthews of Crowley, LA
    " Positive Kidney Living," by Jenifer Newmark of St. Louis, MO
    " Keep Smilin'," by Mary H. Wu of Ossining, NY
RSN Founder Lori Hartwell hand picked an essay that she thought was extraordinary, titled "Deciding I Could Lose Weight" by Karen Peacock of South Jordan, UT. "This essay spoke to me and articulated the challenges people experience when they are dealing with an illness, medications and overcoming fatigue and trying to lose weight. Her words will resonant with so many people who are on dialysis and are trying to lose weight so they will qualify to get on the transplant list." noted Hartwell.
Cash awards were given for First Place ($500), Second Place ($300), Third Place ($100), Honorable Mentions ($50 each) and President's Pick. All participants and judges of the essay contest receive a complimentary 2018 Calendar titled "Creativity Cures the Soul" with inspirational quotes and artwork By Lori Hartwell.
Winning essays and more information about kidney disease are available at RSNhope.org.
RSN would like to thank the following corporate partners for their support of the 15th Annual Essay Contest:
AstraZeneca
Dialysis Clinic, Inc.
Fresenius Medical Care
Keryx Biopharmaceuticals, Inc.
National Renal Administrators Association
NxStage Medical, Inc.
U.S. Renal Care
The Renal Support Network (RSN) is a nonprofit patient-run organization that provides nonmedical services to those affected by chronic kidney disease. RSN strives to help patients (dialysis, kidney transplant, and newly diagnosed patients) develop their personal coping skills, special talents, and employability by educating and empowering them to take control of the course and management of the disease. RSNhope.org