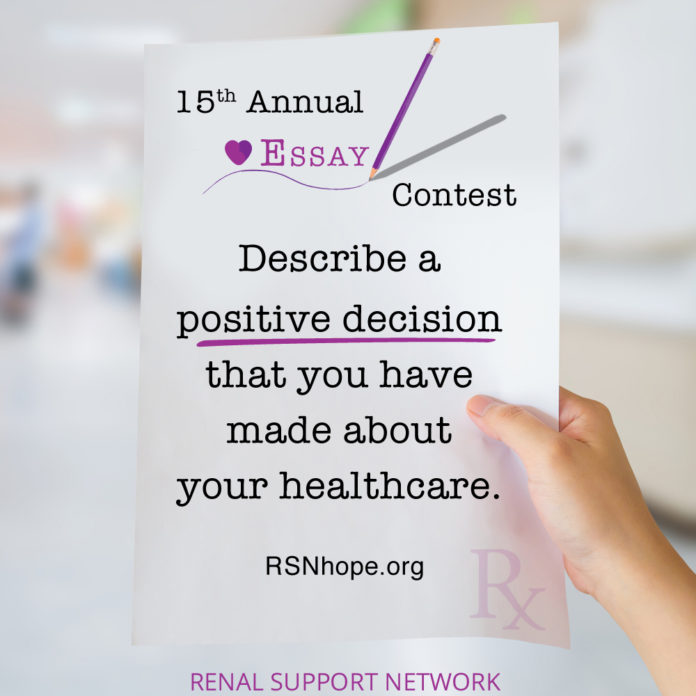 PEOPLE WITH KIDNEY DISEASE ARE INVITED TO ENTER THE 15TH ANNUAL PATIENT ESSAY CONTEST
2017 Theme: "Describe a positive decision that you have made about your healthcare."
GLENDALE, Calif., June 1, 2017 — Renal Support Network (RSN), a nonprofit, patient-run organization that provides nonmedical services to those affected by chronic kidney disease (CKD), encourages people with kidney disease to think back and share with others by entering RSN's 15th Annual Patient Essay Contest. This year the essay contest commemorates 15 years with the theme, "Describe a positive decision that you have made about your healthcare." All submissions must be written by someone who has been diagnosed with CKD."
"People who successfully adapt to life with a chronic illness like kidney disease learn both universal and specific coping skills," says Lori Hartwell, RSN's founder and president, who was diagnosed with kidney disease in 1968 and is the author of Chronically Happy: Joyful Living in Spite of Chronic Illness and the host of KidneyTalk podcast. "The people who suffer from kidney disease know firsthand the importance of sharing their experiences and inspiring their peers." She added, "There are so many stories and great life lessons that have come from our renal patient community, as RSN's Essay Contest has shown over the years. Every year, we still learn from the incredible stories that people who have kidney disease share with us."
This essay contest is incredibly moving and inspires people with kidney disease to share their experience with others traveling the same road and looking for answers.
Contest winners will receive cash prizes: First Place $500; Second Place, $300; and Third Place, $100. The submission deadline is August 10th.  Winners' will be announced on September 14th, 2017. Winning essays will be featured in RSN's publication, Live & Give, and on RSNHope.org. For information about the contest, rules and read previous winning essays visit https://www.rsnhope.org/essay-contest-for-people-who-have-kidney-disease/
Last year's 1st place winner Sasha Couch said, "I'm surprised and thrilled to win! Having kidney disease can be a very lonely journey despite being surrounded by people who love and support you. It feels less lonely when others who know exactly what you experience daily share their stories and feelings. I really value the stories others share."

Joy Araujo, who was the 2nd place winner last year, said, "When I got the phone call that I had won, it truly made my day! I try to remain optimistic throughout my struggles, but sometimes things do get hard. This contest reaffirmed to me that if you just stay positive and keep your head up, miracles can happen!"
The essay contest is supported by:
AstraZeneca
Dialysis Clinic, Inc.
Fresenius Medical Care
Keryx Biopharmaceuticals, Inc.
National Renal Administrators Association
NxStage Medical, Inc.
U.S. Renal Care
The Renal Support Network (RSN) is a nonprofit patient-run organization that provides nonmedical services to those affected by chronic kidney disease. RSN strives to help patients (dialysis, kidney transplant, and newly diagnosed patients) develop their personal coping skills, special talents, and employability by educating and empowering them to take control of the course and management of the disease.www.RSNhope.org