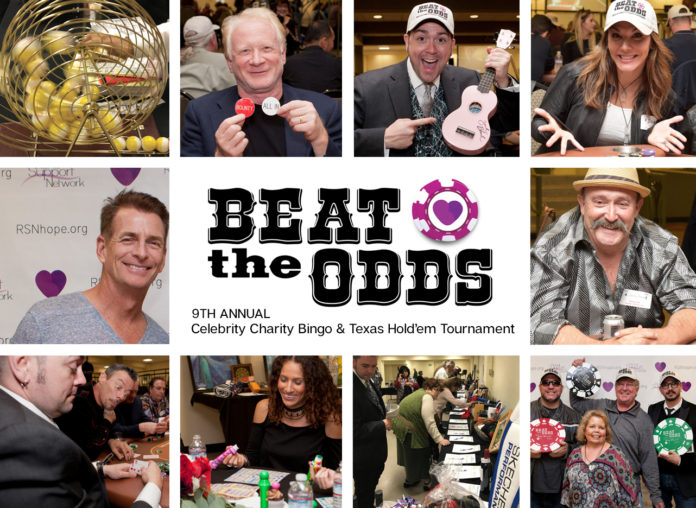 GLENDALE, Calif., – March 11, 2019 – Play to "Beat the Odds" at the Renal Support Network (RSN) Charity Bingo and Poker Tournament Saturday, March 30, 2019, at the Glendale Civic Auditorium in Glendale, California. The fun-filled event, hosted by RSN raises awareness of kidney disease and organ donation among the community and supports RSN's life-enriching programs. The event features great prizes, a silent auction, dinner buffet, desserts, drinks and game play and mingling with celebrities. Everyone is welcome! 
WHAT:           Celebrity Charity Bingo and Texas Hold'em Tournament
WHEN:           Saturday, March 30, 2019
                        5:30 pm Registration/Buffet/Silent Auction/Red Carpet        
                        7:00 pm Game Play Begins
WHERE:        Glendale Civic Auditorium, 1401 N. Verdugo Road, Glendale, CA 91208 
HOW:             Order tickets at www.RSNhope.org/poker. Seating is limited; get your tickets now. Players*: $125 pre-sale** / $150 at the door. **Pre-sale tickets are available through March 23.  
DONATE:      To donate a silent auction item or game prize, please contact us.
INTERVIEW OPPORTUNITIES:     RSN Founder and President Lori Hartwell and other celebrity supporters
B-ROLL VISUALS:                          Poker and Bingo game play
Renal Support Network thanks our 2019 corporate partners for their support of Beat the Odds, 9th Annual Bingo and Texas Hold'em Tournament.
Four-of-a-Kind: OneLegacy
Full House:  DaVita, Fresenius Medical Care
Flush: U.S. Renal Care
About Renal Support Network
The Renal Support Network (RSN), a national 501(c)(3) was founded by Lori Hartwell who has been living with the disease since 1968 at the age of two. RSN empowers people in all stages of chronic kidney disease and their families to become knowledgeable about their illness, proactive in their care, hopeful about their future and make friendships that last a lifetime. Learning from another patient's experience and point of wisdom to navigate care is vital for success. RSN's hopeful and life-enriching, patient-centered programs help people who have kidney disease and their families know they can survive and thrive with this illness. Learn more at www.RSNhope.org.