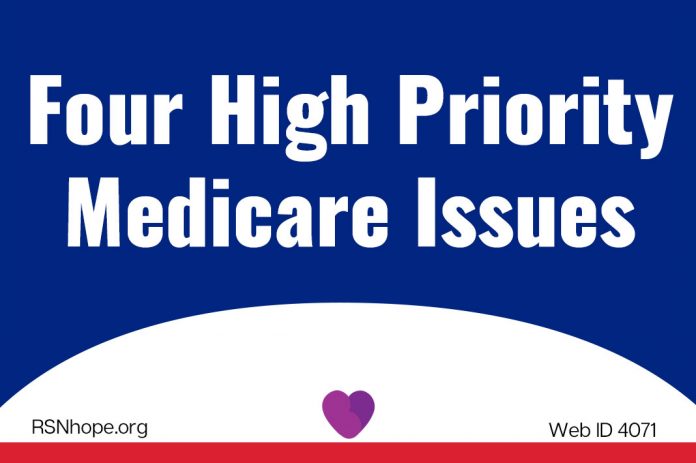 Here are some policies that either the legislative or executive branch can help resolve. It's important to let all decision- makers understand the inequities of the Medicare system.
1) Guaranteed Access to Medigap Policies
People with ESRD face limitations in accessing Medigap policies. These supplemental insurance policies help cover costs not covered by Medicare. There is currently no "all-inclusive" provision for access to Medigap or supplemental insurance for ESRD patients under the age of 65. Only 31 of the 50 states offer Medigap coverage. Because the ESRD program provides Medicare to people affected by and receiving treatment for renal failure, this leaves people under the age of 65 choosing either to pay potentially huge out-of-pocket costs or to compromise their treatment by picking and choosing what they can afford. This obstacle can financially cripple people living with kidney disease.
ASK: A federal law requirement that all ESRD Medicare recipients have access to Medigap coverage in every state would guarantee that the full range of services required to maintain their health is available to them. Provide guidance to insurance companies so they do not charge higher premiums for supplemental coverage. High premiums are cost prohibitive for people who have ESRD, who are then left without supplemental coverage.
2) Healthcare Professional Shortage
We know there is a critical healthcare shortage which has been greatly exacerbated by the demands of the pandemic. Sadly, the number of medical graduates entering the nephrology specialty has declined by nearly 50 percent. Similarly, the number of nurses trained in nephrology care is decreasing. Since quality kidney care largely depends on quality staff, it is imperative we look for both short- and long-term solutions. Moreover, the pandemic has led many health care professionals to leave their jobs. Providers find it difficult to find nurses and technicians to staff their facilities, especially when Medicare rates have not increased to reflect the increasing cost of hiring workers.
ASK: We request The Center for Medicare and Medicaid Services (CMS) to use any authority they have and help ensure payment is sufficient, so dialysis facilities can compete with other healthcare fields which do not have the financial limitations of a dialysis bundled payment program. We also need to review our immigration policies and support employment and job-training programs to encourage people to choose the healthcare field.
3) Innovation is Important
The current End-Stage Renal Disease (ESRD) bundled payment program has no sustainable means to incentivize and improve kidney care. The bundled per treatment payment includes medications, laboratory services, supplies, staff, and capital-related costs related to furnishing maintenance dialysis.
Improved devices and technology are currently not reimbursed at the rate or percentage for kidney disease as they are for other chronic illnesses. There is no incentive for companies to develop new products or treatments. Currently, there is only a two-year promise of reimbursement to encourage innovation. This is insufficient and sends the signal that people on dialysis are not as important as those with other chronic diseases. We need a reimbursement pathway which allows people who have kidney disease to have access to innovative treatments.
The Transitional Drug Add-on Payment Adjustment (TDAPA) and the Transitional Add-on Payment Adjustment for New and Innovative Equipment and Supplies (TPNIES) provide reimbursement for new products in traditional Medicare (not required in Medicare Advantage).
ASK: Payment drives practice. The ESRD payment system must provide long-term payment mechanisms which adjust the bundle when new products become available. To force innovation to be reliant on this two-year window is unrealistic and a hindrance to an increase in new innovative therapies and technology to improve care.
4) Oral Drugs (Phosphate Binders)
Although dialysis removes phosphorus, it usually does not remove enough, and many people with kidney failure require phosphorus-binding drugs. Phosphate binders are supposed to be taken within 5 to 10 minutes before or immediately after meals and snacks. Phosphorus is found in high amounts in protein foods, so patients who are trying to increase their albumin may need to take an additional binder. Phosphorus content is not required on FDA food labels.
ASK: Leave phosphate binders out of the bundle system. It is important that doctors be able to prescribe the most effective treatment for their patients. There are hundreds of combinations of medications to affect bone mineral metabolism and they are given at a very high volume. Therefore, they cannot be effectively managed and stocked with efficiency in a dialysis facility or nursing home.
Also, there are no approved quality measures which can protect the patient from receiving the cheapest medication instead of the most effective one. Medicare Advantage plans can use a formulary to start a patient on the cheapest form of a medication regardless of what is prescribed by a physician.
These critical distinctions lead us to ask that phosphate binders not be included in the bundle. We believe that doctors should have the freedom to prescribe the best binder for each patient's specific situation, and that
patients can pick up the medication from their pharmacy so they have the opportunity to speak with a pharmacist.
Web ID 4071