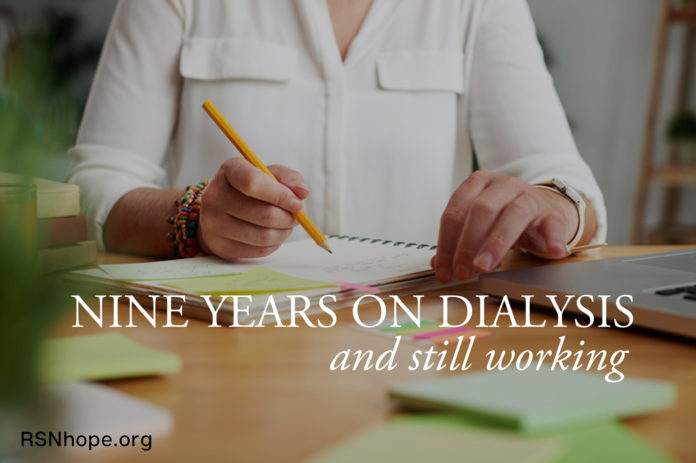 I started dialysis nine and a half years ago and at that time, as I lay in my hospital bed undergoing three days a week dialysis on an emergency basis, I wondered if I would ever return to my job. I had worked for years to get my two teaching credentials and to get into the position I had as a teacher of special education students. Unfortunately I had not been feeling well for quite a while and my kidneys quit working on me, so hemodialysis was my only choice.
Making the Choice
The first thing I had on my mind was to find out if I could possibly go back to work. So I asked my doctors if I would be well enough go back to work. I wanted to return as soon as possible. Mostly the doctors took a "wait and see how you feel" attitude. I decided, on my own, I was going to return to work. I made sure my doctor knew I had made that choice. I also contacted my boss and let him know I was going to return to work as well as my teacher's union so they could assist me.
Changing Positions
The second thing I knew I had to do was change teaching positions. The position I had been in was a tough assignment. I had severely handicapped students that required a lot of hands on teaching and some discipline through safe hands-on approaches. I had students who needed diapers to be changed and I had to supervise two adult teacher aides. This class was also on a high school campus so the students were often larger and heavier than I was.
I contacted my union and my school district and requested a change of placement in my position as a teacher. They told me I would have to continue my schooling and get another teaching credential to keep the position I would be going to. I agreed to their terms and was placed in a new position as a Resource Specialist Teacher.
Soon after, I was contacted by the principal of the school. She was concerned for my health and well-being on the campus. She wanted to know if there would be any special accommodations needed for me on the job.  I told her I did not think there would be. The funniest thing was that she asked me if I would need special bathroom privileges, such as being near a bathroom. It made me giggle. People still do not understand kidney failure and how dialysis affects lives. I began working at my new school two months to the day from when I had begun dialysis.
Lessons Learned
The things I have learned while working for the last nine and half years while on dialysis are:
Be informed of your worker rights. Contact your union, if you have one; work with them whenever you need a job accommodation or help with a job related issue.
Be sure you are really well enough to take on the responsibilities of your job assignments. If not, see if you can make accommodations with the job. I have a six hour aide in my classroom. This is an accommodation for me that I ask the school district to make each year.
Make dialysis treatments a priority. They will help keep you feeling better and fit to work. Do not skip treatments!
Be careful about food and drink at work related get-togethers. Do not complain about the food if there is nothing you can eat. You can speak with people before parties or bring something you can eat to share. Your coworkers will usually ask.
Realize you cannot be all things to all people anymore. Just because you can do it all, does not mean you should.
Enjoy your work.
It is Possible
My experiences have been good, working while on dialysis. I have an excellent school district and union who work with me. I know that most people want to contribute to society in a meaningful way. Working while on dialysis is possible. I prove it every day when I'm teaching my sixth graders.
About the Author:
Katherine Soto has been a hemodialysis patient for nine and a half years. Married for 22 years, she has two daughters, as well as three cats and one dog. She is a special education teacher. Katherine enjoys reading science fiction and loves to write.
08/01/2008
Web ID 371