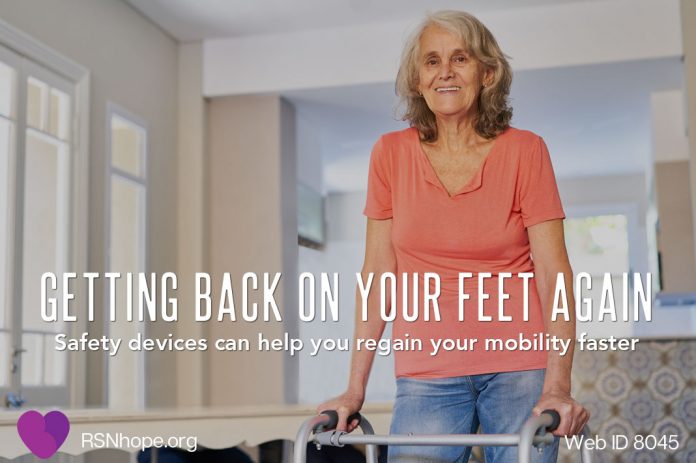 You may have heard the song, "I Like to Move It." Popular in the 1990s, the tune can still be heard today during sporting events and commercials. The upbeat song even hit the big screen in a Madagascar movie. For patients who are in recovery mode, these lyrics are especially meaningful: "I Like to move it, move it …" because, unfortunately, when you live with an illness like chronic kidney disease, you sometimes find yourself in a position where you can't move it! Getting up out of a hospital bed and getting back home after a surgery brings a whole new set of challenges as you attempt to do things that seemed second nature in the past. After all, we've heard this phrase before: if you don't use it, you lose it!
It may come as a surprise but being immobile for extended periods of time can contribute to a decrease in muscle tone and strength. It can also negatively affect your balance and flexibility, and even your appetite.
After a surgery, an occupational therapist may visit your home to assess your living conditions. They offer good advice on how your home can be set up to help you recover safely. It's not always possible, but the best-case scenario is when your home is equipped with aids that can help you get around more easily before you return from the hospital. By doing so, the therapist can immediately begin training you on the proper use of the aids.
Here are some recommendations to help you move it safely as you take those first steps on your road toward recovery:
Check your home for any tripping hazards and remove them, especially throw rugs!
Your bathroom has the potential to be a dangerous place. A walk-in shower of tub is helpful, but not everyone has that. Make bathing safe by using a shower chair or small shower stool and have grab bars installed in the walls inside your tub or shower. Also have grab bars installed beside the toilet, or simply purchase a raised toilet seat with arms. When you need a little extra help, a lift chair for the tub can lower you into the tub and back up again.
If you need a hospital bed, you can rent them! In any case, one with rails adds to your safety.
Make sure that you have good, flat shoes. Now is NOT the time to break in those new heels!
You may need to use a walker (they come with or without a seat). If so, a basket attachment will enable you to carry things, but make sure that it is positioned correctly to enable you to walk unencumbered.
You may need a motorized wheelchair (a lightweight/travel wheelchair will help). Check out the four-wheel rollator. They come equipped with some handy extras. If you chose a scooter, it is best to avoid a wheeled knee scooter because it has the potential to be a fall risk.
Check out the Alinker: This non-motorized walking bike has no pedals, so that you do the walking.
If you will need to use crutches, make sure they are adjusted to the correct height (your therapist will help with that). Adding lots of thick, protective padding will help make them more comfortable. And when your doctor or therapist thinks you are ready, a cane or walking stick will help you get around.
Mobility increases your quality of life. It's something we all strive for, regardless of the obstacles we face. Posture, and good balance aids in joint flexibility, especially in the knees, hips, and ankles. And mobility increases the appetite in seniors after surgery. Walking increases muscle tone and strength, especially those of the abdomen and ankles. Knowing which mobility devices work best for other people who live with chronic kidney disease can make your recovery a "moving" experience!
There are many mobility devices available at different price points.  Although RSN cannot recommend these specific brands, these are some designs we found promising:
Web ID 8044