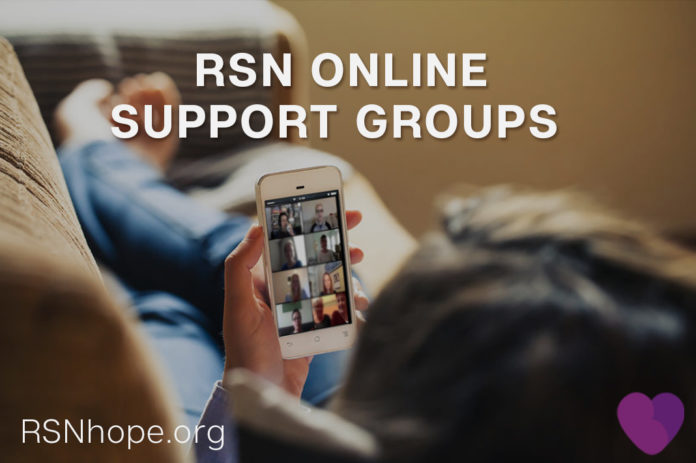 RSN's series of topical zoom meetings are informative and so much fun! Topics include the kidney diet, exercise, hobbies and more. Participants need not have a Zoom account. This is a great way to connect with others living with kidney disease, make new friends and learn new things. Sign up for a Zoom room meet up today!
There will be a link provided via email before each meeting. You will have the option of dialing in via a phone or you may download the Zoom app to your smartphone, tablet, desktop computer or laptop computer.
Registration will be required. Here is a list of upcoming Zoom Meetings. Sign up using the form below this list.
Monthly Support Group
RSN's Monthly Support Group – Finding support beyond that offered by family and friends can help you cope with the life changes of kidney disease. Support groups have shown to reduce loneliness, provide a sense of empowerment, improve coping skills, reduce anxiety, help develop a clearer understanding of what to expect and provide hope for the future. People who attend RSN's support group share their experiences, strength and strategies to live a hopeful and joyful life. Join us!
Fourth Sunday of every month, 2:30pm – 4:30pm PT
Second Tuesday of every month, 4:00pm – 5:30pm PT

Kidney Diet/Food
Kidney Diet Essentials with Renal Dietitian Lubna Akbany, RD. Learn the diet essentials for all stages of kidney disease including chronic kidney disease, hemodialysis, peritoneal dialysis and kidney transplant. Learn how the food you eat affects your lab values. Pick up tips for choosing and preparing food that you and the whole family can enjoy and that still meets your requirements.
Wednesday, July 22nd 2:00pm – 3:30pm PT
Plant Based Kidney Diet with Renal Dietitian Lubna Akbany, RD. Since renal diets require high-quality proteins, please join us in to this informative meeting to find out what your options are and what might work best for you as you watch your sodium, potassium, and phosphorus intake.
Thursday, June 25th 3:00pm to 4:30pm PT 
Thursday, August 27th 3:00pm – 4:00Pm PT
Exercise
Get Moving. Get your 30 minutes of exercise with personal trainer, Edina Tanacs. (Please clear with your doctor that you are ok to do light stretching and exercises.) Have a sturdy chair handy. Below are the days of the week and times for these classes:
Monday's 4:00pm – 4:30pm PT
Tuesday's 11:00am – 11:30am PT
Wednesday's 4:00pm – 4:30pm PT
Thursday's 11:00am – 11:30am PT
Please note: The Tuesday, June 30, 2020 'Get Moving' class is canceled. Classes will continue as scheduled up to June 30th and after on Wednesday, July 1, 2020.
Get Creative – Beginning in June!
Do you have a passion for creativity? Let's inspire each other! We'd like to know more about your creative endeavors, no matter what they may be. Share your current or past projects with us!
3rd Friday of each month at 4:00pm – 5:00pm PT  – Starts on June 19, 2020
Space will be limited, use the form below to register: