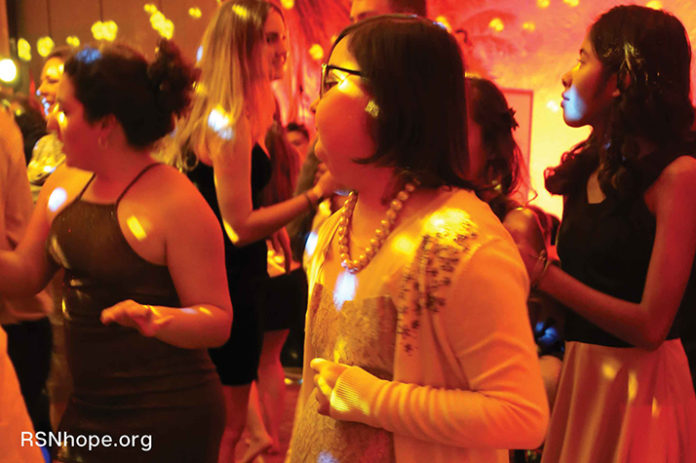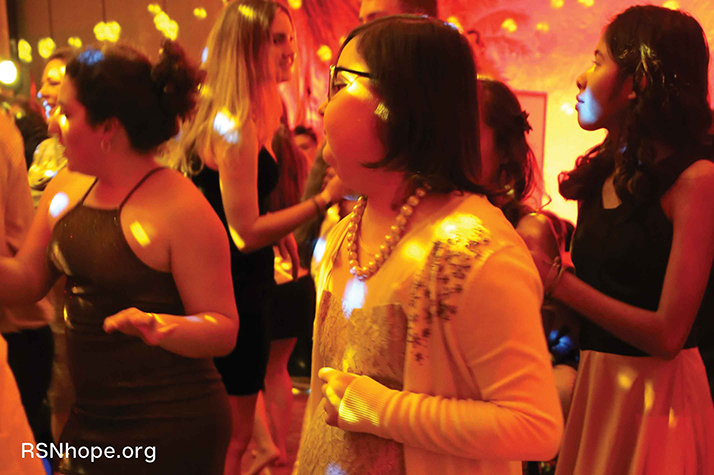 Who can attend the prom?
Anyone between the ages of 14-24 who has chronic kidney disease (CKD). You can be at any stage of CKD, on dialysis or have a kidney transplant.
How much does it cost?
There is no cost to teens and their guest. 
What do I wear?
Since it is a prom, people usually dress up. Ladies tend to wear dresses or suits while the gentlemen wear slacks and dress shirts or suits. Free Prom dresses and wraps are available for the ladies. See question #12.
Can I wear jeans?
You can, and some people might, but most usually don't.
How many guests can I bring?
Yourself and one guest.
Can I bring my family? If so, can they be part of the event?
A parent or family member can drive you and your guest to the prom. There is a place for them to wait for you at the hotel. We have a lot of guests and not enough room for everyone in the ballroom.
Can I come alone or do I have to bring a guest?
Not everyone who attends the event comes with a guest; they actually meet new people and make new friends throughout the night.
What is the age range to go to the prom?
Remember, it's a prom; so ages 14-24, as of the Prom date, January 20, 2019.
I am below/above the age range, can I still go?
If above: We're so sorry, but maybe you can help out this year as a "graduate" of the prom, like driving, rounding up prom dresses or any other fundraisers we might have going on.
If below: Just hang on until you're 14 and you'll be able to go!
What time does it start? End?
From 6-11 pm. The night is full of activities (pictures, special guests, etc.) so it's best to get there at 6pm.
Do I have to live in Los Angeles?
No, as long as you have a means of travel and someplace to stay you are invited to attend the prom.
Which celebrities will be there?
At this point we are waiting to hear.
Can I get a ride to the event?
Send a request through our contact form, if you haven't checked the box on your RSVP. Let us know your address and whether it is for one or two people. We will do our best to get you transportation. Note: transportation is provided by volunteer drivers, it's not a limo.
I am traveling from outside Los Angeles area and I will be staying at a hotel. I don't have a way to get to the prom. How can I find out the transportation is available for me?
See question above. Check off the box titled "need transportation" on the invitation reply card. Transportation is provided on a first-come, first serve-basis. We will try our best to accommodate your request.
12.I hear there are dresses given away. Where do I find one?
Dresses are available for selection at no charge to prom attendees on January
12th and 13th in Glendale, CA. Contact us to make an appointment or call (818) 543-0896.
What about shoes to go with the dress?
Unfortunately, we do not have shoes so you need to get those on your own.
How do I donate a dress/dresses or accessories for the prom?
You can

contact us

to make arrangements to pick up your donation or call (818) 543-0896.
How do I donate to help support the prom?
You can make a donation on our contribute page  or you can start your own personal fundraiser.
Can I volunteer? How can I volunteer?
We definitely need drivers on the day of the event as volunteers. Please contact us for more information.
What kind of food will you have? What about desserts?
The food is renal friendly. There are desserts suitable for diabetics and for non-diabetics.
I live out of state; will you provide funds for me to travel?
RSN does not cover the cost of accommodations or travel to Southern California. We can provide you with a list of recommended local hotels. If you cannot afford the trip talk to your dialysis unit or ESRD network to see if they might be willing to sponsor you or help you raise funds. We can, however, pick you up from your hotel and take you to the prom.
What if I need dialysis, will you provide that for me?
There is a room for peritoneal dialysis exchanges (make sure you mark the box on the reply card to let us know you'll be needing it), but not for hemodialysis. If you are traveling from out of state and need hemo, you should discuss the possibilities with your regular center healthcare professional as soon as possible.
What if I need first aide?
Healthcare professionals will be on site.
How many people will be at the event?
There will be between 300-400 guests.
Will there be alcohol served?
No, there is no alcohol at this event. We will only have renal friendly drinks, water and juice.
Can I bring my own camera/ video recorder?
No, but you can take videos and pictures with a smart phone. You can't use any footage or images taken at the prom for promotional purposes or sell images taken at the prom.
If you still have any questions, feel free to contact us at: (866) 903-1728 (toll free), or contact us.