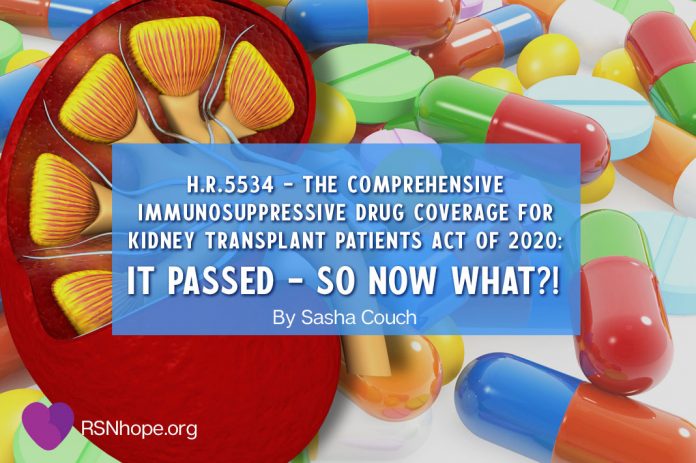 The Kidney Community was thrilled by the passing of H.R.5534 – the Comprehensive Immunosuppressive Drug Coverage for Kidney Transplant Patients Act of 2020 in December of 2020.  Lifetime drug coverage for transplant recipients is something we have been fighting to get for years. Passage of this Act is a big win needed to support transplanted people living with kidney disease. I mean c'mon, giving someone the gift of life but not ensuring their ability to maintain it seems imprudent at best – and downright mean at worst! Beginning January 1, 2023 many of us will get a critical new safety net.
And while we don't know the future of immunosuppressant/anti-rejection medications as far as future innovation and progress (hey, one day we may not need them at all!), at this time all transplant recipients must take them as long as we have our transplanted kidneys. This fact always occupies a little space in our heads, even when we're living full and productive lives. And when our insurance situation is about to change, it takes up more space and may rouse concern and even fear.
So let's talk about this Act and how to use it. There will be a little quiz at the end to see if you took away the main points! The prize is knowing you know exactly what to do if you plan to enroll for coverage (cheap, right?!). But Knowledge is power and allows you to be your best health advocate.
Let's refresh – what is the law now?
Short answer:
Most people with kidney failure are eligible for Medicare three months after starting dialysis, regardless of age.
Transplant recipients who are eligible for and receiving Medicare because of kidney failure and not due to age or disability, lose immunosuppressant drug coverage 36 months (3 years) after transplant.
More details:
The end of Medicare coverage has had devastating results for people with kidney transplants who cannot afford the meds on their own. Without adequate coverage to cover the cost of immunosuppressant drugs, some recipients may start to miss a few doses to make their medications last longer because they can't afford to refill their prescriptions on time and end up sick, losing their organ and back on dialysis – or worst-case scenario, dying. And no one wants that. 
Even more details: *Did you know this about Medicare coverage?*
Your transplant must have taken place in a Medicare-approved facility to be eligible for drug coverage.
It's Medicare Part B that covers your immunosuppressant drugs.

You must have had Medicare Part A at the time of your transplant for Part B.
You can enroll in Part A retroactively within a year of your transplant.
You must have Part B when getting your prescriptions filled.

If you do not have Part A when you receive your transplant your immunosuppressants are covered by Part D.

Part D generally means higher costs and more restrictions, for example, going to in-network pharmacies. Look for ones in your preferred network and with the least restrictions.
All Part D formularies must include immunosuppressant drugs but you may need to check that Part B doesn't cover them.

If you have a Group Health Plan (GHP) i.e. employer-based, Cobra, retiree – your plan should cover your immunosuppressants for 30-months and Medicare is secondary. Then Medicare will become your primary insurance and Part D should cover your immunosuppressants.
 So, how does this law change things?
Short answer:
If you are a transplant recipient under 65 (65+ are already covered) and meet the other necessary criteria, your immunosuppressant medication will be covered for the lifetime of your transplant. That's a win for thousands of people!
More details:
This includes immunosuppressive drugs Transplant recipients are often required to take additional medications, vitamins and/or supplements, and those are not covered. It also does not include other Medicare benefits. I repeat, this new benefit for lifetime coverage is for medication only. (You're sensing a quiz question, aren't you?)
This will alleviate the financial burden for transplant recipients who may already be incurring additional costs for health insurance.
It will save the government money by preventing kidney failure and the need for additional transplants or potential returns to dialysis.
Who is eligible for this "lifetime" coverage?
Short answer:
If you receive a transplant in a Medicare-approved facility, Part B will cover your immunosuppressants for the rest of the life of your transplanted kidney if:

You had Part A at the time of your transplant.
You were eligible for Medicare at the time of transplant and applied for it even if you were not enrolled at that time. It doesn't matter if Medicare was the primary or secondary payer to other insurance.
You have Medicare Part B when getting your prescription filled.
You qualify for Medicare based on your kidney disease.
More details:
Anyone who had a transplant and whose Medicare eligibility expires before, on or after January 1, 2023 can enroll in Medicare Part B if they do not have other insurance to cover the cost of their immunosuppressants.
Anyone who does NOT have other public or private health insurance with an immunosuppressive benefit:

Private insurance includes GHPs (HMO/PPO), employer-based plans, spousal/partner coverage, coverage under the Affordable Care Act (ACA) or an individual health insurance plan.
"Public" includes State Medicaid/Medi-Cal (Medi-Cal is what Medicaid is called in CA), Dept of Veterans Affairs coverage, TRICARE (for civilian Armed Forces personnel and retirees).

When starting dialysis and you go on Medicare but don't have other insurance coverage and no longer work/make below a certain amount, you likely qualify for Medicaid in most states.

Dubbed "Medi-Medi" coverage, it should fully cover most of your medication costs (though almost all Medicare and Medicaid plans do not cover for vitamins or supplements). This is why some people may carry Medi-Medi coverage as long as they can post transplant.

If you're still on "Medi-Medi" 36-months following transplant your immunosuppressive drugs, once your Medicare drug coverage ends you will be covered by your Medicaid/Medi-Cal plan. If you lose that coverage, you can *apply* for the Medicare immunosuppressive coverage. If you do not apply, you are NOT automatically eligible.
When does this Act kick in for us?
Short Answer:
Open enrollment for anyone whose Medicare coverage ends prior to January 1, 2023 begins October 1, 2022.
More details:
The Dept of Health and Human Services (HHS) and the Centers for Medicare and Medicaid (CMS) will release an enrollment program months before the start date and will determine regulations on how the change will be enacted.
Uh-oh, What if I need coverage before 1/1/2023?!
If you're in a jam now for whatever reason, much like there are during the 36-months on Medicare, there are assistance programs you can try:

Apply for Medicare "Extra Help" (with Part D).
Drug manufacturers/Pharmaceutical companies often have freebies or assistance.
16 states currently have prescription assistance programs.
And don't hesitate to reach out to your transplant team for advice and assistance!
Ok, so how do I enroll?
HHS is in the process of determining the regulations to implement the law and the regulations will include info on how to enroll, but the exact process isn't available yet.

But you will have to send the Commissioner of the Social Security Administration (SSA) proof that you do not have access to alternate coverage.
Keep your eye on RSN's website and RenAlert emails for more information as 2022 progresses!
What if I qualify for coverage then my circumstances change?
If your change is new coverage and it includes immunosuppressant coverage, you no longer qualify for the benefit and you must contact the Social Security Administration (SSA) within 60 days of enrollment in your new plan. 
What will be my out-of-pocket costs?
Your monthly premium will be 15% of the monthly rate for Medicare beneficiaries 65 and older. HHS will determine the amount in September of each year. So if you pay a Part B premium now, it will be less than that.
It is yet to be determined what the copay will be. Medicare Part B has a standard 20% copay. We'll keep you posted!
Will my meds change?!
No! Our immunosuppressive regimens are specific to each of us so all immunosuppressive medications prescribed by your physician will be covered.
It's important to remember this is a 'benefit of last resort'. So if you're not eligible, be grateful! But it's comforting for the whole community with all of our varying circumstances we can breathe a sigh of relief knowing it's there if we need it.
QUIZ
So how much of that info did you actually retain? Let's test it out. (No cheating!). I'll make it easy with 3 True or False questions and 3 multiple choice questions. Answers at the end. Good luck!
If you're on your spouse's plan for health benefits when your Medicare coverage ends you are not eligible for lifetime coverage.
True
False
2. If you're on Medi-Medi when your immunosuppressant coverage ends in 36-months you automatically roll over into lifetime coverage.
True
False
3. If you didn't have Medicare when you received your transplant and never enrolled or applied for Medicare, are you eligible for lifetime coverage.
True
False
4. When does open enrollment begin?
January 2023
September 2023
December 2022
October 2023
5. Which one of these is not private health care?
Veteran's coverage
Medicaid
ACA
PPO
6. How much of the cost Medicare beneficiaries 65+ pay will lifetime coverage be?
15%
SAME
20%
40%
Answers:
a
b
b
d
b
a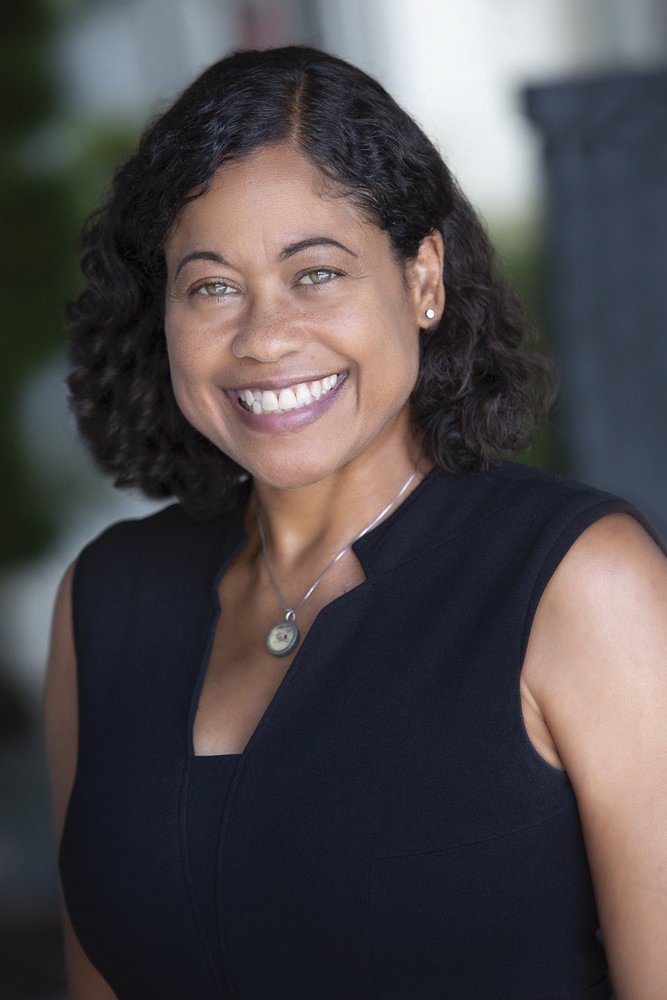 Sasha Couch is an East Coast native living in Los Angeles for over 20 years. She has a BA in International Relations from The University of Pennsylvania and works as a technical writer. Sasha received a kidney and pancreas transplant in 2017. She delights most in her volunteer endeavors, notably working with organizations helping the homeless like the Culver-Palms Burrito Project.
More from Sasha Couch
Navigating Insurance & Medications
My Kidney & Pancreas Transplant Journey
Vote No on Prop 8 – A Wolf In Sheep's Clothing
Note to Self – 1st Place Winner, 14th Annual Essay Contest
My Pal Hope – Honorable Mention, 13th Annual Essay Contest
Web ID 8026