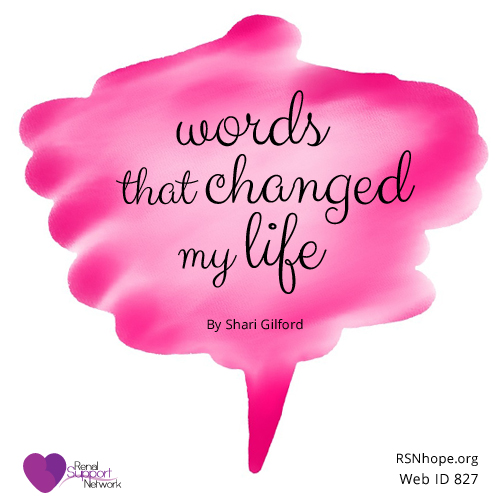 I sat with my parents in the waiting room, perspiring from anxiety. This transplant team would decide my future. Would they accept me? I thought about everything that had led up to this nerve-wracking moment.
In May 1987 I graduated from college. The 99%-matched kidney that my older brother had donated to me 10 years earlier had been working perfectly, allowing me to live my dreams. I forgot that I had kidney disease. I also forgot to take my medication. When nothing bad happened, I figured that I didn't need it anymore.
A year after graduation, I caught a cold that lingered and got worse. I was feverish off and on, and I even lost my appetite for my favorite foods. My recent lab results had been normal, so I didn't suspect that my kidney might be failing.
My mother finally convinced me to make an appointment with my nephrologist. This man cared for me like a daughter—I was his only young patient and the same age as his son.
I waited nervously for him to reveal the test results. He looked directly at me from across his large desk as he spoke each word deliberately: "If you had waited another week to see me, you wouldn't be sitting here."
He paused to let this sink in. Turning to my parents, he explained, "The only way her kidney could fail so quickly is either because of a trauma to the kidney or because she stopped taking her medication."
I felt numb. The words were like daggers thrown at my guilty conscience. What I had been hiding for over a year was starkly exposed. My doctor knew what I had done.
He finished with clinical detachment. He would place an emergency catheter in my neck the following day and I would begin dialysis—an abrupt end to my carefree youth.
The next few months were among the most difficult in my life. The relationship with my doctor seemed irreparably broken. One of the nurses who had worked with him for years told me that she had never seen him so upset. Could I ever regain his trust?
I had caused my parents grief and disappointment, even though they quickly forgave me. My brother was upset because I hadn't taken care of his gift to me. Cheerfulness had been my hallmark, but now guilt, self-condemnation, remorse, and a deep sense of loss overwhelmed me.
After a few difficult months on hemodialysis, I decided to switch to peritoneal dialysis (PD). I hoped PD would help me prove I was trustworthy. I would have to do it consistently several times a day. Maybe I could rebuild my doctor's trust in me.
After a year without mishaps, my PD nurse, Cindy, encouraged me to get another transplant. However, the transplant surgeon decided that I was a high-risk candidate due to my history of "medication non-compliance." He refused to accept me for a transplant.
I was devastated. In an instant his words had yanked hope out of my heart.
Now what? Dialysis forever? I was only 25 years old and had my whole life ahead of me. I longed to be free again.
Cindy listened compassionately as disappointment overflowed from the depths of my soul.
"This is your life," she replied gently, yet with authority. "Do you want a transplant? Then you can get one. Make appointments with every transplant center you can find. Treat it like a job interview. Be honest about your history, but be confident. This is for you. Go after it and don't give up. I support you." Her confidence in me filled my heart with hope again.
Now I was sitting in the waiting room at the transplant center, wondering whether this was the day that would set my life on a new path. I had seen a succession of nurses, doctors, and social workers, and now it was time for the surgeon to weigh the evidence and pronounce the verdict. I had heard he was a tough man who spoke bluntly and had little tolerance for someone who didn't take care of her kidney.
This man would decide my fate.
On Mother's Day, 1990, the call came. The tough surgeon had given me a second chance. He also became a good friend.
Cindy, my cheerleader and PD nurse, gave me the courage to keep believing, and I'm deeply grateful. Her words changed my life.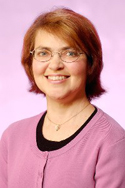 About the Author
Living with kidney disease for over 30 years has helped Shari learn how to advocate for herself.  Diagnosed with medullary cystic disease in 1976, at the young age of 11 she underwent hemodialysis for six months before receiving a kidney from her older brother. After logging a total of 19 years with two transplants, Shari received a third transplant in March 2006. In between transplants, Shari has experienced several dialysis modalities—CAPD, CCPD, in-center hemodialysis, and nocturnal home hemodialysis. She also received training as a dialysis technician.  She believes that empowerment as a patient begins with learning as much as possible about kidney disease. Believing there are few limits in life, Shari recently fulfilled a long-time dream. In August 2010, she flew to India with four suitcases and a one-way ticket. For one year she and her husband David lived in a residential home for 32 children who come from very poor families, teaching them English and life skills. Shari's message to her kidney peers is: "Anything is possible when you learn how to manage your disease. Stay healthy, aim high, and live your dreams!"