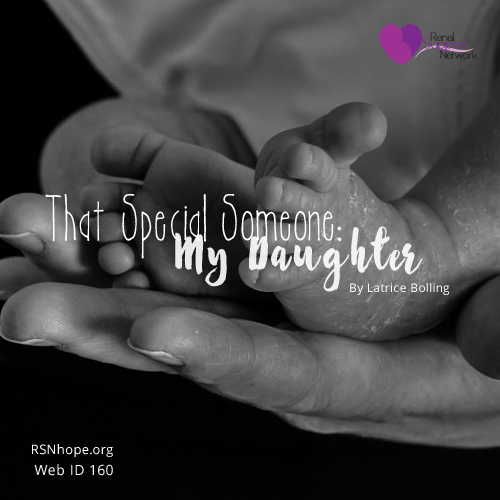 Never has there been a dull moment in my life since she arrived.
Never have I known such a beautiful spirit.
Never have I been so impressed with the courage of one person.
Never did I expect to be so blessed in life.
Never did I expect her to bring such fulfillment and enrichment to my life.
Never have I been so inspired to be the best person that I could be.
Never did I ever expect to hold the proud title of mother.
Never will I be able to repay my beloved daughter for changing my outlook on life.
Never did I expect that "special someone" to be born on my birthday and say the most amazing words to encourage me.

From the time my daughter was born, I have been chronically ill. At 29 years old and a single mother, I have not known a single day in the last 11 years or so when there was not an ache or a pill to take. I have suffered with lupus all of my adult life, and, for the last two years, I have been on either hemodialysis or peritoneal dialysis.
My daughter learned early to adjust to lengthy hospital stays, surgeries, my fatigue at times, and unemployment. Even when I get down on myself, I look up, and there she is smiling and still loving me for who I am and not what I am.
One afternoon, while on hemodialysis, I was changing out of my blouse carelessly. I had a tank top on that exposed the catheter in my chest. I had been on hemodialysis a little over six months, and I was ashamed to allow anyone to see my catheter. At times, I even felt like less of a woman.
I forgot my daughter was in the room, and, before I could cover my catheter, my daughter said: "Mommy, what is that tube in your chest?"
The most amazing thing was that this little girl had been braver and more compassionate than most adults. She did not squint. She did not look away. She just asked: "Mommy, does it hurt?"
This began our open dialogue about dialysis. I explained that Mommy receives dialysis through this tube, and it does not hurt. Earlier, I said that my "special someone" said the most amazing words to me. She then said: "Mommy, its okay. You are still pretty even if you have that tube in your chest. Mommy, I want to be just like you when I grow up!"
My breath was taken away. I said: "Like me? What is so special about Mommy?"
I was thinking: "I am chronically ill. Every time I think I have a leg up, there is another hurdle to jump. Some days, I feel like I am 90. I feel that lupus has slowed many of my life's plans, and now here comes kidney failure."
Again, I asked: "Why do you want to be like Mommy?" This time my "special someone" answered: "Because you are smart, Mommy, and you are pretty."
People are always revering me for my strength and ability to stand up for myself. What these people do not see is the human side of me. The side that gets angry when the peritoneal fluid goes into my abdomen and my belly expands. The vain side. The female side. The young woman who still wants to be active. The young woman who, on some days, says: "Here we go again!"
It is on these days that I look down at those beautiful brown eyes, and, when she smiles, I know that I am truly blessed. I know that she is my reason for achieving. When I think of how she loves me unconditionally and believes in me, I feel like I can fly.
My special someone inspires me to dream.
My special someone teaches me to love unconditionally.
My special someone has inspired me to continue with my education. I went back to school to pursue a second bachelor's degree in public policy and obtained it. I plan to pursue a legal education and, possibly one day, participate in politics.
My next step is to start a non-profit organization for lupus patients. Finally, the biggest dream I have is to leave my daughter a legacy, not of fortune, but of perseverance.
My special someone has taught me that, even in bad situations, if you have hope, you have a chance. Don't ever stop dreaming. Keep dreaming, and keep looking forward to something. And, most importantly: never be idle.
About the Author
Unfortunately, Latrice Bolling lost her brave battle with kidney disease and passed away in 2006. She was the First Place Winner in the iKidney.com Fourth Annual Essay Contest entitled, "That Special Someone." The contest was made possible by support from Watson Pharma.