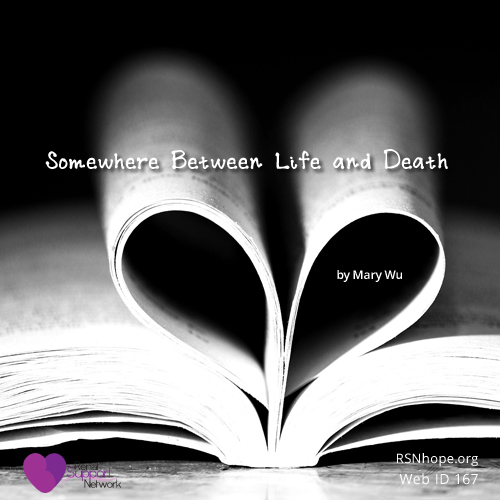 I was always the avid bookworm with my tinted-framed glasses perched on the end of my nose and my eyes glazed over with a dreamy glint as my head was buried in the book I was devouring. Books were my ultimate escape from the realities of my kidney failure and one disastrous health episode after another since I was a tiny tot toddler. For a little while, I could get lost and wrapped up in the magic, imagination, and creativity of the author and the characters that were created and plot that thickened with each page.
Books became even more of my best friend when I was 12-years-old and told that my first kidney transplant only had 10% kidney function remaining. The one author that I turned to each and every time I had another blood test or nephrologist visit was Lurlene McDaniel. The one book by her with the binding tatter and the cover bent was: "Somewhere Between Life and Death." To briefly summarize, the book focused on two sisters, Amy and Erin. Erin grew up envious of Amy's carefree and happy ways in life. When Amy dies in a tragic car accident, the real story starts with the entire organ donation process, the complex family dynamics before a loved one dies and after making the ultimate decision to donate the organs in a time of tragedy, and the never-ending raw and challenging emotions that are experienced throughout it all.
It was strange that I turned to this book and read it to no end because it was realistic and true to my own personal and health experience rather than providing an unrealistic and fantasy world that I could run away to when times were tough. Growing up with chronic kidney failure was not easy for my family and me. There was the sibling rivalry that my sister and I had that mirrored Amy and Erin to capture the constant love and attention from our parents. There were the protective and loving parents who were beside themselves with the unknown future in both my life and in this treasured book. There was the uncertainty of whether I would receive a second kidney transplant in time, undergo dialysis again, or what life held for me and this was all likewise for Erin who battle with a future without her sister and these organs who were to be given mysteriously to faceless strangers.
Each time I read this book again and again, I knew deep in may heart why I loved and held on to it like an anchor. Like a warm blanket wrapped around me on a frigid, wintry night or a steaming, hot bowl of chicken noodle soup, the book provided comfort for me. I learned about the organ donation process, the triumphs and heartaches of the donor family, and, most of all, I learned and felt deep within me that I was not alone. This author understood my family and our turmoil all to well. Furthermore, as a kidney transplant candidate waiting for my second kidney transplant and chance at life again, I understood that there was no reason for me to feel bitter, angry, or lonely because this book made me see the other side-the side of the organ donor family. When I was able to step out from my own situation, a deep understanding penetrated and filled me with calmness and happiness that was unexplainable and wonderful all in one that organ donor family or organ recipient family did not matter and never did mattered. Instead, what it came down to was that all of us as human beings are survivors who face and overcome life's greatest struggles and challenges in the best and only way that we know how to.
A small paperback book gave me strength and understanding to deal with my chronic kidney failure and waiting for what life had in store for me with either another kidney transplant or dialysis, overcoming the hormones and loneliness that hit me full throttle in high school, and treasuring my life as it was and my family as they were. A small paperback book was there for me when I did eventually receive my second kidney transplant to treasure my organ donor and her family as though they were my very own family. One small paperback book made all the difference in the world to me and I could never thank this author and this tattered book enough for all of that and all of the lessons I learned from it.