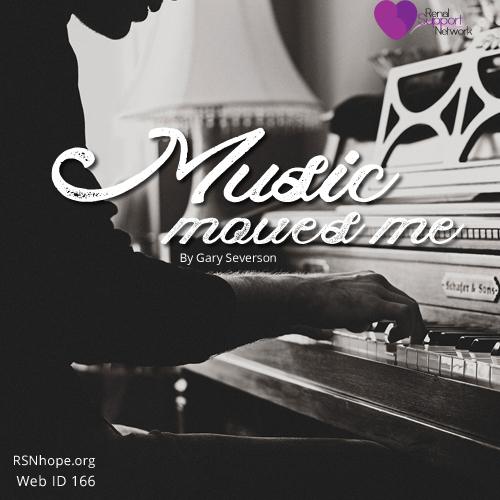 When I was ten I persuaded my mom to let me take piano lessons so I could play the popular songs I heard on the radio. Afterward I was shocked to find out that I needed to practice each day to play those songs. Bye-bye piano! The following Christmas my mom bought me an acoustic guitar so I could become the next Elvis. I looked real cool standing in front of our mirror, holding my guitar and wiggling my right thigh. But I never could even strum the guitar right.  Bye-bye, guitar!
Listening to music has always interested me. In the latter1960's I was a kidney dialysis patient and I listened to rock music while I dialyzed. The dialysis runs were quite long back then, and I certainly didn't want to spend all my time doing school work! Music speaks to people in different ways. For instance many songs that I heard while on dialysis affected me emotionally. Today when I hear those songs, sometimes I am reminded of when they first captivated me. I can still repeat the melodies and lyrics of many  Beatles songs.Forty years ago I received my kidney transplant and began investigating many types of music: Christian, Big Band, Jazz, and even Classical. After hearing Jimmy Dorsey play his alto saxophone, I decided that I would play the alto sax. I bought a student's model and took lessons for four months. Then came the harder work of improving my sound and I learned to play by ear. For 15 years my wife (on piano) and I made music together for an hour each week. I believe that finally I have become an accomplished beginner.
One night I heard an enchanting melody in a dream. When I woke up I thought that someone needed to write down that melody. The next night I had the same dream and melody. This time when I awakened I knew who that someone was.  I fumbled on the piano for days until I got the melody down. Next I needed chords and words. Words weren't too difficult, since I'd written articles and stories. But chords–eek! So I enlisted my wife to instruct me. She taught me about chords in one session, but it required years of trying and failing and trying once more before I ever dared use my songs in public or give one as a gift. Even now, only on my goods days am I near average in writing and playing songs.
So if my once labor of love turns out to be mostly labor, why do it at all? Well, it keeps me focused off my kidney problems,.  For years, periods of high blood pressure and poor sleep nights acted like we were best friends.  I had a force myself to compose songs. But I've found that even when my body demands attention, if I play an instrument or sing (again, average is good for me), there's an uplifting of the spirit that happens. In other words, music can at least momentarily help me transcend my kidney difficulties.
This past decade, stents were put in my kidney artery to lower my blood pressure. That brought 2 1/2 years of daily problems of widely fluctuating blood pressure. Yet, during that time I began playing three different hand drums, a number of hand instruments, and the harmonica–all of them while sitting down to compensate for any blood pressure craziness. I've also discovered that playing an instrument or singing can lower my blood pressure. I believe the secret is that those actions ease body stress, which makes for lower blood pressure readings. On many occasions, I've sung to my blood pressure to return to normal, and sometimes it does! But even beyond that, music rings me joy and keeps me positive. It's become a creative outlet without bad side effects.
In my journey as a kidney patient. I've experienced increased pain, trouble with walking, and greater fatigue "drops" in the evenings. However since mornings are best for me, my wife and I lead worship at two prayer meetings each week at a nearby prayer center. Despite the possible physical struggle to get to the meetings, they are the highlight of our day. Call me stubborn, call me stupid.  But I don't want to kick the music habit.