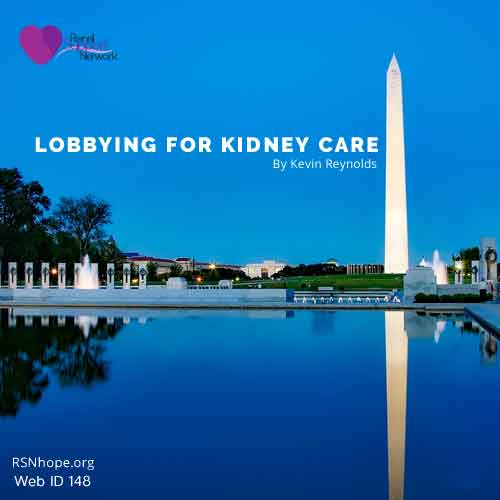 There it is.
A check for $100,000, from out of nowhere, sitting in my mailbox.
Only one caveat: Do something good with it for other kidney patients.
Oh, is THAT all? Really, I would need 1000 times that amount to make even a dent in accomplishing all that I would like…improving centers, earlier kidney education, better physician awareness of ESRD, and of course, donors all around to fund these projects!
But as we kidney patients all know, you do the best with what you have. So that's what I'll bear in mind with my hundred grand.
I'm going with the theory that you start at home, make changes in your own neighborhood, city, or county, then, like a pebble dropped in a still pond, you wait for the ripples to spread the message. That's how I am going to use these funds to try to move my state towards an opt-out program of organ donation. What's that, you ask? Well, instead of asking residents to sign a donor card on their driver's license saying they opt-in, they would be asked to sign a card saying that they DON'T want to be a donor and sign that. This then begins the process of re-educating the populace to believe they are considered an organ donor unless they say otherwise.
While it sounds like a simple change, it's actually a complex process involving various state departments, rules and regulations, and, most importantly, the verbiage used on the actual driver's license.
Step one would be sponsoring a statewide meeting of all the key stakeholders in this effort: transplant hospitals and doctors, health organizations, patient groups, UNOS, government agencies and the state transportation department. Information regarding the critical need for organ donors and the miniscule percentage of those who agree to be donors will be stressed, with an emphasis on the need for greater donor education. An action plan to change the current state policy would be created by the end of the meeting so that specific steps and assignments would be in place to begin the process of changing the current regulations.
A part of the $100,000 would be used to contract with a knowledgeable lobbyist to assist with the effort in the state capital. Knowing the right legislators, their staffs and government officials will be critical to pushing this movement along in a quicker-than-normal rate.
There's no doubt this process will take time–nothing moves quickly in state government. However, while legislative wheels grind slowly, rallying public support can move more quickly. Using an aggressive online and e-mail campaign, and with the assistance of the stakeholder groups from the statewide meeting, a coordinated advocacy effort will begin to help influence our state leaders. Using the tag line, "Feel Great: You're a Donor," the campaign will be upbeat and positive, presenting this new concept as one that is not only easier but will also save thousands of lives each year. Acknowledgement will be given to religious beliefs that do not embrace organ donation, but for the majority of residents, this opt-out idea will be shaped as the easiest way to provide life-saving organs to those of us who desperately need them.  As this campaign gains speed, a coordinated outreach to state media outlets – television, radio, newspaper, etc. – will be undertaken to provide them stories of local individuals waiting for donations and the simplicity of this new opt-out plan.
Our old way of opting in for organ donation just isn't working. Too many people are dying each day awaiting kidneys or lungs or hearts. The process that has been implemented is being presented in a backwards way, and often, in the crunch at the DMV, is probably being mentioned only briefly, if at all. A new thinking and new philosophy about organ donation needs to begin, and if it begins here, it could easily spread throughout the country.
I believe this is the greatest, long-range effort that we can undertake to assist as many ESRD patients as possible, now and in the future. Yes we need new drugs and new technology, but we have got to find more donors to help keep us alive. That's why "opt-out" is my $100,000 effort.

About the Author
Kevin Reynolds was diagnosed with renal cancer in both kidneys in 2006 and had both removed in 2007. He, with his wife Susan, began home hemodialysis in May 2007.  He works full time as the Community Relations Director for Cincinnatti Public Radio (90.9 WGUC and 91.7 WWXU) and enjoys spending time with his beautiful wife and daughter and their new puppy, Sophie.