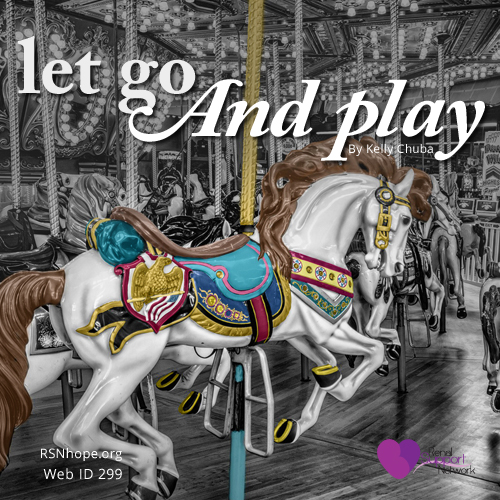 After 10 years of gradual decline, my kidneys failed last year. Soon I'll mark my first anniversary on home dialysis. Thanks largely to the freedom of home dialysis, I've been able to pursue a few different hobbies—hobbies I chose carefully largely by looking back at the things that gave me the most pleasure in my youth. So while I'm a woman who's just turned 40, I think I may just now be an old teenager, but with good reason. After feeling sad and lost, I decided that instead of letting dialysis make me old and sick, I was going to be young again, and being young again means doing some very youthful things.
In my adventure to recapture my youth, I decided to go back to the job I enjoyed the most in my life: amusement park security. It's not an easy job for a dialysis patient, but it's wonderful exercise in fresh air and sunshine, with happy people in one of the greatest playgrounds on earth: Hershey Park. Today I rode the old carousel, which was built almost a hundred years ago. I chose one of the elaborately decorated wooden horses that I had to climb up to reach, and for a few short minutes, like many generations before me, I was very small and carefree again. I'm free to get on any of the rides, although my doctors tell me to avoid the big roller coasters. I have to remind myself that the posted warnings for people with medical conditions actually mean me. Fortunately, we have a mild coaster called the Trailblazer. I rode that today too.
Before I left for work, I played a few very intense games of Starcraft II on my laptop. Starcraft is a real-time strategy game that requires lightning-fast reactions and quick decisions to save the armies we command. I often play this game while on dialysis, because like most good video games, Starcraft can make time disappear while stimulating the pleasure center of our brain. They say video games are addictive, and I believe them! I wish everyone in dialysis centers had video games during their long treatments. From Slingo to Zombie Oblivion, there really is a fun game for everyone!
Sometimes on dialysis I don't feel very good, so I put on the television programs the kids like. I don't really care to watch the upsetting adult shows like crime dramas or the news; I much prefer the better, gentler world of Nickelodeon. I know that many grown-ups also enjoy these cartoons but deny themselves because of what other grown-ups might think. I've put away the disturbing books in my library and read all of the Newberry Award classics and the Harry Potter series instead. Reclaiming our youth means no longer denying healthy activities we would enjoy just because other adults have a notion of what we should be reading or watching.
Last spring I was kicked out of our under-30 softball league when someone squealed and told them I was older. Sadly, before I could join an age-appropriate league, the nice doctors put a fistula in my right arm, ending my softball career. But this fall I plan to find a kickball league. I'll need the stress-reducing exercise and the camaraderie of teammates when our amusement park closes for the season. Exercise is a great way to reclaim our youth, and while last year I started with just walking my dogs, before long I got stronger and could eventually run and swim. This fall, I also plan to dress for Halloween, find my way out of a corn maze, and go to homecoming at my military college. When Christmas comes, I'll go caroling, and spring will mean coloring Easter eggs. With luck, next summer I'll go swimming more and try to travel with my home dialysis machine.
My hobbies are the joys of my youth, and I fully endorse the hobby of reclaiming our youth. Yes, I have to pause to stick myself with needles and obey a beeping machine for three hours a day, but how much more fun life is when we just let go and play!