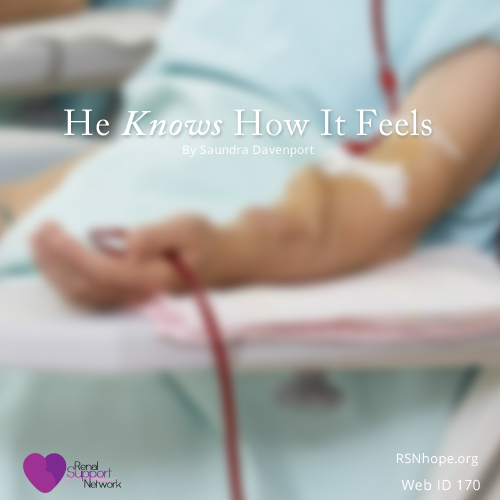 The staff at my dialysis unit encourages me to live a fulfilling life in spite of kidney disease in many ways. Some ways are overt, and others are not so obvious to someone who does not need a lift in spirit from time to time.
Although the staff performs their duties in a professional manner, each of them finds the time to answer any questions I have. If they don't know, they are willing to get the answer. They make me feel special by knowing my personality to the point, that if I'm not my usual self, they ask me if something is wrong.
I know that all units are not fortunate enough to have staff members who have kidney disease or who have had a kidney transplant. However, I am a patient with a staff member who has experienced (medically) the same things I've experienced.
A lot can be said about his sensitivity toward the patient's plight. He knows first-hand what it's like to have treatments over the years and all the problems associated with those treatments. He knows how it feels to have two 18-gauge needles inserted in your arm at least three times a week; how it feels when your blood pressure drops time-after-time; how it feels to have to take medications that sometimes make you ill; how it feels to be unable to eat all the delicious, tasty foods and drinks; and, finally, how it feels just to be able to go to the bathroom and urinate (a natural function that most take for granted).
But, beyond what we share as kidney failure patients, this staff member, alone, inspires and encourages me to be all I can be and do all that I can for myself. He has had three transplants over many years, yet he still works a long, 13-hour day. He never considered giving in to his disease and staying home to dwell on his ailments. This staff member inspires me to live a fulfilling life in spite of kidney disease.
Next, I believe that the more one is educated about a subject, the more equipped or prepared he/she is to fight the battle needed to win. The staff at my dialysis unit arms me with the knowledge I need to live a life with good quality. All I need to do is listen, learn, and adhere to the advice given to me by those who know how to prolong my life in spite of all the changes my body experiences.
I am constantly reminded of my responsibility in being receptive of the things I have to do to have a good quality of life. And when I look at the whole picture, it is ultimately my responsibility to watch my diet, police my intake of fluids, and engage in activities that stimulate me physically, mentally, and emotionally.
Other than this one staff member who motivates me, the other staff motivates me in ways that I'm sure they're unaware of. Their attitudes, work ethic, knowledge, and enthusiasm are quite noticeable. Even their bright, colorful clothing are an encouragement.
When I have to give up three days (sometimes four) of my life just to stay alive, it is important to me to be in a pleasant, neat, and bright surrounding. My unit is kept clean by the staff, and it goes a long way in promoting a sense of well-being and of being-well-taken-care-of. The staff supports us emotionally by taking us aside and comforting us when we have personal problems. They support us socially by giving bake sales in order to raise money to give us a Christmas party (complete with gifts), and they keep us entertained by playing games with us while we are receiving our treatments (they serve us and entertain at the Christmas party, too). Now, that's fun!
Having a fulfilled life while having end-stage renal disease merely means accepting my lot in life and handling it with all the zeal I can muster and making those around me feel comfortable enough to treat me with loving care and, most importantly, respect.
I end by saying that each (I mean each) staff member has impacted my life and encouraged me to do all that I can for myself and for others. And doing things for others has allowed my life to soar to heights that are hard for me to explain. I just feel joy.
I am happy and so very grateful for my dialysis unit!

About the Author
Saundra Davenport resides in Philadelphia, PA. She tied for Third Place Winner in the iKidney.com First Annual Essay Contest entitled, "How the staff at your dialysis unit or transplant center encourages you to live a fulfilling life in spite of kidney disease." The contest was made possible by support from Watson Pharma.