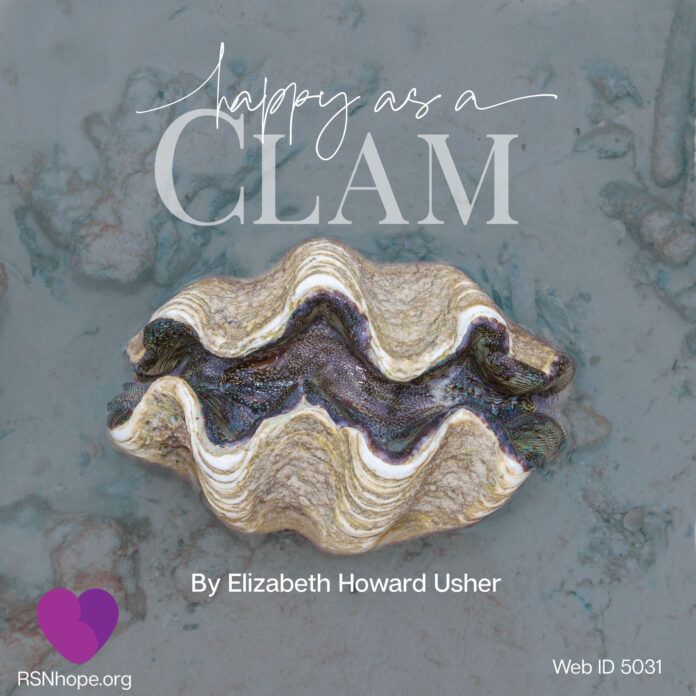 The idiom "as happy as a clam" seems a bit strange to me since a mollusk would not be perceived as having any emotions. I wondered why a clam was used in this simile. However, I have done some research which I will divulge later. The word "happy" comes from the Middle English word for lucky, and I guess if one is happy, one IS lucky. A happy food experience for me before my kidneys failed would have been at a Red Lobster restaurant with a bowl of decadent lobster bisque, a salad heaped in ranch dressing, a lobster tail dipped in butter, and a loaded baked potato. Yet now I am eating to protect my health, and I have learned to give myself a delicious meal with some accoutrements: I have had a happy food experience many times on the kidney diet, and I have thrived because I create visual and auditory drama to make my meals more appetizing and interesting.
First of all, I set the proverbial culinary scene by employing many of my senses to enhance the meal. As a high school dramatics coach, I have studied David Belasco, a talented playwright, director, producer, and set designer on Broadway in the first part of the twentieth century. He decorated the sets to resemble a swank Fifth Avenue apartment by bringing in expensive Persian rugs, a Steinway piano, Chippendale furniture, and Tiffany chandeliers to give authenticity to the play. It made the theatre experience much more vivid, special, and memorable.
I have learned to have a happy experience of kidney-friendly foods that I can eat, and be happy doing it.
Likewise, I use my dining room as a place to eat since its minor glamour involves a cherry wood table and chairs, a china cabinet, and a bureau on which sit antique candelabra lamps casting a glow. Across from the head of the table is a credenza with two matching faux Ming blue and white porcelain lantern jars framing the weeping pear tree's branches outside the window. Eating in this atmosphere makes any meal more special as I take on personalities of various characters from novels, plays, and films. Using my imagination is part of the overall happy experience of eating.
Secondly, to create more ambience around my meal, I bring in a CD player to serenade me as I ingest the food; perhaps I would listen to Dvorak's "New World Symphony" or Orff's "Carmina Burana" or even the Beatles' greatest hits. I love the drama around creating a perfect location to eat a healthy kidney diet as well as choosing a musical work to complement it, giving an extra layer of appreciation for a happy experience while eating.
Lastly, the kidney diet may not be an epicure's delight, but with herbs, spices, and a touch of Mrs. Dash's non-salt seasoning, the looks, the smells, and the tastes of added flavors help any meal improve. I like to cook skinless, boneless chicken breast basted with olive oil and dusted with sage, paprika, garlic powder, and pepper as the main entree. It would be accompanied by petite red potatoes, green asparagus with a slice of tomato atop lettuce, garnished with crumbled cauliflower. A fruit salad of cranberries, blueberries, and pineapple chunks with a dab of sugar-free whipped cream would be my dessert. The Crayola colors delight the eyes and palate with a carnival of gastronomic pleasure. I have learned to have a happy experience of kidney-friendly foods that I can eat, and be happy doing it.
In conclusion, creating the atmosphere of beauty and enjoyable music lets me use my imagination while I daydream about exotic scenarios. Both my kidneys and I are as happy as a clam… at high tide. Yes, that's the whole simile, meaning that clam diggers cannot find the clams as easily if the shelled creatures are under the water. As a would-be actress and sometimes-cook, I have learned to appreciate my dramatic repasts, and, yes, I am a food detective finding out what I can or cannot eat. I am as happy as a clam eating for my kidney health, and I am thriving.
la versión en español de Más feliz que una almeja por Elizabeth Howard Usher aqui
Elizabeth Howard Usher taught English at Lakewood High School as well as Harding Middle School in Lakewood, Ohio for thirty-one years.  She graduated from Linden Hall School in Lititz, Pennsylvania; Pine Manor College, and Western College. During her teaching career, she was named Teacher of the Year in 1984 and Educator of the Year in 1998.  She is named in both Who's Who in American Teachers and Who's Who in American Women.  She has diabetes and has been on dialysis since July of 2010. In her spare time she is part of a MENSA consulting group for advertisers and she loves cartooning, oil painting, playing the violin, and writing short stories and poems. She is presently working on a novel about Ruthin, Wales, a mystery.
More essays by Elizabeth Howard Usher:
"A Trip to the Castle" – 3rd Place (Tie) Winner, 11th Annual Essay Contest
"Pillow Talk"- 2nd Place Winner, 10th Annual Essay Contest
Web ID 5031