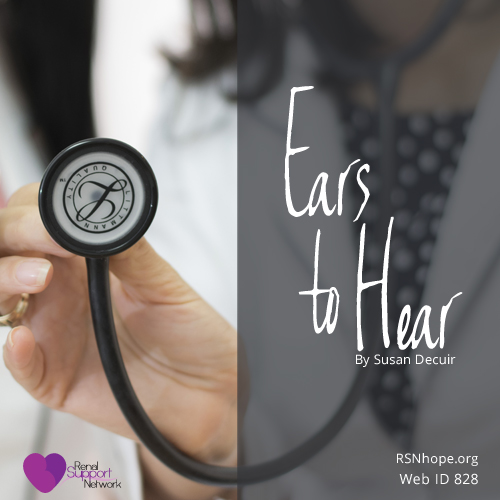 I mindlessly flipped through the well-worn magazines in the waiting room until the nurse finally called my name. I followed her down the hallway to the dreaded scales. She jotted down my weight, then handed me a little plastic cup. Obediently, I headed for the ladies room. That annoying little job completed, I entered the examination room, aka the freezer, where the nurse checked my blood pressure, then inserted a needle into my most cooperative vein. "Leave me enough to live on," I always teased as I watched my blood drain into the little vials. She giggled as usual and left the room.
Checking my watch every few minutes, I prayed that I wouldn't be late for work, when in walked a pleasant woman wearing a fashionably long skirt and a colorful blouse. She extended her hand, smiled, and looked directly into my eyes. "Hi, I'm Dr. Peri. I'm sorry, but your regular doctor won't be in today."
I liked her immediately. She was professional, personable, and a great listener—the opposite of my regular doctor. His bedside manner was insensitive at best: like the time he told me that people with hereditary polycystic kidney disease shouldn't have children (I had two). He obviously doesn't know or believe that children are a gift from God, I thought, and didn't mind telling him so.
Dr. Peri treated me like a real person with a heart, a mind, and a spirit, not a mere entry on her daily calendar. I learned more about my disease from her that day than I'd gotten from the doctor I'd been seeing for years. I felt that she truly cared about helping me get better. And when I asked questions, she answered them, because she actually listened.
"Dr. Peri, I have one more question before I leave," I said, pushing myself off the chair.
She lifted her dark, caring eyes from her paperwork, looked at me, and listened.
"Would it be okay if I changed doctors and saw you from now on?"
"Certainly, if that's what you want to do," she said and smiled sweetly.
And I did.
When Dr. Peri suggested that I begin taking shots to counter the anemia and boost the waning energy caused by my kidney disease, I said that I would first like to pray about it with my husband, Ron. Though her faith differed from ours, she honored my request and never pressured. She just—well—listened, but made sure that I understood the benefits of taking the shots and the risks of not taking them.
I listened to my doctor and to God and began the biweekly shots. My energy level improved, and I was able to keep up with my energetic, curious, adorable first grandbaby, a little boy named Evan.
In 2008, Dr. Peri advised that it was time to begin the screening process necessary to get approved for a transplant. "My husband and I will pray about it," I said, standing in faith and believing that God had a miracle for me. I knew Dr. Peri thought it urgent that I begin the process immediately, but she remained patient with me and honored my faith. I appreciated that.
A year passed, and my kidney function dropped to 8%. Ron and I knew that it was time to put action to our faith. Dr. Peri quickly got the paperwork in motion, never reprimanding me for having waited so long. She just—you know—listened.
Having passed the health screening, I was approved for the transplant list on
April 17, 2009. Following two surgeries on my left arm to prepare a fistula for dialysis, with a third yet to be scheduled, I received a phone call from Methodist Transplant saying that they had a perfect match for me, 2 months and 10 days after I was put on the list. Ron and I thanked God all the way to the hospital for the miracle my family and friends had prayed for.
I went home 4 days after surgery. Three years have passed without any complications. I thank God for my health and for the abundance of energy I'll have for rocking and cuddling my third grandbaby, due in November.
Thank you, Dr. Peri, for listening, and thank you, God, for hearing our prayers and for bringing my miracle in your own time, which is always perfect. And thank you to the man who listened with his heart when he signed a donor card. "He who has ears to hear—let him hear" (Matthew 11:15).

About the Author
Susan lives in Carrollton, Texas with her husband, Ron, of thirty-three  years.  She has two grown/married stepsons and a son in heaven. Susan and Ron also have a married daughter who is expecting their third grandchild.  Susan loves to read, write, and exercise at the local Senior center but most of all she loves spending time with her two grandchildren, six-year-old Evan and four-year-old Emma.