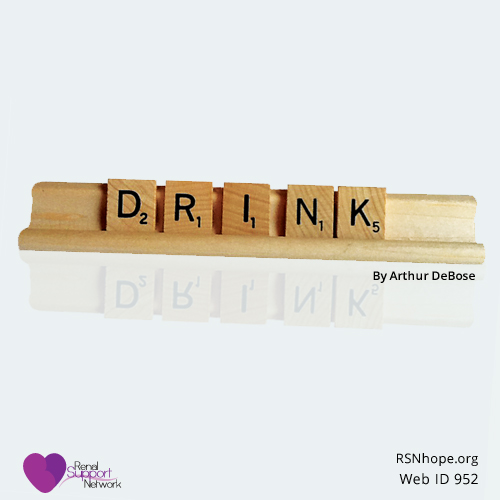 One day while receiving my dialysis treatment, my dietitian approached me with my monthly numbers report card. Impressed by my continuous improvement, she drew little happy faces on my chart and inscribed accolades as encouragement. We continued to converse about my renal disease and how it had affected my body over the past 5 years. After analyzing all of the information I'd given her, she asked "Sir, what is it you're doing to improve your dialysis treatment?"
Without hesitation I said, "I DRINK!"Abruptly she exclaimed, "No, I mean what choices have you made to improve your health and how does it benefit others? Surely you can't mean that you've been drinking alcoholic beverages or excess fluids?"
I said, "Neither! Please allow me to fully explain what I mean." I asked her to have a seat and relax as I began to divulge my secrets.
D Stands for Discuss
By discussing my concerns with the dialysis staff, I found out about all of the resources the center has to offer to help improve my treatment. These resources include a social worker to help me deal with some of my personal issues and people in the billing department who work diligently with my insurance company. Also, I always discuss eating habits with the staff as they teach me how and what to eat. These factors help keep my stress level low, and for this I'm thankful.
R Stands for Resist
Through discipline I've learned to resist putting things into my body that work against my treatment, such as excessive fluids or foods high in salt. I've also learned to avoid fruit that has potassium (like bananas) or a high water content (like watermelon).
I Stands for Interest
I continue to show interest in myself. While on dialysis, your body goes through many changes. My skin has become drier; I've felt frail, unattractive, and burdened at times. One's self-esteem might start to show signs of wear and tear, or the body might just give out as mental and physical fatigue sets in. So I continue to show interest in myself by spending my free time pampering myself and indulging in my favorite hobbies.

N Stands for Nutrition
Nutrition is just as important as Resist. Along with my vegetables, I treat myself to foods that are high in protein. I also have daily reminders to take my renal vitamins and other medications.
And the most important letter in DRINK is K.
K Stands for Keeping My Appointments
By keeping my dialysis appointments, I'm able to establish a routine and ensure that my body is functioning the way it should. I arrive on time and try to be as helpful as possible to those who are in charge of my treatment.
So, the acronym DRINK explains how I choose to improve my health. I Discuss, Resist, show Interest, maintain Nutrition, and always Keep my appointments.
Arthur DeBose lives in Newark, New Jersey