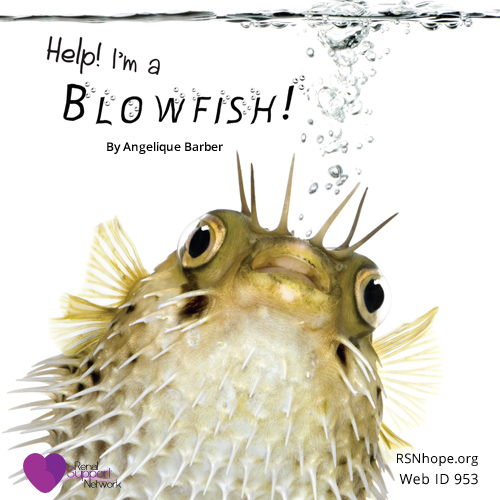 Blowfish are peculiar. These tiny sea creatures are elastic and, when threatened, can easily expand into a ball-like shape that's twice their normal size. It wasn't long after my life-giving kidney transplant that I became fascinated by the little creatures. After starting a post-transplant prescription regimen that included corticosteroid drugs, which cause increased appetite and weight gain, I began to take on peculiar attributes. Cravings for foods like cheese nachos and French fries mushroomed. Bit by bit my appetite grew until—KABOOM! So did I. Within 18 months, my size 6 frame seemed to take on supernatural elasticity and expanded into a size 12. My friend the blowfish and I seemed to have something in common: We both doubled in size.
Now the cool thing about a blowfish is that once it's rounded out, it can quickly and easily retract, returning to its normal size. But for me, losing my post-transplant weight wasn't going to be quick or easy. While I thought blowfish were rather cute, my post-transplant globular shape wasn't. Mirrors don't lie. And even though I jokingly compared myself to a blowfish when talking with family and friends, the truth is that I felt threatened and worried about the long-term effects of obesity, especially heart disease and diabetes. Driven by a strong desire to honor my organ donor, a need to stay healthy, and a bit of vanity, I made up my mind to shed pounds.
Sheer grit and determination weren't going to get me far in a personal weight loss program. What I needed was practical help and accountability. After some research and dialogue with friends, I downloaded a fitness app. The program allowed me to set a personal weight goal, keep a food journal, and track my daily calorie intake. A bonus feature was the app's "friends" networking capability; it provided needed support. If I didn't log into the fitness app and track my calorie intake, my friends knew it and sent encouraging e-notes that helped get me back on track.
Keeping a food journal was a good start. However, if I was going to mimic my blowfish buddy's size reduction, I also needed to exercise consistently. Since I'd enjoyed cycling before my transplant, I took up bike riding again. The tricky part was to motivate myself to ride several times a week. I started with 3-mile rides and worked my way up to 6 miles. Later, I added swimming to my exercise plan. The fitness app came in handy because it allowed me to log workouts, and it automatically deducted the calories I burned while exercising from the day's total. By reducing my overall calorie intake and exercising regularly, I began to see a gradual trend toward my weight loss goal. Over the course of 18 months, I lost 18 pounds and, much to my delight, my blowfish spherical shape. I replaced my size 12 clothing with size 8. More important, my cholesterol levels dropped, and diabetes has been kept at bay.
The adorable blowfish's natural ability to fluctuate in size works to its advantage. A significant advantage to me is my body's ability to adapt positively to a life-giving transplant, respond to a treatment regimen, and benefit from practical weight loss strategies.
For this, I am truly grateful.
Web ID 953

Angelique Barber lives in Spring, Texas
You can also listen to the KidneyTalk interview about her experience post transplant. Listen Now