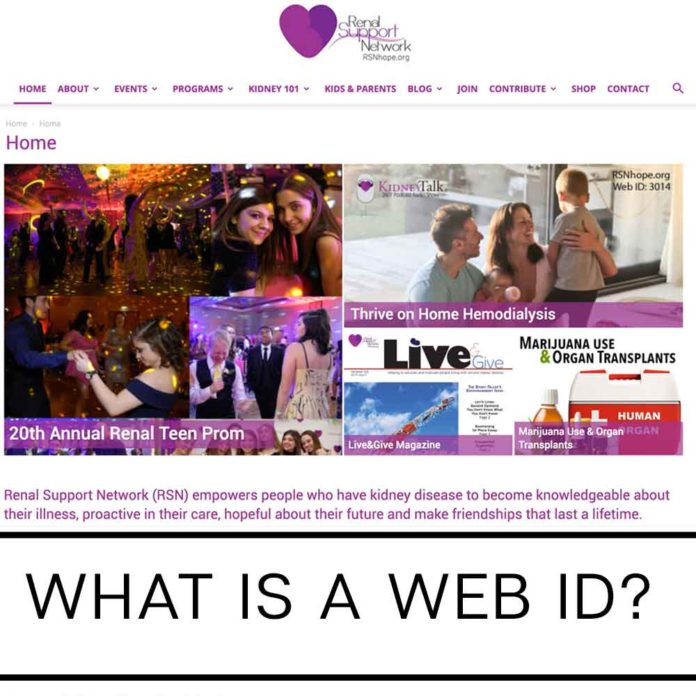 Sharing and finding information on our website is easy online! All of our content, whether they are blog posts, KidneyTalk shows, KidneyTalk magazine articles include the item's Web ID in the post. The Web ID appears at the end of every post, just like this one.
If you know the Web ID, click the magnifying glass icon at the top right of the menu bar on the home page on your desktop computer or smart phone. Then enter the number in the search bar.
If you are a healthcare professional you can prepare a prescription of articles and podcasts for your patients by using the Web ID's. Some examples below show how you can collect Web ID's for a specific topic:
For someone new to dialysis, a Nephrologist might share treatment articles like these:
Choosing and Caring for Your Vascular Access – Web ID 622
Overview of Hemodialysis – Web ID 379
No Needle Sticks: Use Your Belly! – Web ID 455
Independent Living with Home Dialysis – Web ID 623
The Benefits of Home Dialysis – Web ID 4011
Hemodialysis for Night-Owls – Web ID 510
Questions to Ask When Choosing an In-Center Dialysis Provider – Web ID 392
Participating in Your Dialysis Care Plan – Web ID 995
How to Engage the Dialysis Team – Web ID 308
For someone newly diagnosed with CKD but not yet on dialysis, a Nephrologist or Renal Dietitian could share these articles:
Education is Key to Living a Better Life with Kidney Disease – Web ID 609
Delay the Need For Dialysis With Good Nutrition – Web ID 221
Ten Tips to a Healthier Heart – Web ID 985
Deciding I Could Lose Weight – Web ID 5004
Exercise for Life! – Web ID 269
Visualizing a Healthy You – Web ID 348
A Renal Dietitian might want to share these articles:
Renal Recipes – Web ID RD100
KidneyGrub – Web ID 3002
Smart Snacking Choices for the Dialysis Patient – Web ID 436
Spicin' Up the Renal Diet Tips & Tricks – Web ID 938
Vegan, Vegetarian, & Variety: What You Need to Know! – Web ID 941
A Dialysis Clinic Nurse might want to share these articles:
Understanding Hemodialysis Dry Weight – Web ID 478
It's Hot, Drink Not – Web ID 4004
Know Your Lifeline: How to recognize and prevent dialysis access complications – Web ID 4001
Preserving Your Lifeline: What You Should Know About Vascular Access Monitoring and Surveillance – Web ID 390
Understanding Blood Pressure & Dialysis – Web ID 984
If you don't have the item's Web ID, you can search using the article or KidneyTalk show title.
Web ID 7042