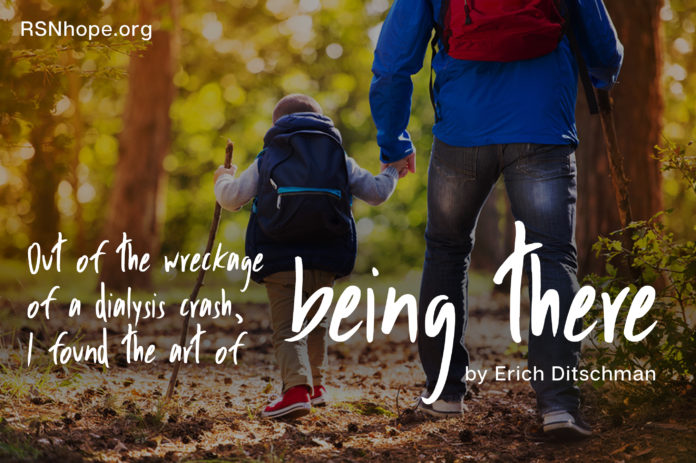 I'd been married for seven years to Drea, my high school sweetheart, and was laser focused on getting a professorship with a side consulting business. On one of those days, I'd be headed to Michigan State University, steering wheel in one hand, a Big Gulp in the other. When Drea called, I'd put the drink between my legs and flip open my phone. I needed to be home right after class to give her a fertility shot. An hour later, as I parked the car, my boss would call, checking on our proposal's progress. Dashing to class, I tell him it will be on his desk tomorrow. On the two-hour drive back, an Italian sub would replace the drink in my hand. Once home, there was just enough time for Drea's shot and to get caught up. We both had to be up early for our long commutes to separate cities.
After work, Drea walked the dogs by herself, made her own dinner, and worried alone about our future as parents. I was rushing to carry out my agenda and didn't even know I was losing sight of something important. I wasn't there.
I took a new job in East Lansing two years later, our house was about one mile from the school. We adopted our newborn son. Finally it was all coming together for us. We celebrated the new millennium with Jacob in our arms. Then four months after his first birthday, I crashed into dialysis with an emergency catheter.
That was seventeen years ago. My first five years without working kidneys was like riding the scariest roller coaster in the park, except with no fun food and limited beverages. I was told the unnerving statistic that the average life span on dialysis is 5-7 years. I was 36, and our son was one and a half years old.  As soon as I was clean enough from dialysis to think clearly, I realized that I had to focus on the now, and not some imagined future. If I really did have only seven years, I couldn't spend it in class, away from Drea and Jacob. I wanted to be the best husband and father.  I needed to be there for them. I quit chasing that doctorate.
I knew I needed a transplant. Drea was a match, and in the spring, she gave me a kidney. It shut down a few months after the operation. Over the next few years, we tried home hemo with a reverse osmosis unit and a standard dialysis machine, and peritoneal dialysis (PD) with an overnight pump and manual exchanges. I switched to PD to make it easier for Drea to go to work, and still have time with Jacob when she was home.  She no longer had to run my machine.
We weren't going to let dialysis get in the way of our dreams. Four years after my kidneys failed, we adopted our daughter, Antonia. She came home with a SIDS monitor. For her first few months, when she woke up during the night, I rocked her while connected to my PD machine, ensuring her monitor lines didn't get tangled with my tubes. Dialysis gave me a chance to not only be a father to Jacob, but also to our new daughter. I had one blog, Tasty Kidney Pie, and added another: Dialysis Dad.
Determined to beat that seven-year mark, in 2005 I received a cadaveric kidney. After five weeks of plasmapheresis and dialysis, the kidney had to be removed.  We learned that my disease, Focal Segmental Glomerulosclerosis, was recurrent. Future transplants were doubtful. I struggled into a 3 times/week hemodialysis routine. I made the best of my new normal. Just like with PD, we still traveled. Half of my vacation was spent in a clinic, but that didn't keep us from going to Disney World, or to visit my father in St. Augustine, Florida. Dialysis gave me the gift of life. But I wanted more time and energy for my family.
One day in the chair at the clinic, I was reading an article about home hemodialysis and learned about a portable machine I could use for frequent short term treatments while sitting in my living room with family. I talked about it with my nephrologist who ended up getting re-credentialed at the closest center offering this home hemo-dialysis treatment. I felt better within the first week of training. That was in 2006, when I learned that I was the captain of my team. It was up to me, with Drea, to keep searching for my best treatment. My nephrologist would always be my Number One, my first mate, there to make sure my medical needs were being met, but I would now actively make the decisions. In 2010, I had the honor of presenting this message at the Annual Dialysis Conference in Seattle.
The biggest turning point for me was when I learned self-care. Getting over my fear of sticking big needles in my arm put me on track for success. Instead of looking away while techs and nurses tried to stick me, I gained confidence. I took responsibility for my health.  This independence and confidence spilled into other aspects of my life.  In 2010, I paddled 250 miles on the Grand River, dialyzing each evening in a travel trailer, to raise money for the National Kidney Foundation of Michigan.
For the past ten years, I've dialyzed about eight hours a night.  I run three or four nights on and then take one night off. When I turn my bedside lamp off, my wife is by my side, and my children are sleeping in their rooms. The roller coaster has flattened to kiddie-sized hills, and my food choices are much better. I even treat myself to an Italian hoagie now and then. Fluid intake isn't much of an issue now. Our family travels have taken us to many major western National Parks, Kauai, and of course, back to Disney World. My son is graduating from high school this year, and my daughter will be starting soon. I no longer worry about that ominous statistic. Rather, I'm focused on my 30th wedding anniversary next year, visiting my son at college, watching my daughter's basketball games, paddling the 2020 Grand River Expedition, and advocating for better lives for all patients like us.
Wherever you find yourself in your dialysis journey, clearing the initial uremic fog, feeling angry because you now realize you're stuck with dialysis, patiently waiting for your name to come up on the list, getting comfortable with your new normal, or resigned and thankful for each new day, don't stop challenging yourself. Try taking one step closer to self-care. Work to regain your independence and self confidence. Be there!
Erich Ditschman was diagnosed with kidney disease while in high school but that didn't stop him from skiing out west, back packing the Grand Canyon backcountry, or working full time while pursuing graduate education. Over the seventeen years that he has been dialyzing, he has committed himself to helping others with kidney disease to lead fulfilling lives. In 2010, he joined the Grand River Expedition which is a once every ten year expedition by canoe and kayak to raise awareness of Michigan's longest river. 
Follow Erich on Facebook
Follow Eric's blog: Paddling on Dialysis for Kidney Health
Web ID 7026