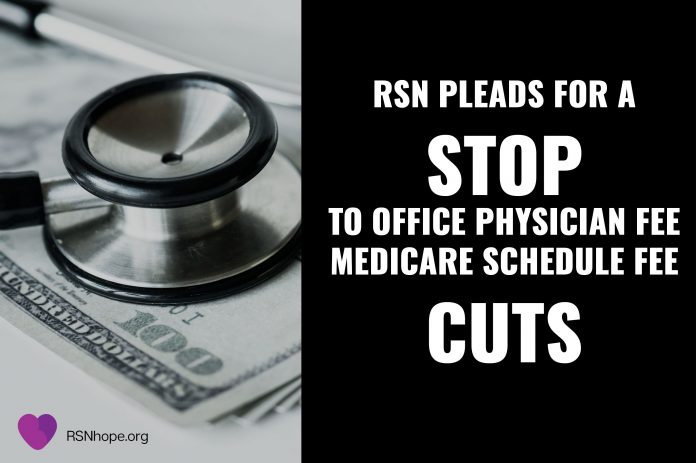 Please take a few minutes and save someone's life or maybe even your own. Access to Care for Doctors comments due by September 6, 2022.
Physician Fee Schedule Proposed Rule
Click here to leave your comment to CMS (see steps below)
Comment and mention why the proposed changes are important to you. Refer to below text and mention RSN letter or link to it if you wish.
Enter your comment mention for CMS-1770-P
Select a Comment Category:Individual

RSN pleads for a stop to Office Physician Fee Medicare Schedule fee cuts
We need access to nephrologist and vascular surgeons, or we end up in the Hospital.  People who have kidney failure require substantial and immediate health care and a network of qualified providers is critical. Currently, people on dialysis are suffering from inadequate networks and long wait times for appointments. While hospitals and skilled nursing homes all get 2-4% increases every year because they are in Part A Medicare, physicians who take Medicare Part B are all subject to the yearly cuts due to budget neutrality.
RSN Supports Access to Dental Services for Medicare Beneficiaries
Kidney failure is a difficult illness and due to fluid management people on dialysis often have dry mouths and it leads to increased risk of dental issues. Oral health is essential to our wellbeing.  To qualify for a kidney transplant, patients need to have dental health to even be considered.
By postal service mail. You may mail written comments to the following address:
Centers for Medicare & Medicaid Services, Department of Health, and Human Services, but it needs to be postmarked by Sept 6th.
Attention:     CMS-1770-P
P.O. Box 8016, Baltimore, MD 21244-8016.
Re: CMS-1770-P: "CY 2023 Payment Policies under the Physician Fee Schedule and Other Changes to Part B Payment Policies; Medicare Shared Savings Program Requirements.
Thank you so much for making sure your voice is heard. This is important!