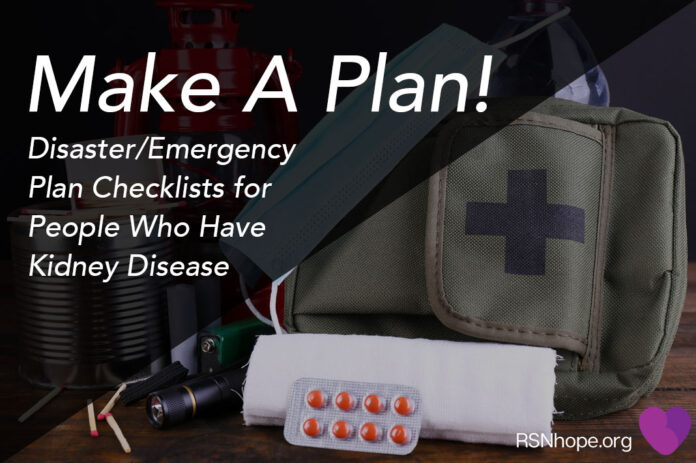 Now more than ever, people with chronic kidney disease, dialysis patients, and transplant recipients must Make A Plan for disasters or emergencies that might disrupt their care.
Impassable roadways, power outages, water supply and plumbing issues, communication system breakdowns, and damaged medical facilities are likely in disasters and emergencies. Put a plan together now based on your circumstances. Understand that patient tracking is a huge challenge, and your care will be up to you.
If you are taking medicine for chronic kidney disease (CKD), keep copies of your medication and treatment instructions at home, at work, and in a go-bag! Make sure you have a two-week supply of medicine on hand, as well as at least three days of food and water. Review the checklists on these pages, stock up, and make a plan!
Follow all the instructions above if you are on dialysis. In addition, do everything you can to resume your regular dialysis as soon as possible after a disaster hits. The Kidney Community Emergency Response (KCER) website has a list of provider hotlines and link to the End-Stage Renal Disease Network – use these to find a treatment facility that is up and running. Also, answer you phone if you are unfamiliar with the number during a disaster.  Your dialysis provider may e calling you from their personal cell phone. Follow a Dialysis 3-Day Emergency Diet Plan until you can get treatment, as this could prevent illness or even death. Review the checklists on these pages, stock up, and make a plan!
If you are a transplant recipient, ask your care facility or transplant coordinator about their emergency plan. Especially if you have just been transplanted and need frequent monitoring.  Find out if they have a backup facility where you can receive blood work and other follow up care. Ask your pharmacy about getting a disaster kit of medicines and medical supplies. Review the checklists on these pages, stock up, and make a plan!
Tell a trusted family member, friend, or neighbor if you think you'll need help. But remember that you may have only yourself to rely on!
Note checklist items specific to each category.  Those not marked apply to everyone!
Evacuation: Have a Go-Bag Ready
Water and Food
Bottled water, cranberry, or apple juice
Non-perishable foods, canned:

Carrots, green beans, peas, corn, yellow squash
Unsalted peanut butter
Vanilla wafers
Applesauce
Fruit cup, drained
Low-sodium or no-salt added tuna, crab, chicken, salmon, or turkey

Emergency 3-Day Diet for Dialysis– (A sample diet is below.)
Health Documents
Picture ID
Current list of medications
Treatment prescription details
Insurance/Medicare card
Copy of monthly lab results
Contact list of healthcare members/facility staff
Personal emergency contacts
Emergency Kit
Face coverings/masks
Disinfectant wipes
Flashlight
Manual can-opener
Spare glasses
Battery-powered radio
Cell phone
Cell phone charger
Warm blanket, pillow, sleeping bag
Hand sanitizer
Whistle
Note pad and pencil/pen
Disposable gloves
Medications (in a waterproof plastic bag)
Extra cash
Important documents (in a waterproof plastic bag) 
Clothes and Toiletries
Changes of clothes appropriate for your climate
Sturdy shoes
Towel
Toilet paper
Toothbrush/toothpaste
Feminine personal hygiene supplies
Sunscreen
Lip balm
Survival Tips
Find out which disasters are more likely to happen in your community.
Find out how you can get warnings about a disaster or emergency (Radio, NOAA weather radio, television, community email or text alerts, neighbors).
Make an evacuation plan. Where would you go? How would you get there?
Prepare for loss of indoor plumbing. Basic sanitary needs can be met by using kitty litter fireplace ashes, or sawdust
Keep your medicines in a waterproof plastic bag
Have a friend or relative in another area as your emergency contact. In an emergency, local calling might be unavailable, but you may be able to call outside your area.
Wear a medical emblem. This has vital information about your condition and treatment plan and alerts medical staff to your special needs.
Utilize your Phone Medical ID App to store important medical information.
Have an extra supply of face coverings/masks and hand sanitizer, and practice frequent hand washing to avoid exposure to infection. Be on heightened alert at evacuation shelters, and practice social distancing to the greatest extent possible.
Home Emergency Kit
Keep a two-week supply of medicines and diet needs at home
Keep copies of your insurance, medical records, medications, and treatment instructions at home and with you at all times (also in a waterproof plastic bag)
First aid kit
Local maps
Water – one gallon of water per person per day for at least three days, for drinking and sanitation
Food, at least a three-day supply, nonperishable
Battery-powered or hand crank radio and NOAA Weather Radio with tone alert, and extra batteries for both
Flashlight and extra batteries
Whistle to signal for help
Dust mask
Plastic sheeting and duct tape to shelter-in-place
Moist towelettes, garbage bags, and plastic ties for personal sanitation
Wrench or pliers to turn off utilities
Manual can opener for food
Cell phone with charger, inverter or solar charger
Plastic garbage bags are a great way to stay warm if you are out in the elements. Step into it and tie around waist to help keep warm.
 People On Dialysis
Review Preparing for Emergencies: A Guide for People on Dialysis, published by the Center for Medicare and Medicaid Services
If you are on a dialysis machine during an emergency, stay calm and wait for instructions from a dialysis staff member. Review this KCER resource for guidance on disconnecting yourself from a dialysis machine if a staff member is NOT available to help you. WARNING: If you have a catheter that is used for treatment, DO NOT disconnect yourself.
Ask for a copy of your dialysis care facility's disaster plan and read it carefully
Learn about your region's End Stage Renal Disease Network emergency plans
Keep your ESRD Network's toll-free number handy to get information about the nearest available medical assistance.
Sample Emergency Dialysis Diet
Breakfast  |  Cereal and fruit
½ cup milk OR mix ¼ cup evaporated milk with ¼ cup distilled water, from sealed containers
1 serving of cereal (No bran. No granola. No cereal with dried fruits and nuts.)
1 tbsp. sugar, optional
½ can (2 ounces) fruit, drained
Lunch  |  Peanut or almond butter and jelly sandwich
2 slices of white bread
2 tbsp. unsalted peanut or almond butter
2 tbsp. jelly or sugar-free jelly
½ cup canned fruit, drained
½ cup (4 ounces) juice
Dinner  |  Chicken sandwich
2 slices of white bread
½ can (2 ounces) chicken with 2 tbsp. mayonnaise (Note: These items may spoil without refrigeration.)
½ cup vegetables, drained
½ cup cranberry juice
Morning Snack
5 vanilla wafers or 1 ½ squares graham crackers
10 hard candy or sourballs (include sugar-free options if diabetic)
Afternoon Snack
½ cup applesauce
10 jelly beans (include sugar-free options if diabetic)
Listen in to this KidneyTalk Podcast for more tips: How to Prepare for a Disaster
For more information on emergency and disaster planning for kidney and dialysis patients, explore the KCER website which has resource pages on kidney care emergency plans, medications, food safety, COVID-19, regional emergency updates, and more.
Web ID 8017