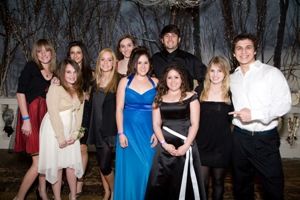 Kidney Teens Have a Night to Remember at RSN's 9th Annual Renal Teen Prom
January 20, 2008 
They arrived in limos and cars, dressed in dazzling dresses and pressed suits, eyes sparkling and excitedly nervous in order to attend, for many, their first ever Prom. But this wasn't just any high school prom. This was a prom for two-hundred-and-fifty beautiful, courageous teens who have chronic kidney disease; it was the Ninth Annual Kidney Teen Prom, sponsored by the Renal Support Network (RSN).
"Every year we do this it's as though we're seeing their reaction for the first time," says RSN President and Founder Lori Hartwell. "And we resolve once again to keep this thrilling event going again next year."
The gym at Notre Dame High School in Sherman Oaks, California was transformed into a shimmering winter landscape reflecting the theme of "Winter Elegance—an evening sparkling like diamonds."
Hartwell, who missed her own teen prom because of chronic kidney disease, started the prom because she knew how it felt to be "different" because of chronic kidney disease (CKD), and how heartbroken a teen can be because they're too sick to go to their prom, or are in the hospital, or just don't feel like they fit in. She knew how hard it is sometimes to keep going, and yet, how a friend can give you hope and courage. One friend can make a difference!
"Giving these teens a carefree evening, doing normal, coming-of-age activities, bringing a date, dancing, getting dressed up," she muses, "all of these things reinforce them as people and human beings who have a lot to contribute to those around them."
"I met two people doing really well," says Salematou Traore who came from Washington D.C. "One was on dialysis and one had a kidney transplant. Both of them gave me hope that I can live up to my possibilities. I'm so glad I came!"
In fact, hearing the laughter, seeing the faces alight with fun and joy, there is no difference between this amazing group of teens and any other prom-going teen group.
The prom attracted celebrities including the evening's emcee, Christy Carlson Romano (Even Stevens, Cutting Edge 3), Saige Ryan Campbell (I Heart Huckabees), John McCook (The Bold and the Beautiful), Mark Dacascos (The Chairman of Iron Chef America), Dave Shelton , Griff Furst (Dead Men Walking, Dracula's Curse) and the iconic Animal House's Flounder, Stephen Furst.
"This is my third year at the Prom and I wouldn't miss it," says actor/director/producer Stephen Furst. "I've recently received a kidney transplant myself, and being at the prom and talking to these teens makes me feel like I can give something back. It's a great feeling."
Photos with celebs and getting their autographs, dancing, dinner, limo rides, and glamour photos all added to the fun and excitement of the evening. The teens were further entertained by Enrique Iglesias look-alike, actor Jeff Hartman, Dacascos in an amazing Kung Fu demonstration, and Pake Lika, the Father of HydroMechanics dance. Molly McCook, daughter of John McCook and a student at Notre Dame High School, sang "Beautiful," Dialet Lopez was crowned Prom Princess. The award-winning Notre Dame High School Cheerleaders brought the teens to their feet, and DJ Phil Roa spun some great dance music.
"But we couldn't do this without the hard-working volunteer students at Notre Dame High School," Hartwell stated. "Their commitment and enthusiasm is
really important to the success of the evening, and I especially want to thank the administration at the high school for getting behind the Prom. The students stuffed the gift bags, helped decorate the gym, the beauty room, the restrooms, stuffed the invitations, and did so much to communicate what teens want in a prom. We also met to educate them about kidney disease and the importance of being an organ donor."
But in a sense that's only the tip of the volunteer iceberg. 65 of the teens needed transportation which was handled by 35 RSN volunteer drivers who drove all over southern California to pick them up. 55 teen girls needed prom dresses, and 5 area hospitals, their nurses and social workers opened up their space in the Nephrology departments for the teens to try on 300 donated dresses which they can keep.
In addition, volunteers in the RSN community helped unload trucks of props and materials, set up the backdrops, the trees and shrubs, the backdrops, hung the 6' chandeliers and theater lights, and helped decorate the gym and the registration area.
"It was a true community effort," says Hartwell, "and reflects the significance of this event for so many people."
Actor Dave Shelton was enthusiastic about coming to the Prom. "It has been one of the most spectacular evenings I've ever spent! Everyone was so inspirational. It makes me continually appreciate life. I can hardly wait to come again next year."
Brother William Nick, President of Notre Dame high School which has co-hosted the Prom for the past nine years, said, "This is always such a significant event for our students to become involved in as volunteers. Of course, they have as much fun as the teens they are hosting, but they work hard and learn about the importance of organ donation and the effects of chronic kidney disease. It's been more than a pleasure to help Lori and the Renal Support Network realize such a significant event."
The prom can be attended year after year, as long as the attendees are between the ages of 13 and 24. Many life-long friendships are formed here and the returning teens are able to catch up with their old friends.
Michelle Kats, who came from Boston for the Prom and uses a wheelchair and walker, said, "It was so worth it! I got to dance! It's the first time I wasn't asked if I was sick."
The prom is always held during the long weekend of Martin Luther King, Jr. Day. Because the event is on a Sunday, there are no conflicts with dialysis schedules, and the teens are free from school the following day to take a breather.
"I learned a lot about community and how a community helps you cope. Seeing others like me with awesome stories made me feel that I can do it too,"says Traore.
Next year, the Prom will be held on January 18, 2009. Teens and young adults with kidney disease (pre-dialysis, on dialysis or with a kidney transplant) and their guest are invited to attend. Health care professionals who know of kidney teens are encouraged to pass along this information or to contact the Renal Support Network.
(Photos Courtesy of Patrick Botz-Forbes)
Web ID 678