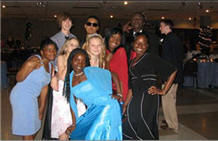 Kidney Teens Get a Night to Remember at First Ever East Coast Renal Teen Prom
"It's Prom time, but for some teens, picking out the prom dress, pressing the tux, and making the dinner reservations wasn't the real problem. For many teens with chronic kidney disease, hospitals, clinic visits, and weeks or months of illness have kept them from their proms.
But on May 10, these teens had their evening of glamour, limos, and dancing — a night long overdue. They arrived in limos and cars, dressed in dazzling dresses and pressed suits, eyes sparkling and excited to attend, for many, their first ever Prom. But this wasn't just any high school prom. This was the East Coast Renal Teen Prom, sponsored by the Renal Support Network (RSN).
Chappel Gissentanner, one of the kidney teens attending the prom said, "I just want to have fun, be with my friends and dance and talk."
"I just wanted to go and to dress up like everyone else," said teen Laura Jones. "I wanted people to see me leave my house all dressed up!"
"Every year we do this it's as though we're seeing their reaction for the first time," says RSN President and Founder Lori Hartwell. "And we look forward to presenting this thrilling event again next year." Hartwell has for the past nine years organized a similar prom in Los Angeles and news of it had spread to the east coast, to Children's National Medical Center.
Reed Doughty, who plays safety for the Washington Redskins, was the special guest. He and his wife, Katie, have a 20 month old son, Micah, who was born with chronic kidney disease and is being treated at Children's National Medical Center. "We support the Renal Teen Prom as a way for teens to connect with others who share similar experiences. It was really a fun-filled night where these teens relaxed and enjoyed an event so many of their peers take for granted."
Photos and autograph signing with Doughty, dancing, entertainment, dinner, limo rides, and prom photos all added to the fun and excitement of the evening.
For this event, the dining hall at DeMatha High School in Hyattsville, Maryland was transformed into a shimmering, starry landscape reflecting the theme of "Dancing Under the Stars." Prom entertainment included emcee/actor/singer Aaron Battle, a professional DJ, the Hip Hop entertainment group X-Vibe, and magician John Dodge. In addition to the entertainment, the young people were treated to a night of dancing, hors d'oeuvres and dinner, limousine rides, photos, make-up and hair sessions.
Hartwell, who missed her own teen prom because of chronic kidney disease, started the prom because she knew how it felt to be "different" because of chronic kidney disease (CKD), and how heartbroken a teen can be because they're too sick to go to their prom. "Giving these teens a carefree evening, doing normal, coming-of-age activities, bringing a date, dancing, getting dressed up," she muses, "all of these things reinforce them as people and human beings who have a lot to contribute to those around them."
The prom can be attended year after year, as long as the attendees are between the ages of 14 and 24. Many life-long friendships have been formed at these proms, and the returning teens are able to catch up with their old friends.
If you are a teen with chronic kidney disease, it's hard to find other teens who are having similar experiences. Said teen Paris Jamal, "I really don't know a lot of people my age who go through this. Even at the dialysis clinic I don't have a chance to meet them, but tonight I can get to know others like me."
In fact, hearing the laughter, seeing the faces alight with fun and joy, there is no difference between this amazing group of teens and any other prom-going teen group.
"We could not do this without the co-hosting of DeMatha High School and Children's National Medical Center, with special thanks to Julie Penndorf, Kathleen Moylan, and Judy Ross as well as the student volunteers from DeMatha and from Seton High who were a great help," Hartwell stated. "Their commitment and enthusiasm was really important to the success of the evening."
But that's only the tip of the volunteer iceberg. More than 30 of the teens needed transportation which was handled by volunteer drivers who drove all over the Washington D.C. area to pick them up and two more donated limos or vans. Several teen girls needed prom dresses, and Caitlin's Closet (run by Miss USA Outstanding Teen Caitlin Brunell) as well as others donated dresses and space for the teens to select their dresses.
"It was a true community effort," says Hartwell, "and reflects the significance of this event for so many people."
Next January 18, 400 teens will celebrate the 10th anniversary of the Renal Teen Prom on the West Coast in Los Angeles Check the RSN web site, RSNhope.org, for more information on both the West Coast and East Coast proms in 2009. Teens and young adults with kidney disease (pre-dialysis, on dialysis or with a kidney transplant) and their guest are invited to attend. Health care professionals who know of kidney teens are encouraged to pass along this information or to contact the Renal Support Network.
The Renal Teen Prom was sponsored by individual contributions and by Amgen, Abbott, Astellas, Fresenius, Roche, Kidney Kids, and Patton Boggs.
Web ID 679