Magicians' hats, sequined bowties, magic trick card decks, wands, and two people in head to toe rabbit suits made for an over-the-top theme party experience at the 21st Annual Renal Teen Prom held at the Glendale Hilton, Sunday, January 19, 2020. Renal Support Network's prom for young people coping with chronic kidney disease drew returning partygoers who look forward to it all year and brought some new celebrants as well.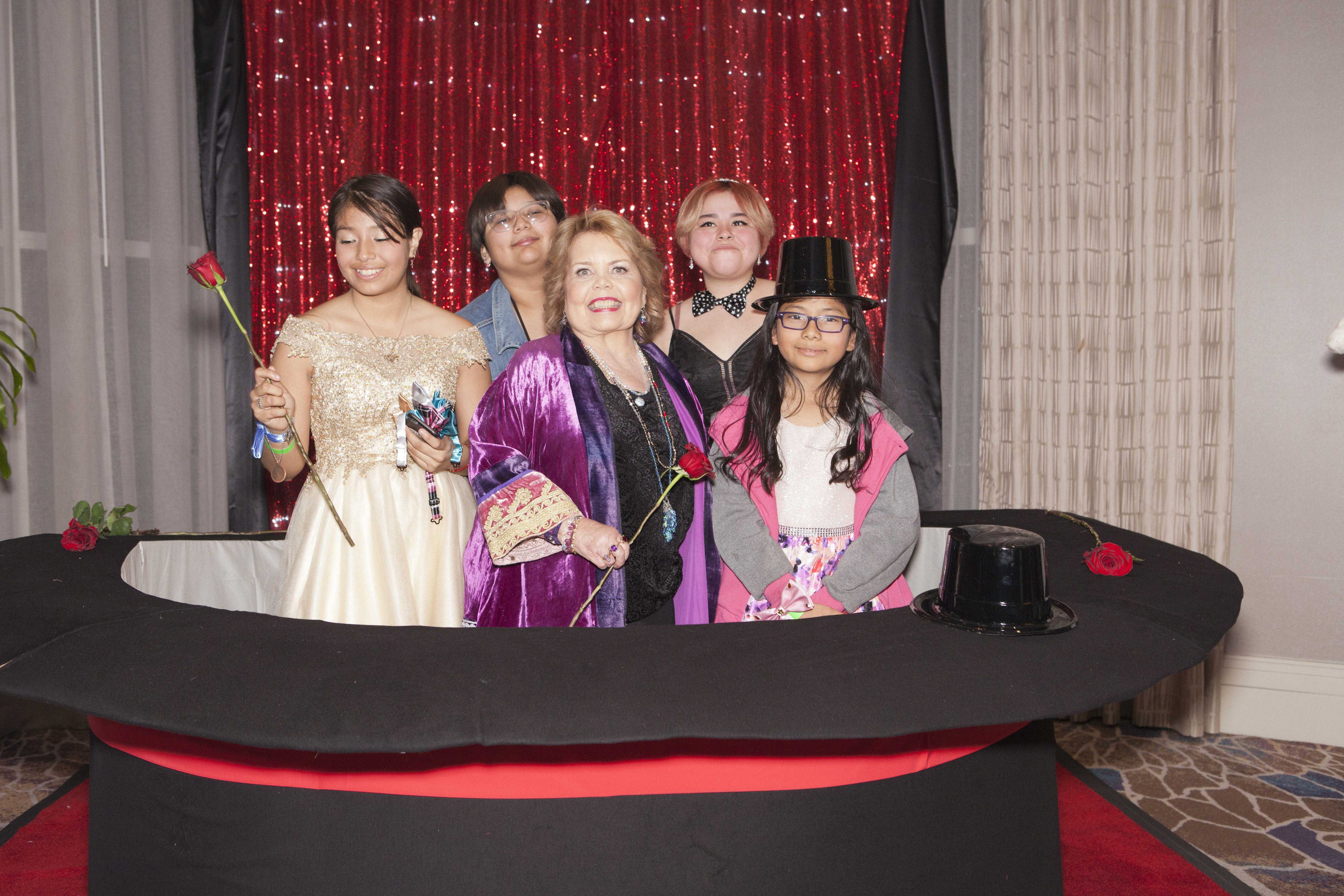 RSN Founder Lori Hartwell, the prom's organizer, has produced this event for the past 21 years so young kidney patients can have a night out with their peers, forget their medical challenges, and be inspired to live their lives to the fullest. Hartwell herself missed her own prom because of kidney disease and this is her way of encouraging kidney patients, their families and friends. She collects donated prom dresses, recruits volunteers to help with decorations, photography, hair and makeup, and invites celebrity guests to be part of the party program each year.
The first stop for partygoers after check-in was a photo-op platform in the shape of a magician's hat, with a red-sequined backdrop and one of the rabbit-costumed humans inside. Each "magical" guest got to pick out a colorful bowtie or hair ornament. Hartwell herself was costumed in a magician's jacket in embroidered multi-colored velvet.
Suzanne Perez, a kidney transplant recipient and volunteer stylist, was doing hair and makeup on request for the young women. "I love coming here and being a part of this. The kids are so brave and courageous it heals my soul!"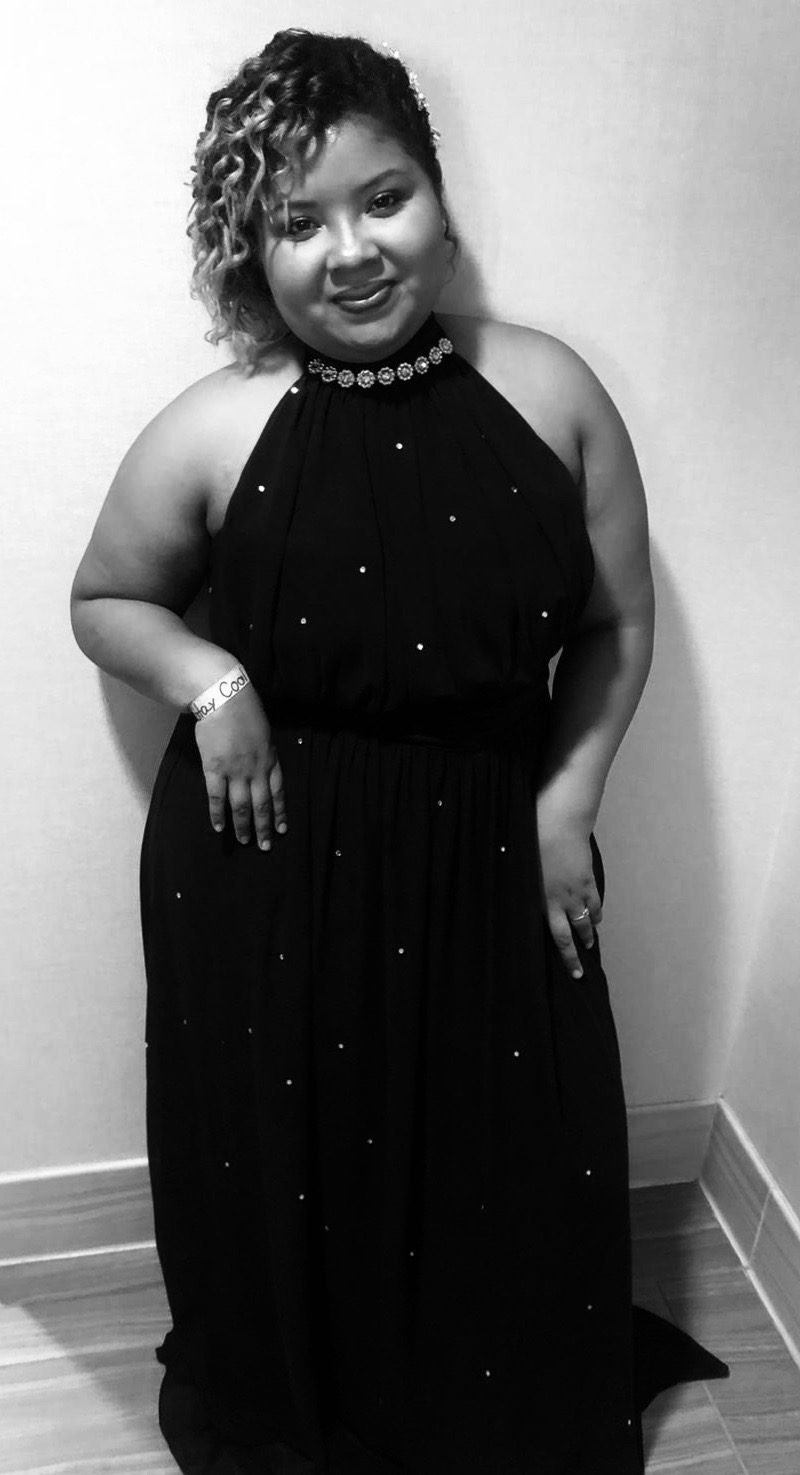 Anahi Fuentes, 23, came as a prom guest for the eighth time. She was enjoying having her hair elaborately curled for the party. "I received a transplant in 2013 and am doing very well now. I think kids should come and enjoy this party. It's really fun and a different experience we can have as kidney patients together." She brought her friend Karla, who had been to the prom once before and was looking forward to the great party.
Chris Platero, 22, came to the prom from San Pedro with his friend Mia. He received one kidney transplant in 2012, and the second one in 2016. "The second transplant has worked out well, and I'm feeling fine. I'm here tonight and I'm just going to have fun!"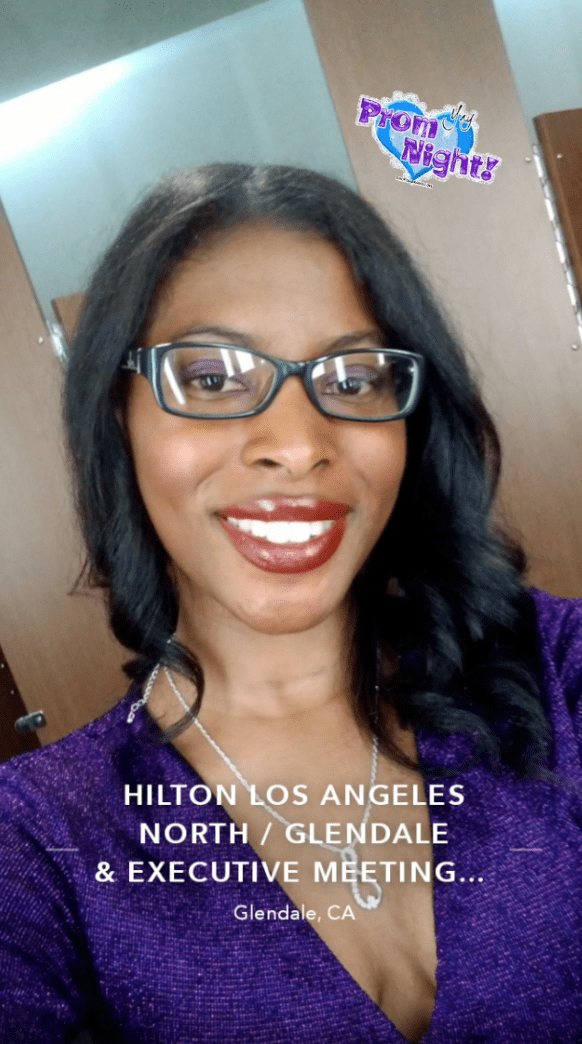 Asha James, 21, now living in Long Beach, has coped with kidney disease since age 3, and moved from California to Arizona and back to live with each of her parents. "As a young child I had Stage 1 kidney disease. Managing many medications and strict diet restrictions was difficult. My disease got progressively worse. In high school, my mom had to pick me up three times a week to go to dialysis. Then she got sick and I went to stay with my Dad. Since part of my ancestry is the Tohono O'odham tribe, they provided transportation for me to a dialysis center in Sells, Arizona. I had been waiting since the age of 13 for a kidney donor but turned down a few offers that weren't good matches. Then, in November 2018, while my mother was with me in Arizona at the dialysis center, we got a call about a donor. I said 'Yes' went home to my Dad's house and packed and got to the University Medical Center in Tucson. The transplant was a success. Then I learned again what to take and what to do at this stage to manage my condition. I went back to the hospital in February 2019 was diagnosed as pre-diabetic. Labs in May showed that I have Type 2 diabetes, so I learned to test myself daily. Now I feel good, I see my kidney doctor regularly, and my labs are good.
"I've seen people who can't manage going to school. For a while during these challenges I was very stressed thinking about school. Then I realized that I had to concentrate on one thing at a time. I really didn't want to fall behind, but health has to be the number one priority in our lives! I talked to my teachers, I advocated for myself, and got extensions. My mom helped identify when I needed emergency medical attention and watched over me. I'm glad that she insisted I get help.
While Asha was talking, one of the rabbit suits was illuminated with flashing blue lights as the person inside danced on the floor with prom guests.
Kaleb Yoder, 17, came to the party from Garden Grove and brought his cousin Mia. He's had kidney disease his entire life and began dialysis at age 9 when he reached Stage 5 kidney disease. "Last year in June, my mother gave me one of her kidneys. My father and my brother also tested as donors and each was a match, but I ended up with hers. This was his second year at the prom, and he shared some advice for young kidney patients: "Think not about the negative things, but always be thinking about the positive!" Cousin Mia added that she was so proud of him. They spent much of the evening on the dance floor, encouraging other guests, among them wheelchair-bound kids, to join them in dancing.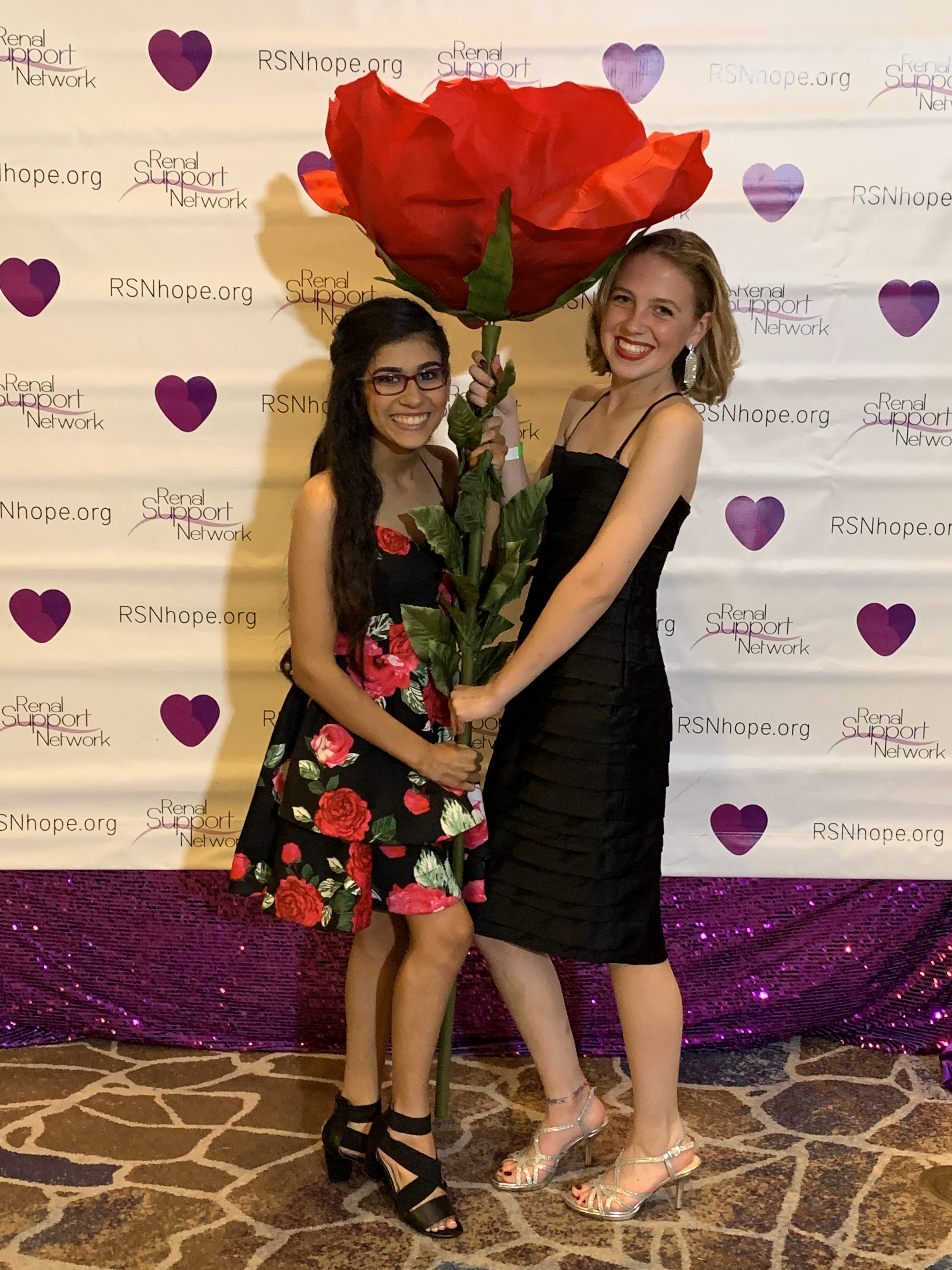 Gemma Lafontant, 17, lives in Burbank but had just flown back from Dallas and headed straight to the prom. "We flew into Ontario airport because the return flight to Burbank was too late to make the prom! I look forward to it every year, because I can forget about everything else. This is the third year I've attended. I come with the same friend every year and we especially love the photo booth!" Gemma was diagnosed at age 12 with kidney disease. "I was never on dialysis; they wanted to do a pre-emptive transplant and I received a kidney in February 2017. The medicine brought on Type 1 diabetes, but the reaction was managed and it's gone now." Genna is homeschooled, "which definitely helps with going to many doctors' appointments."
Rayna Hernandez, 15, was attending for the second time and traveled from Compton with her little sister Sara as her guest. A freshman at Dominguez Hills High School, she learned she had kidney disease almost seven years ago. "At first, they didn't know the diagnosis. But after we learned about it, I was able to manage it with medicine, and that's going well. This prom is a way to see that even though I have a disease, there are ways to have fun."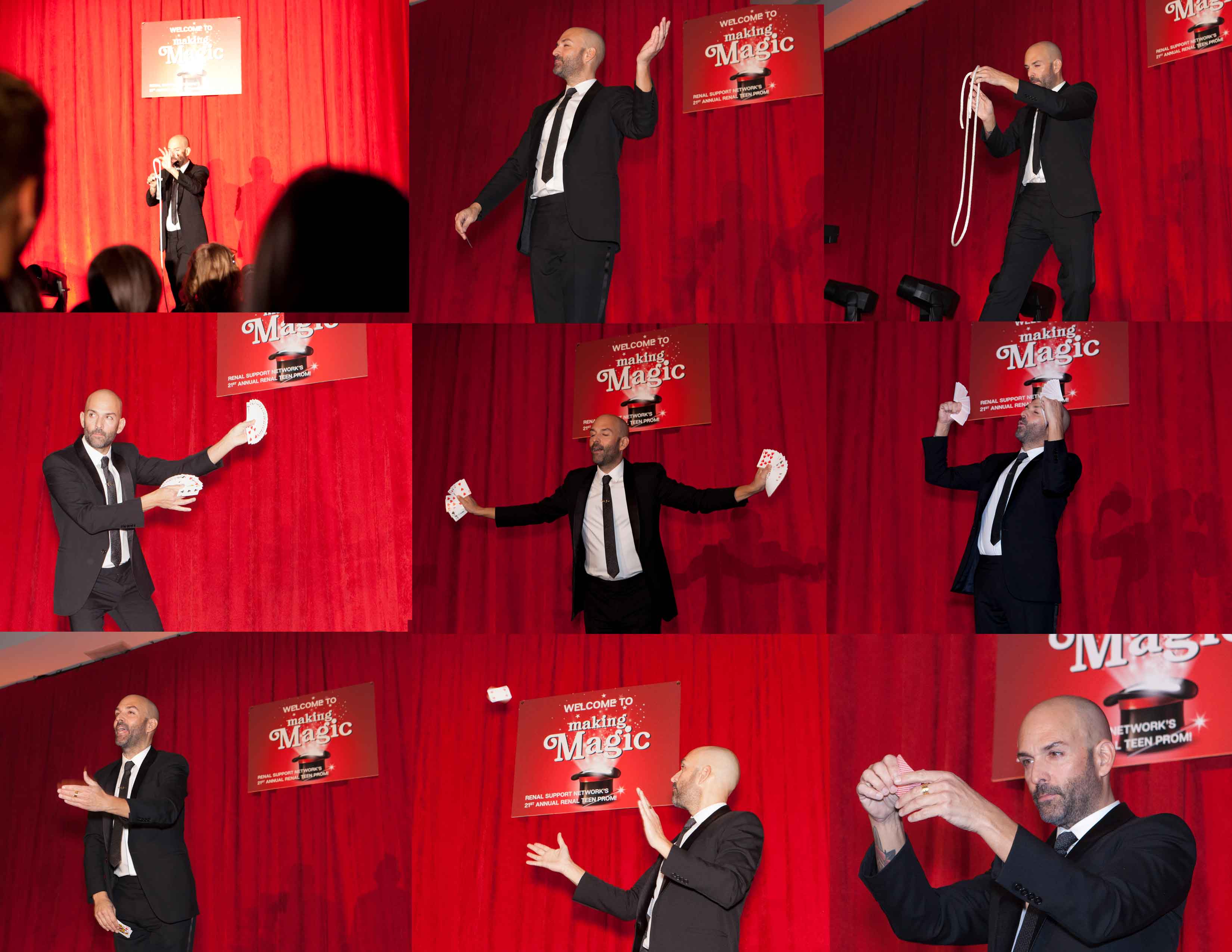 Magician Michael Grasso arrived with his wife Stephanie to enjoy the party before performing for all the guests. He started studying magic at the age of nine and made the Top Ten of America's Got Talent in 2010. In Los Angeles that year, his kidneys suddenly shut down due to an auto-immune disease and he went on dialysis. He received a kidney from his mom two months later in Philadelphia. "I went on to receive three transplants after that. The last one was the hardest. But honestly, as huge a deal as this is, I don't make it a central focus of my life. I've been involved in Renal Support network since 2010. My message to other kidney patients is: Stay positive, focus on what you are passionate about, and don't let kidney disease define you." Prom guests had been dancing happily for a couple of hours, but they stopped eagerly and gathered close to the main stage to watch Grasso perform some elaborate magic tricks with cards and rope. Grasso performs all over the world and is a YouTube fan favorite.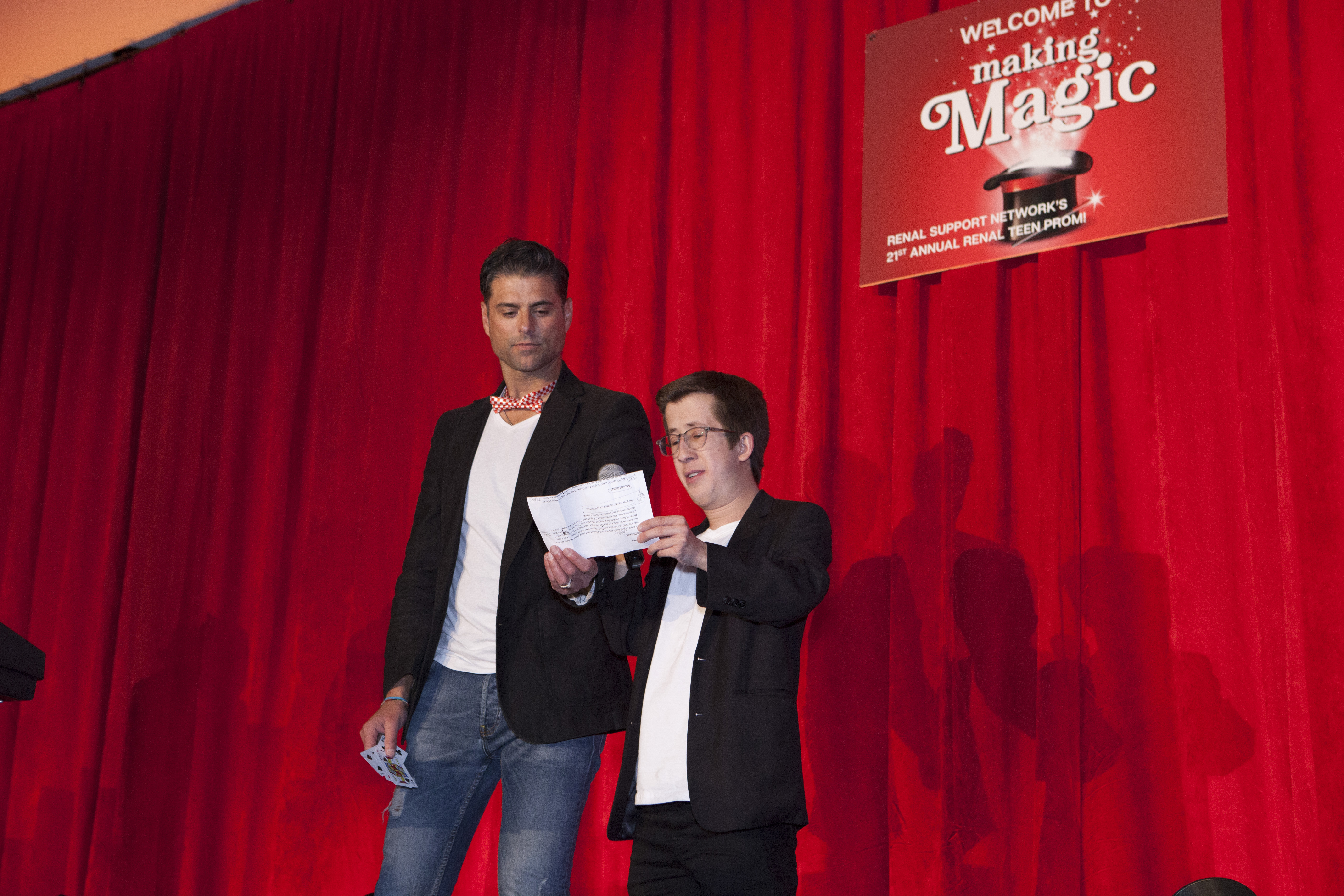 MCs Jeff Hartman of HGTV Househunters and Heart/Kidney Transplant recipient Trent Sullivan next introduced vocalist Lana Love for a wonderful set. Sullivan is a heart and kidney transplant survivor who was a prom guest for many years and now returns each year as a volunteer.
Chastity Saenz, 23, was close by as Grasso and Love waited to perform. This was her fourth year coming to the prom. She was diagnosed with nephrotic syndrome at the age of 18, and medication is keeping the disease in remission. "It's not easy to manage medications, but you get used to it. Renal Support Network has made me much more comfortable. I was referred to RSN by my doctor's office and got involved with the organization a year after I was diagnosed. She lives in Rosemead and is currently training to become a veterinary technician; work she really enjoys.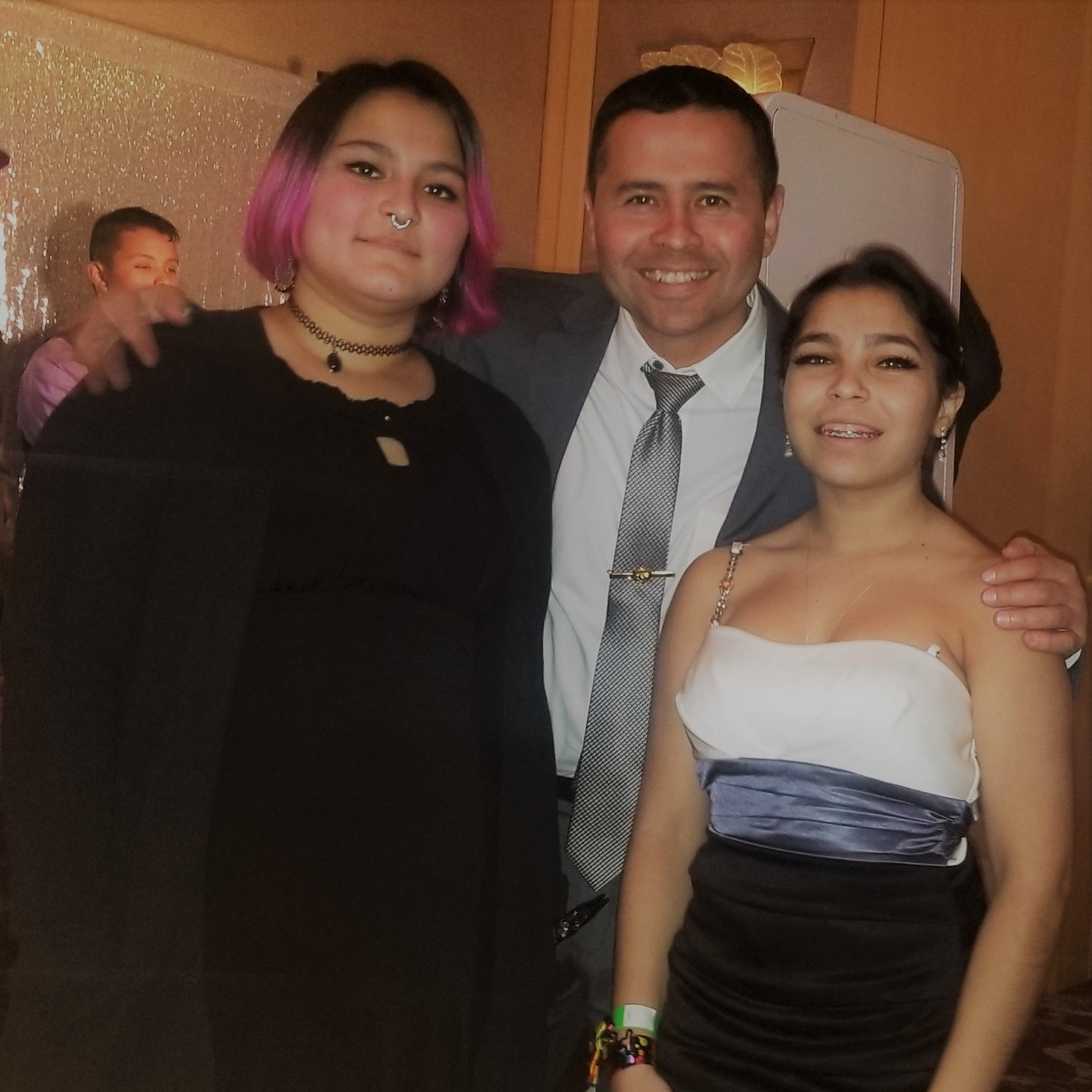 Watching the show from the back of the room was Felix Rodriguez, father of 15-year-old Reina Rodriguez who was there for the first time. "She was diagnosed with kidney disease at the age of three, while I was in the Marine Corps and stationed in South Carolina. We brought her in for a check-up, they found high blood pressure, and she went to the Children's Hospital for two weeks. Initially they called it Stage 1 kidney failure. Over the years, her kidney function got worse. After I got out of the military, we settled in Barstow and went to Loma Linda Medical Center for her treatments. She was at Stage 4 until September 2019, then started dialysis four months ago. She has a lot more energy now, but it was tough for her because she started high school at the same time she started dialysis! A social worker at Loma Linda told us about Renal Support Network and the prom, and just this year I was able to bring her.
"I think the prom is great. I took her to try on dresses and she got to see the older girls and women who were going to be at the party, and that encouraged her. There's a lot of support here, more than is available in our remote community in the high desert. Luckily, I can help her participate in things. The past three weeks, she's been preparing and getting more and more excited about this event. I brought her with her sister and brother, so they are all out on the floor dancing and enjoying the evening!"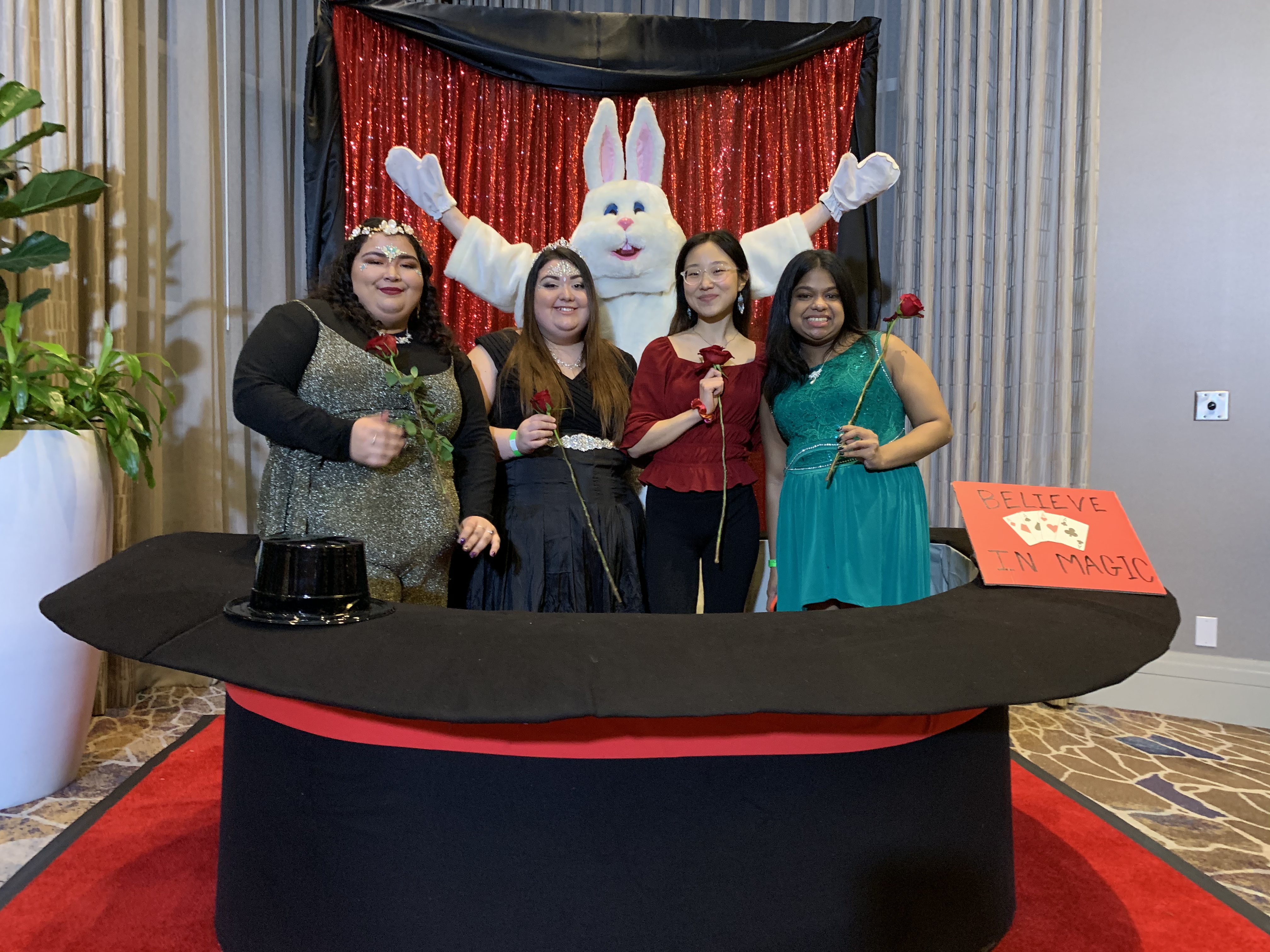 Checking in with Sarissa Velarde, 23, at the prom for the tenth time with her friend Maria and Maria's mom Teresa, they were enjoying a break sitting down. They had all been beautifully styled with makeup and magical princess sequins pasted on their foreheads. "We are all warrior princesses!"
The MCs called Lori Hartwell to the stage, who briefly welcomed everyone, saying "It's just a treat to see you all here enjoying yourself. Remember that you could be the person who helps another see that they can survive and thrive!"
All the guests and partygoers had their own stories to tell, and many were returning to the prom because they knew it was a magical experience they could share with fellow kidney patients. Thanks to all the volunteers, photographers, chaperones, drivers, DJ Sweet Baby J, and sponsors Fresenius Kidney Care, DaVita, OneLegacy, U.S. Renal Care and the Crane Foundation for Making Magic!