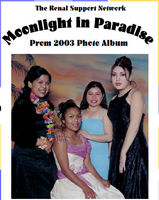 More than 250 teen/young adult kidney patients and their guests grooved to the oldies at Notre Dame High School on Sunday, January 19th, 2003 at the fourth annual Renal Prom for teenagers. The guests of honor were greeted by palm trees, candle lit tables and live music from the Surf City All Stars – an ensemble of Grammy award winning band members from the Beach Boys and the Ventures.
The Renal Support Network holds the Prom each year to provide young kidney patients the opportunity to interact with their peers and to have a good time. Founder of the Renal Support Network Lori Hartwell says that the Prom has become a major success and grows in attendance every year.
"Most young kidney patients are unable to attend school functions because of an unexpected hospitalization or they simply feel they don't fit in," Hartwell says. "I just want these kids to have the opportunityto meet one another, share their experiences, strength and hopes and to realize that they can achieve their dreams in spite of kidney disease."
Jason Easley, a 20-year old transplant recipient who is studying fashion design, created a dress forfellow transplant recipient 19 year old Rocio Lopez. "I love designing dresses. It is my passion,"stated Easley. This Prom gave him an opportunity to show off his extraordinary talent to his peers. Rocio in her cream and pink masterpiece lit up the room. "This was the first time I ever wore a dress. I am so excited," said Rocio. Over 100 dresses were donated to the Renal Support Network for this event to make sure everyone who needed a dress had the chance to shine.
Each year Notre Dame students meet with Hartwell to offer a "cool" perspective on how to make the evening special for the guests. This year's theme, "Moonlight in Paradise," motivated students to transform their high school gym into a lovely evening at an exotic location. Songs such as "California Girls," "Good Vibrations" and "Wipe Out" were just a few that had the teens rockin' and rollin'.
Even the food was catered to the guests – renal friendly low-sodium pizza, chicken skewers, upside down pineapple cake, low-potassium veggies and cascades of blueberries, strawberries and raspberries streaming out of shell-shaped dishes.
"The beach scene is pretty cool and I love the music," says 16 year-old kidney patient Michael Meillkomm. "I plan on coming back again for sure."
The guests were also able to mingle with Roger Lodge from the hit TV show Blind Date. But things really heated up when Joe Hahn from alternative rock band Linkin Park made a guest appearance and posed for photos with the kids.
"I go to San Marcos High School and my prom is coming up soon," says 16 year old Cedrick Mercer. "But I really like this prom. It'll be a tough act to follow. I think I'll be coming back to this one next year."
This prom would never be as successful if was not for the numerous volunteers who make the night a success. Jeff Davis who is a transplant recipient and pilot volunteered to pick up three teen boys who lived quite a distance away, but desperately wanted to attend.
Hartwell says that she welcomes the guests to return. In fact, she has already begun brainstorming for next year's event which is sure to draw even more guests than previous years.
Next year the prom is set for January 18, 2004.